Christmas is fast approaching, which means our sites will soon be shutting for the holidays.
To help you stay prepared, we've listed below the dates and times that our sites will be shutting, as well as the dates and times that our sites will be reopening in the new year.
Please note that while our Chesterfield site officially closes on the 21st December, the last day for galvanizing is Monday 18th December due to a bath changeover.
Site
Schedule
Bilston
Close: Wednesday 20th December 2023, 12:00pm
Open: Tuesday 2nd January 2024, 6:00am
Bridgend
Close: Friday 22nd December 2023, 6:00am
Open: Tuesday 2nd January 2024. 6:00am
Chesterfield
Close: Thursday 21st December 2023
Open: Tuesday 2nd January 2024
NB. Last day for hot dip galvanizing is Monday 18th December due to a bath changeover.
Corby
Close: Thursday 21st December 2023, 4:30pm
Open: Tuesday 2nd January 2024, 7:00am
Hull
Close: Friday 22nd December 2023, 1:00pm
Open: Tuesday 2nd January 2024
Medway
Close: Friday 22nd December 2023, 2:00pm
Open: Tuesday 2nd January 2024, 8:00am
Telford
Close: Friday 22nd December 2023, 12:00pm
Open: Tuesday 2nd January 2024
NB. Last day for spin galvanizing is Tuesday 19th December due to a bath pump out.
Walsall
Close: Tuesday 19th December 2023, 4:30pm
Open: Tuesday 2nd January 2024, 8:00am
Widnes
Close: Friday 22nd December 2023, 12:00pm
Open: Tuesday 2nd January 2024, 8:30am
If you have any steel that needs coating before the new year, book a collection or get a quote from us today to avoid disappointment.
Next page
Galvanized cob horse for heritage recognition in the South Downs
The Changing Chalk project is a multi-partner, multi-project initiative led by the National Trust. The project aims to restore lost habitats, bring histories to life, and provide new experiences in the outdoors.
As part of this project, Changing Chalk commissioned Jake Bowers, artist and blacksmith at Thirsty Bear Forge, to fabricate a life-size cob horse to recognise and celebrate the cultural heritage of "Gypsy, Roma and Traveller" communities in the South Downs. Jake relied on Joseph Ash Medway to galvanize the horse to the best quality, preserving it for many years to come.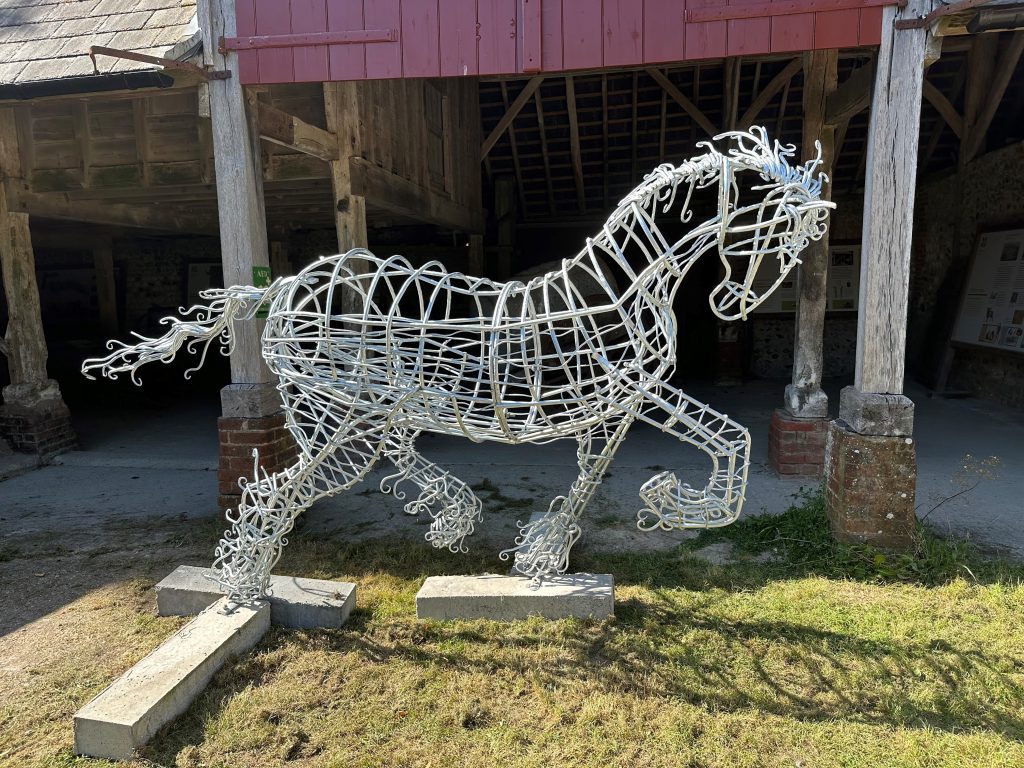 The creation of Prissy
Jake took measurements for the sculpture from a real-life model: Winnie the cob, who was the much-loved horse owned by his sister Priscilla. The sculpture itself was decidedly named after Priscilla, too.
Jake also took Priscilla, Queen of the South (as the sculpture had become known) on a nationwide tour so that members of the community and public sector workers could forge part of her mane, feet and tail. Jake noted: "Our presence at Appleby Fair, for example, allowed scores of Gypsies and Traveller community members to create part of the sculpture."
The community input into the sculpture makes the project even more powerful.
Hot dip galvanizing for an extended lifespan
As Prissy – the shortened name given to the sculpture – was set to live outside in the South Downs, a durable, long-lasting and corrosion-resistant finish was required to ensure it remained protected against the elements for many years to come. Hot dip galvanizing served as the ideal solution, thanks to the extended lifespan it provides for steel. Galvanizing also helps to keep steel looking like new – ideal for preserving the beauty of this symbolic sculpture.
Joseph Ash Medway collected, hot dip galvanized, and returned Prissy back to Jake so that the National Trust could install the sculpture as part of their project.
The outcome
Prissy now resides in the South Downs, serving as a long-lasting reminder of the rich cultural heritage of the communities who help shape these landscapes.
When asked why he chose to galvanize the horse with Joseph Ash Galvanizing, Jake commented:
"The sculpture is so intricate only galvanizing would have reached every part that needed preserving.
"I also love the way Joseph Ash treats works of art with the care and attention to detail that a work of art requires."
Prissy is the first public sculpture to be unveiled as part of Project Atchin Tan, a community initiative seeking to include the voices of travelling communities on issues of sustainability and global warming. At least two other horse sculptures are planned, largely made from recycled steel and the skills of the community members.
---
You can learn more about the Changing Chalk partnership on the National Trust website. To discuss the project with the fabricator, contact Jake Bowers at Thirsty Bear Forge.
If you have a galvanizing requirement, get a quote or book a collection with one of our nine UK sites today.
Next page
Widnes Galvanising, the latest addition to the Joseph Ash Group, has just launched their new environmentally-friendly passivation process!
An alternative to hexavalent chrome passivation, Widnes Galvanising's non-chrome 6 passivation is a fantastic step towards keeping the galvanizing process environmentally friendly, as well as making sure we deliver only the best quality finish for our customers.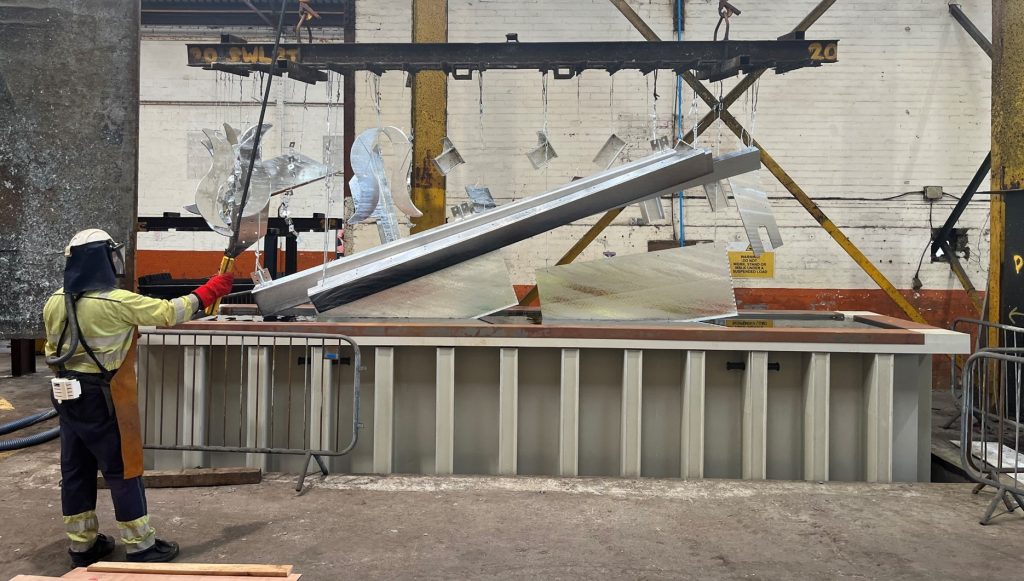 What is passivation?
After hot dip galvanizing has taken place, items (on request) are "passivated". Passivation causes a chemical reaction to occur, where a thin transparent layer of metal oxide coats the galvanized steel to help reduce the effects of wet storage stain and cool the items so they can be handled safely.
Our new passivation process does not use hexavalent chromium (Cr(VI)) compounds within the process. Instead, it relies on compounds which are considered less toxic and more environmentally friendly. Our new method of passivating is a safer alternative to traditional Cr(VI) passivation, while delivering only the highest-quality finish for our customers.
Benefits of non-chrome 6 passivation
The main difference between hexavalent chrome passivation and our new non-chrome 6 passivation is its environmental impact; Widnes Galvanising's passivation process is more environmentally-friendly than traditional Cr(VI) passivation. At Joseph Ash we're dedicated to protecting the environment, so this is a fantastic change for our Widnes site.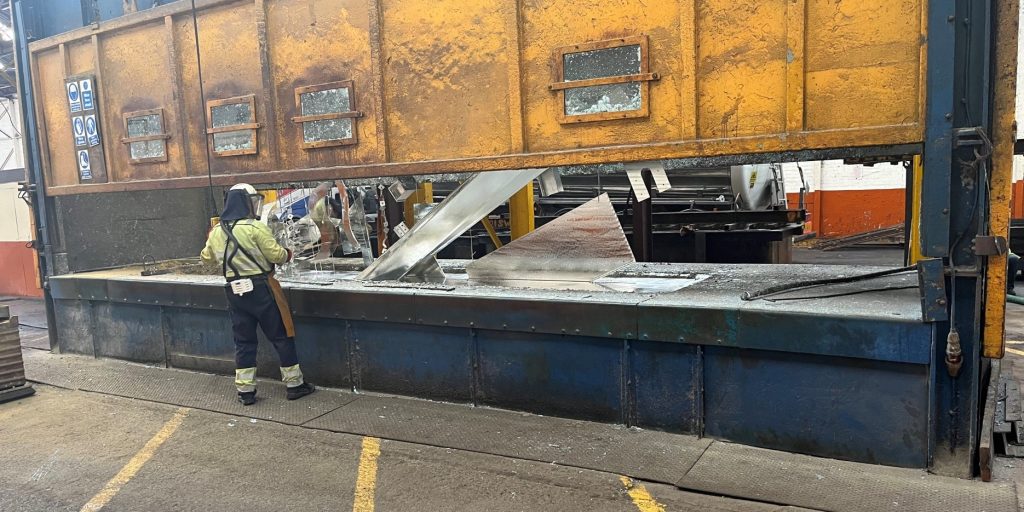 Other benefits of passivation include:
Increased corrosion resistance: Passivation significantly improves the corrosion resistance of zinc-coated steel. This is particularly important in outdoor and industrial environments where exposure to moisture, chemicals, and pollutants is common.
Aesthetic appeal: Passivation can enhance the appearance of the galvanized surface by providing a smoother and more aesthetically pleasing finish.
Extended lifespan: Galvanized products with passivation tend to have a longer service life, reducing maintenance and replacement costs.
Improved adhesion: Passivation can improve the adhesion of paints and coatings to the galvanized surface, making it easier to apply and more durable.
Contact Widnes Galvanising today to discuss your hot dip galvanizing and passivation requirements.
Next page
Imagine a museum where creativity knows no bounds, where children, young people, and families can unleash their imaginations and be inspired. Young V&A, the brand-new Victoria and Albert children's museum, offers just that.
Seeking a fabricator that could make the museum's exterior stand out, they contacted Factory Settings Ltd to fabricate giant letters to sit on top of the building. Factory Settings, in turn, needed a reliable hot dip galvanizing company that offered a quick turnaround time to increase the steel's durability and give the museum exterior an eye-catching finish.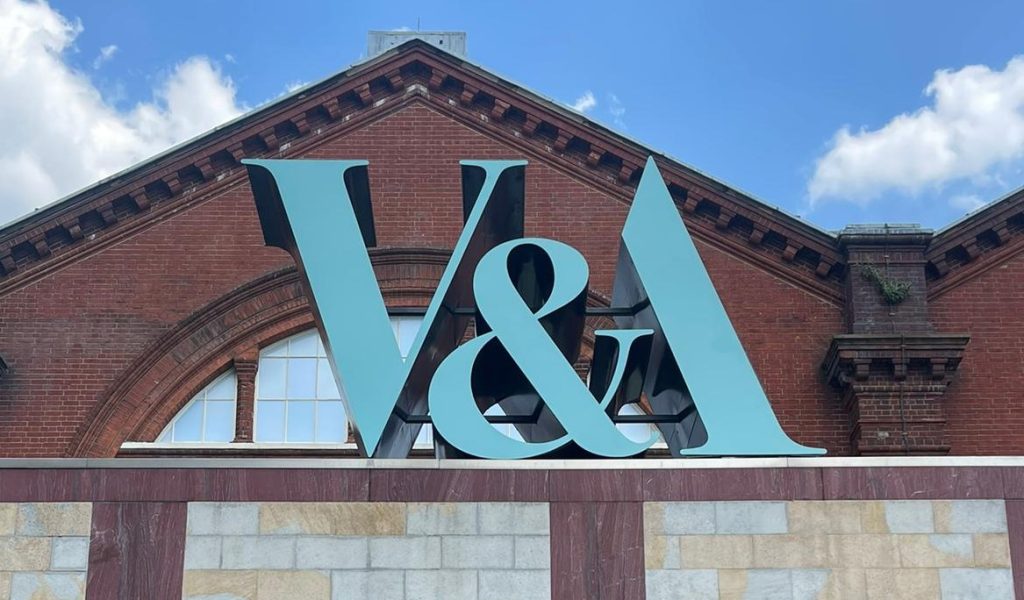 Hot dip galvanized by: Joseph Ash Medway
Fabricated by: Factory Settings Ltd
End client: Young V&A
Steel finishing service: Hot dip galvanizing
Young V&A's requirements
Young V&A is a brand-new children's museum in London where children, young people and families can imagine, play, and be inspired. The London-based museum wanted to enhance their exterior prior to their opening day on 1st July 2023, and turned to Factory Settings Ltd for help. Factory Settings, also based in London, agreed to fabricate a huge sculpture of V&A's logo to be displayed on top of the museum – increasing brand visibility and modernising the museum's exterior.
The museum's grand opening day was fast approaching, and there was a lot to be done. Factory Settings needed a reliable galvanizing company that offered a fast turnaround time from start to finish. Located in Sittingbourne, Kent, Joseph Ash Medway was the perfect choice for the fabricating company.
The letter's frames needed to be galvanized to increase the steel's durability and give it a shiny, clean finish. Galvanizing also makes the steel corrosion-resistant, so the sign stays in excellent condition even in bad weather.
Speedy turnaround times save the day
Sudden delays on steel items and a last-minute change in design meant the deadline was fast approaching without much progress. Factory Settings were reliant on the team at Joseph Ash Medway to adapt to the changing timeframes to ensure the museum's sculpture was ready for the opening day.
Keen to deliver an exceptional service, the Medway team were swift to adapt to the last-minute collection dates. Joseph Ash Medway's flexibility to the situation and their quick turnaround times meant that the work was returned to Factory Settings in time for them to finish cladding before the big day.
Young V&A's grand opening
Young V&A had a successful opening weekend on 1st July 2023.
Factory Setting's Senior Project Manager was keen to thank the Joseph Ash Medway team:
"Thanks so much for all your help getting the frames back to us quickly so we can hit our install deadline – that made a real difference for us. Can't wait to see this signage up in the air!"
Well done to Factory Settings Ltd and everyone else involved!
If you're in London, why not visit Young V&A for a fun and educational day out? Alternatively, if you're in need of steel fabrication, contact Factory Settings Ltd.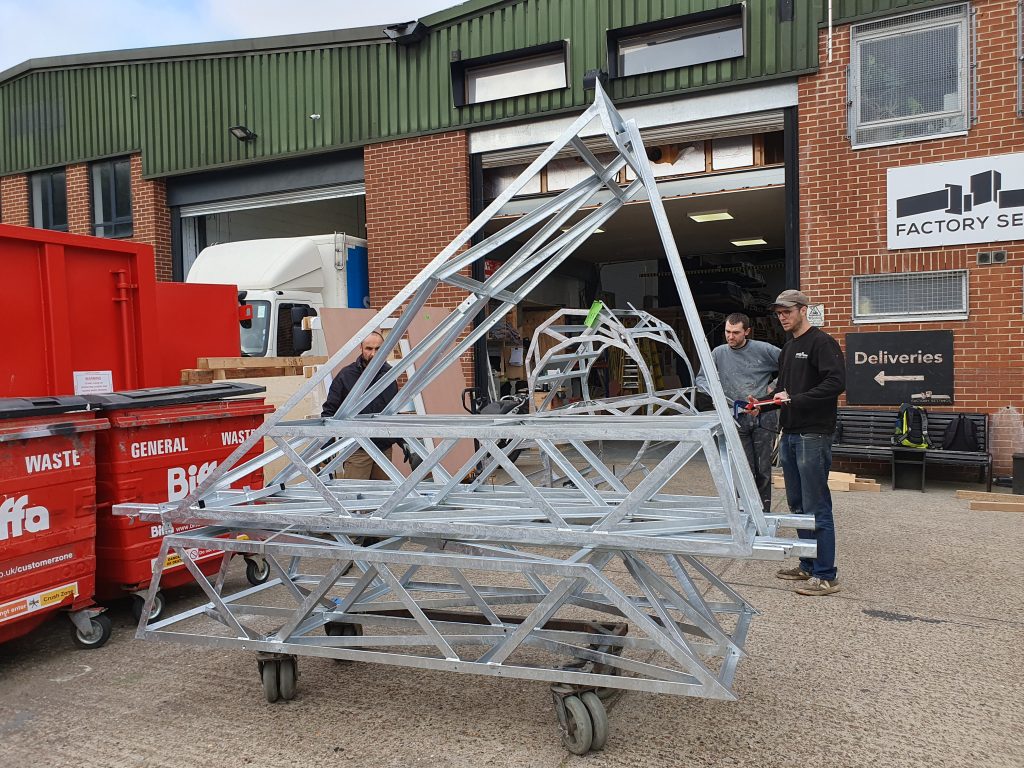 Pictures courtesy of Factory Settings Ltd
---
Joseph Ash Medway delivers a one-stop-shop service of shot blasting, hot dip galvanizing, powder coating and duplex coatings all from under one roof. Contact the Medway team today to discuss steel treatment projects in London and beyond.
Next page
After 19 years working at Joseph Ash Galvanizing, the company said farewell to John McMahon on the 30th of June.
To say goodbye, staff at Head Office arranged a buffet lunch and a gift collection pot. Neil Kanagaratnam presented a bottle of bubbly, and delivered a farewell speech.
John has had a number of different jobs outside of the company over his lifetime, including a job as a magistrate! But his longest role has been at Joseph Ash Galvanizing.
John McMahon left parting words for his colleagues.
"I would like to thank you all for your professionalism and support over those years and I have enjoyed working with you all."
"Like Spock says, live long and prosper!"
We wish you all the best for the future, John!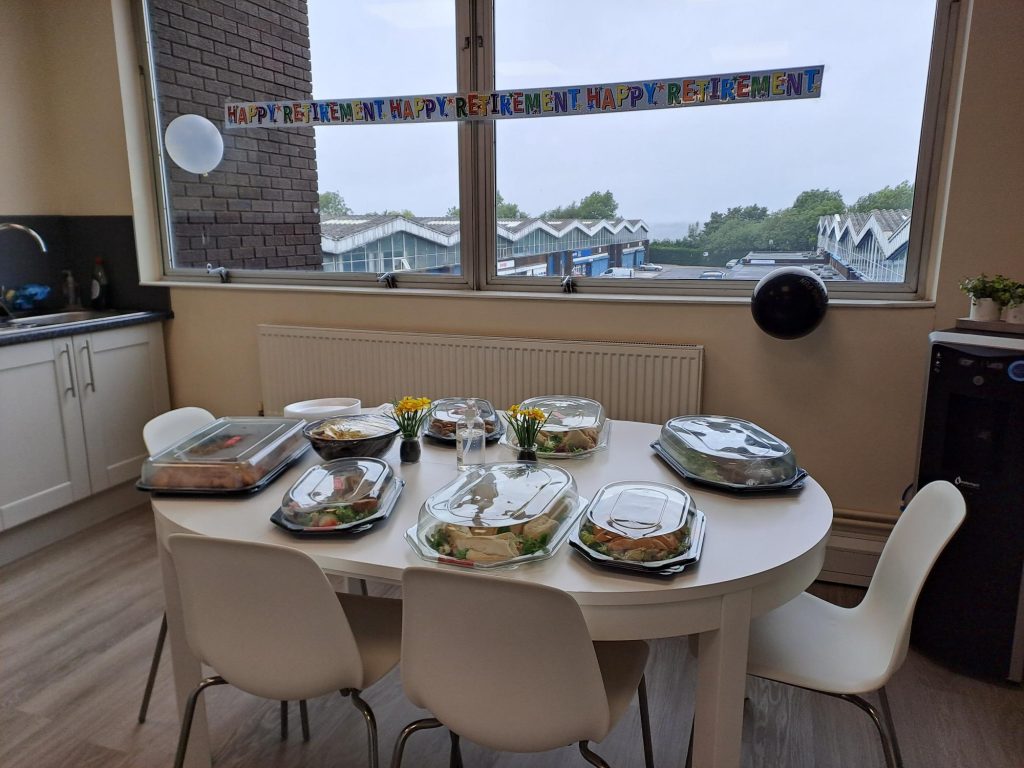 Next page
This month's Meet the Team feature is an exciting one, as we had the chance to interview Neil Kanagaratnam, Operations Director. Neil has been responsible for implementing some exciting new innovations for our sites. We managed to get some early information on some of these innovations – keep an eye out over the next few months for videos and more information!
Meet Neil Kanagaratnam:
Role: Group Operations Director
Branch: Head Office
Started: July 2022
Favourites:
Food: Chinese
Pastime: Developing new galvanizing technologies!
Can you give a brief overview of your role?
I am the Operations Director for the Joseph Ash Group. My job is to manage all our sites' operation performance through improving operational efficiency, reducing business cost, reducing lead time, increase sales, and drive process efficiency. I work with a lot of other departments to make these happen and make Joseph Ash a world-class galvanizing company.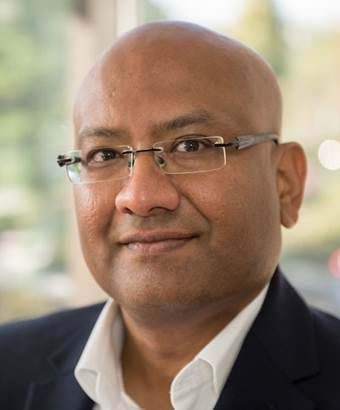 I also develop the company's Policy Deployment Plan (PDP). Policy deployment is a strategic planning process that aims to set the corporate objectives, management plans, and daily operations in sync with each other. This process drives a high-performance culture with clear visibility of company goals and objectives.
What did you do before joining the company?
I worked as Manufacturing Director in the aerospace and defence industry. Following this I became a fellow in materials technology, as well as a welding and joining society where I developed advanced manufacturing in aerospace industries. I drove manufacturing efficiency through design for manufacturing and assembly with the use of robotics and automation, and I worked on advanced materials technology for the defence industry. In this role I managed multiple sites to grow NPI programs and developed top talent.
Can you talk about some of the innovations you've worked on recently?
Digital twin
My favourite ongoing innovation is our Digital Twin technology. This technology allows us to monitor the plants and check performance through data analysis and corrective measures. A digital twin is a digital replica of an object in the physical world. In our case, we apply a digital twin on our process controls and we simulate our robotics before we integrate them into our sites. It's been useful in developing our initiatives as it mitigates any risks and reduces our automation lead times.
Welding automation
We've used digital twin technology to bring in automation for a lot of our services. Firstly, our welding process is being automated. We've created a robotic welding system that automatically cleans the weld torch, cuts wire to length, and positions it into the right place. It is capable of adjusting weld torch movement and tracking seam gaps. With external exes we can move parts 360 degrees.
Most of our customers' welding is very manual, so this machinery will help to automate the process. Automation will also help to reduce costs, produce larger batch sizes, reduce scrap waste, and overall modernise our operations. This additional welding service will give the customer additional capacity and higher quality products.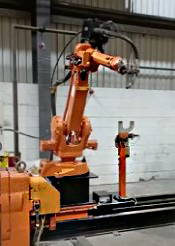 Spin galvanizing automation
We've also started automating the spin galvanizing process at our Telford site. This is currently still under construction but this will be finished by August 2023. It's a very manual process without automation, but we're bringing in a robotic arm that can do this for us. We used digital twin technology, mentioned before, for risk assessment and simulation.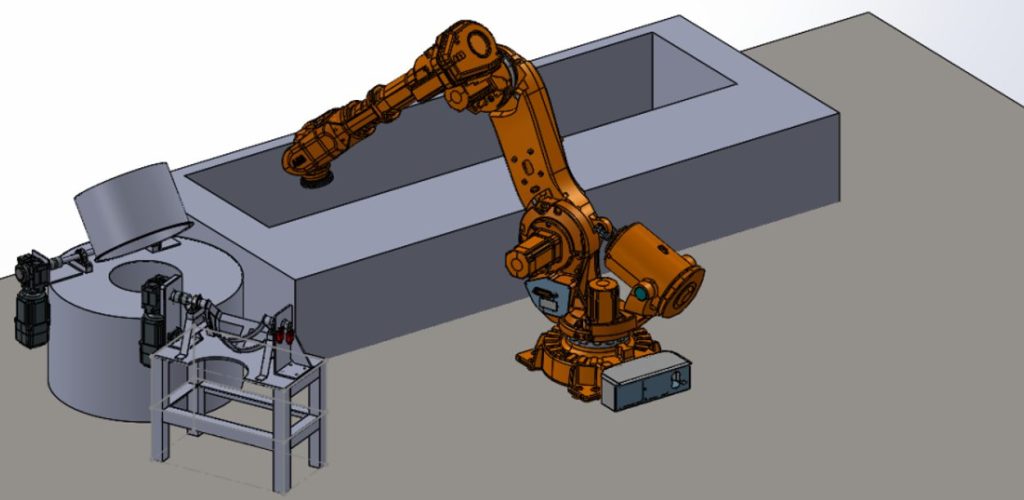 Hook manufacturing automation
Hook manufacturing is also being automated, at our Bilston site. We use hooks before galvanization to hang up steel. Before, we used wire which would get thrown away after one use. This was wasteful and bad for the environment. Now, these hooks can be reused many times, and reduce steel wire consumption and material wastage.
Powder coating automation
Finally, powder coating at our Medway site is being reworked with surface blending automation technology. There is a lot of automation being implemented at the moment!
I'm proud of implementing all of these in my first 7 months, and developing and refining them more now that I'm 10 months into my role.
What benefits do these innovations bring?
These innovations help to reduce our business cost, meaning we are more efficient with our budgets. They also help to improve the safety of working at our sites, reducing the risk of accident. Robots also improve the quality and consistency of our metal finishings. Human error means that it's possible to get inconsistent results, whereas automation can bring more consistent results that are harder to achieve with people.
New technologies also help to make Joseph Ash more appealing to the younger generation, as the world is becoming more technology-driven. We are better able to attract new talent to join our company as we become a more interesting and safer company to work for. We need to stay up-to-date with the current world so that we are ahead of our competitors.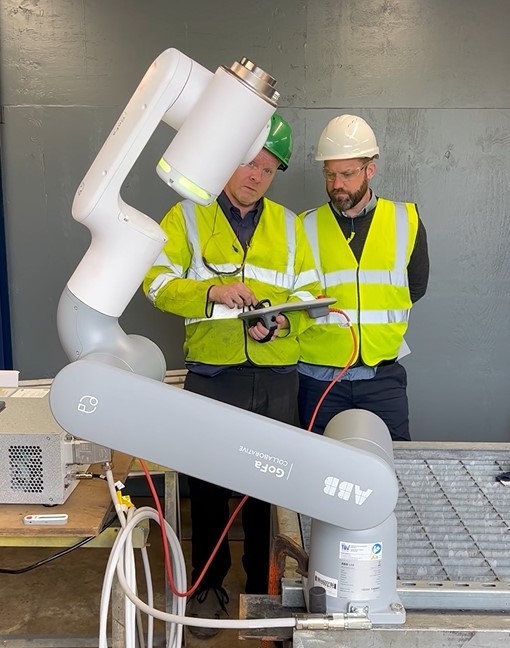 Are there plans to implement any more innovations over the next few years? What are the timeframes for these?
The digital twin will be fully complete over the next 18 months. It is a gradual implementation, and will help us advance the company even further in the future. Our current automation technologies will be scaled up over the next few years, and brought out to multiple sites. It's an exciting time to work for and be a customer of Joseph Ash Galvanizing!
Is there anything you'd like to tell us, that we haven't asked you?
We're always looking to be more engaging with our people. When designing innovations, we always involve our people and look for opportunities to continually improve. We're proud to be a diverse and inclusive company that cares about its people.
Tell us an interesting fact about yourself.
I used to develop synthetic diamonds many years ago. People used to call me Neil Diamond!
---
Keep an eye on our YouTube, TikTok and Instagram accounts over the coming weeks for videos of these innovations in action!
Next page
The year 2023 has been full of long services at Joseph Ash Galvanizing, and June 6th means that Jeannette Dixon has been with the Company for 40 years!
Jeannette has had a fantastic journey though the Company. She started back in 1983, just before her 18th birthday, shortly after finishing secretarial college. There were only two plants back then – one in Birmingham and one in Telford. She was secretary to the Galvanizing Director at the time, working for him for several years before he retired.
The company expanded, and Jeannette became secretary to the Managing Director. She left after some years to have her child and worked part-time on her return, working for the Sales Manager. After another few years she went to work within Transport department before finally relocating with other colleagues to our current Head Office in Halesowen.
In her speech, she commented: "I've seen lots of changes, met lots of great people, seen the company develop, and I've enjoyed every minute of it."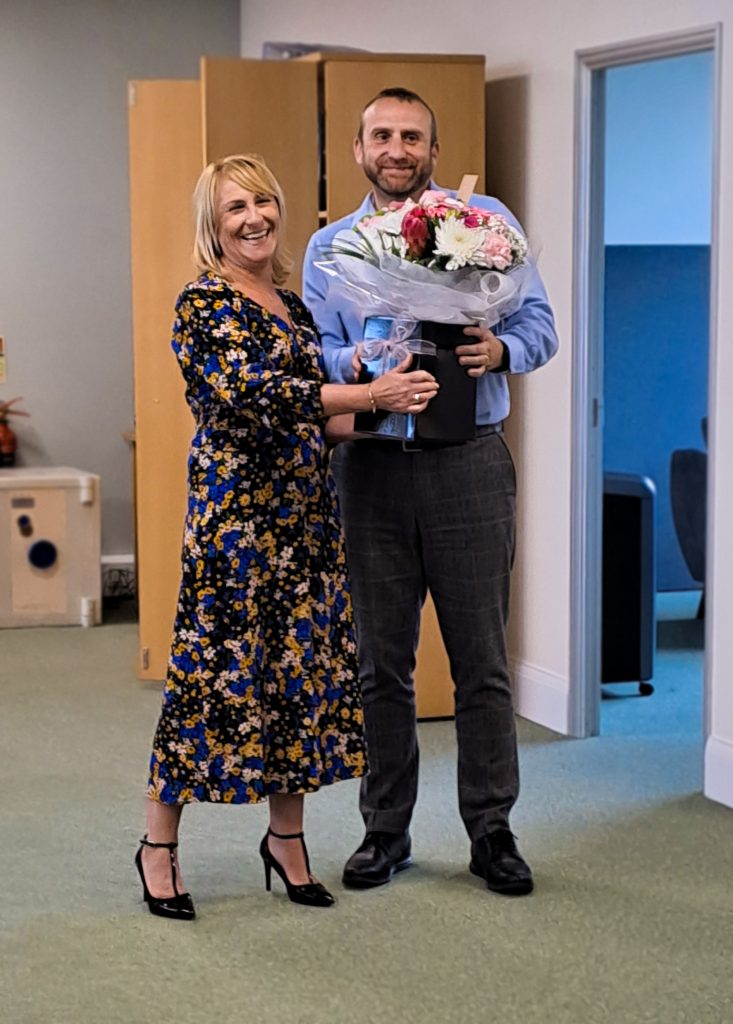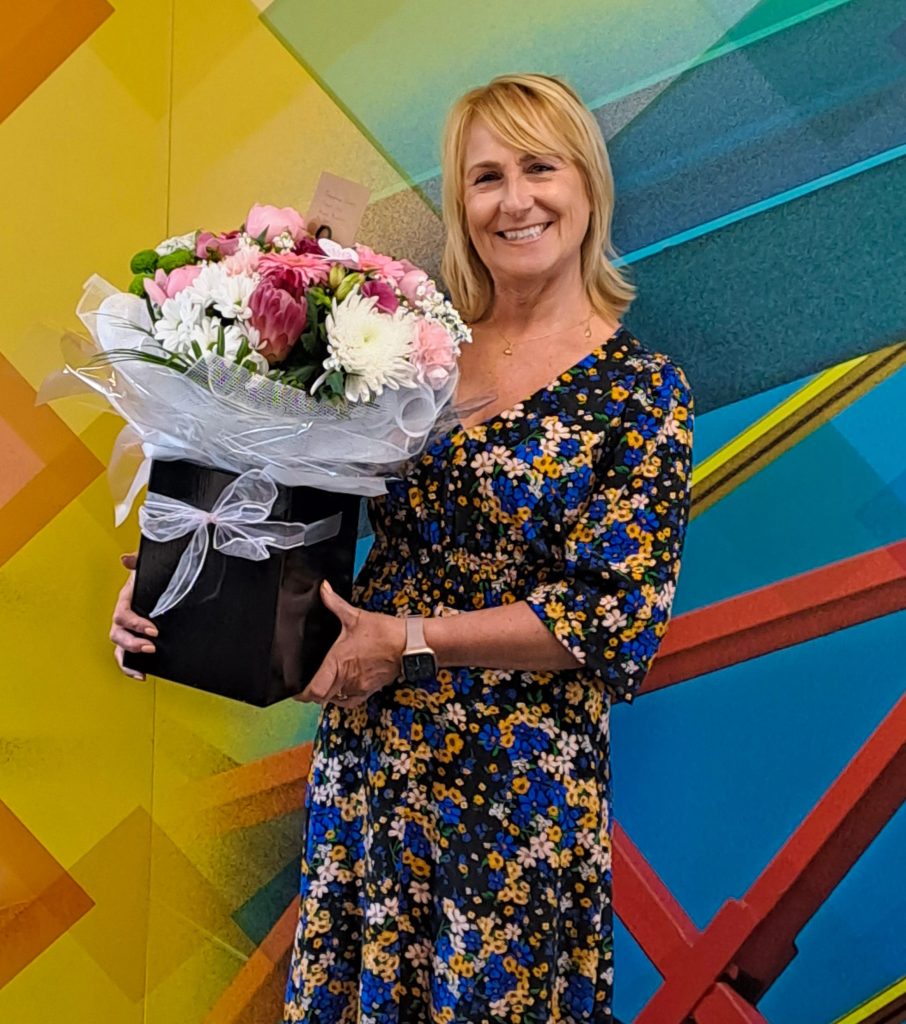 ---
Jeannette was gifted with a lovely bouquet of flowers as well as £500 which she towards a brand new laptop. She and her colleagues at Head Office will also be going out for a celebratory meal at Miller & Carter.
Congratulations Jeannette!
View the video on our TikTok page.
Next page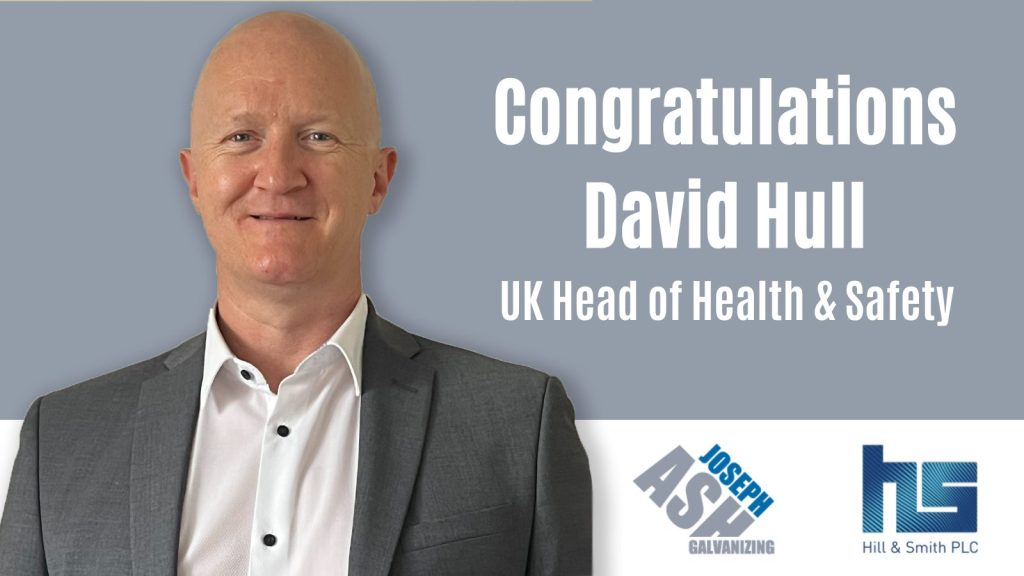 Just days after our Meet the Team interview with him, we're proud to announce that David Hull has been promoted to UK Head of Health and Safety for Hill & Smith PLC (Joseph Ash Group's parent company).
Before, David was Head of Health and Safety for the Joseph Ash Group, operating from our Head Office. David's promotion means he will now work directly for Hill & Smith PLC. He will be looking after the health and safety for Hill & Smith's UK companies (as well as in India and Australia). Therefore, David will still play a large role in Joseph Ash Group's health and safety management.
David has significant experience in Health and Safety leadership in a variety of sectors. Needless to say, this promotion is well-deserved.
David begins the transition into his new role from June 1st 2023.
Congratulations David!
Next page
Looking for the widest galvanizing bath in the UK? Look no further than Joseph Ash Telford!
When it comes to looking for the perfect galvanizing service provider, bath size matters. The right size galvanizing bath will ensure your steel fabrications are evenly and sufficiently coated in zinc.
At two meters wide, the UK's widest galvanizing bath can handle bigger and more complex projects than our competitors. Joseph Ash Telford is the ideal place to galvanize your fencing, structural steel, trailers, sculptures, or any other wide metal fabrications.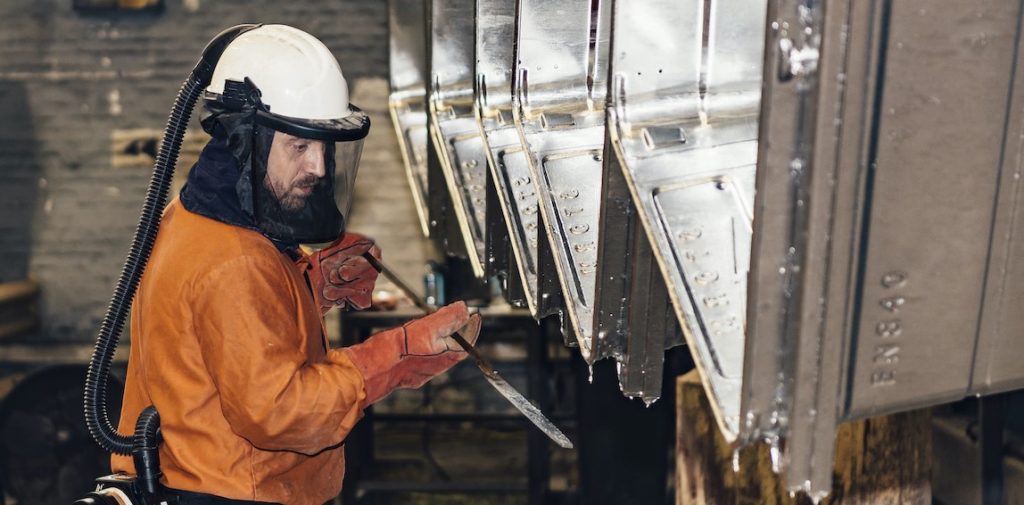 Why a wider bath is better
There are numerous reasons why the width of our Telford bath makes it the ideal place to hot dip galvanize your metal fabrications.
Increased Capacity: A wider galvanizing bath can handle larger and more complex items. This allows you to protect bigger projects without needing to downsize them, saving you time and money. We can also process more of your items at once, reducing the overall turnaround time for projects. This allows us to meet tighter deadlines so you get your projects back quicker.
Reduced Handling: With a wider bath, you can process larger items without needing to handle them as much. Less handling reduces the risk of damage to the items and increases the efficiency of the handling process.
Better Coating Quality: A wider bath allows the molten zinc to flow more freely over all surfaces, both internal and external, of the metal. This ensures consistency with the coating's thickness and quality. This is particularly important for complex items, where getting complete coverage on all surfaces can be difficult.
Cost Savings: By being able to process larger items in a single bath, we can save you money on energy, labour, and maintenance, helping you reduce your expenses overall.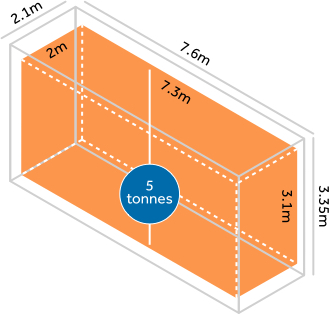 Our Telford bath isn't just wide, though. It's also 7.3 meters long and 3.1 meters deep, with a volume capacity of 5 tonnes. These dimensions make it capable of containing almost any large metal fabrication!
Get a quote or book a collection today to protect your fabrication in the widest UK galvanizing bath at Joseph Ash Telford.
Next page
Liam Houghton, Assistant Divisional Manager at Premier Galvanizing Corby will be completing a 72-hole golf marathon in aid of the charity TOFS – a charity that supported his son through his difficult start to life.
The charity supports those who are born with OA/TOF, which stands for Oesophageal Atresia and Tracheo-Oesophageal Fistula. OA/TOF are rare congenital conditions of the oesophagus (food pipe) and/or trachea (airway) that affect 1 in every 3,500 people.
The charity is close to Liam's heart, as his son Noah was born with OA/TOF. That's why he wants to give back to the charity and partake in the golf marathon.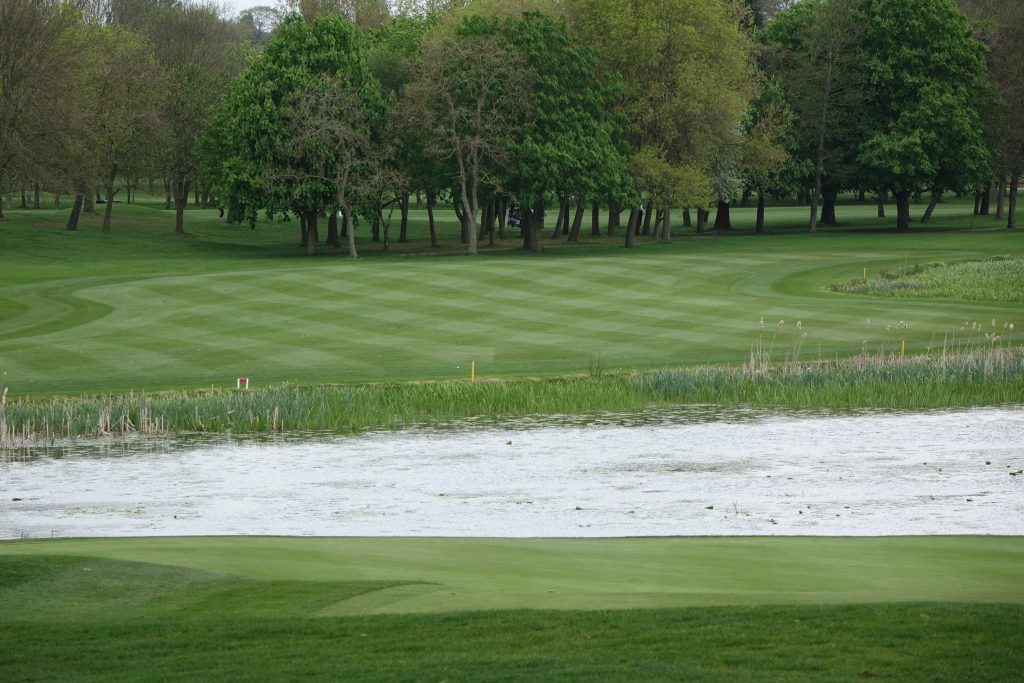 Liam commented on the charity:
"TOFS not only supported my son through the difficult start to his life, but also supported me and my fiancée through the struggling times by giving us incredible information and guidance to prepare us for the road ahead. This is my way of giving back to TOFS, so that they may continue to help future children and families in need."
The fundraising event will take place at Market Harborough Golf Course on Thursday 29th June 2023, so there's still plenty of time to donate.
You can show your support for Liam and the charity by donating to the cause here. Every donation will help the charity continue to help those with OA/TOF.
---
About the charity
TOFS was set up in 1982 by parents of children born with OA/TOF (some of whom are still associated with the charity). They became a registered charity in 1987.
Forty years on, they are still helping families through the challenges of bringing up a child with OA/TOF, VACTERL and associated conditions. Now, there is an increased focus on support for the cohort of adults who live with the consequences of being born with OA/TOF.
They are now the world's largest English-speaking support group for those born unable to swallow. They have members in over 60 countries, and whilst they receive no government funding, they are a small charity with big aims. The charity is dedicated towards a world where those born with these conditions live long and healthy lives.
Next page