Galvanized cob horse for heritage recognition in the South Downs
The Changing Chalk project is a multi-partner, multi-project initiative led by the National Trust. The project aims to restore lost habitats, bring histories to life, and provide new experiences in the outdoors.
As part of this project, Changing Chalk commissioned Jake Bowers, artist and blacksmith at Thirsty Bear Forge, to fabricate a life-size cob horse to recognise and celebrate the cultural heritage of "Gypsy, Roma and Traveller" communities in the South Downs. Jake relied on Joseph Ash Medway to galvanize the horse to the best quality, preserving it for many years to come.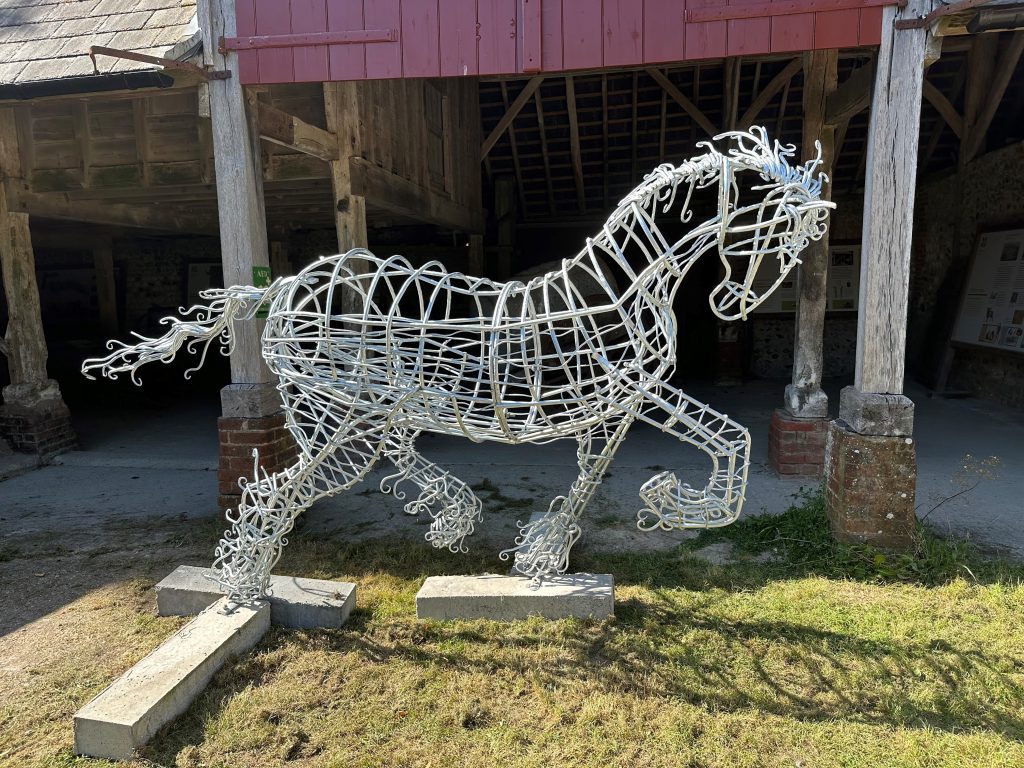 The creation of Prissy
Jake took measurements for the sculpture from a real-life model: Winnie the cob, who was the much-loved horse owned by his sister Priscilla. The sculpture itself was decidedly named after Priscilla, too.
Jake also took Priscilla, Queen of the South (as the sculpture had become known) on a nationwide tour so that members of the community and public sector workers could forge part of her mane, feet and tail. Jake noted: "Our presence at Appleby Fair, for example, allowed scores of Gypsies and Traveller community members to create part of the sculpture."
The community input into the sculpture makes the project even more powerful.
Hot dip galvanizing for an extended lifespan
As Prissy – the shortened name given to the sculpture – was set to live outside in the South Downs, a durable, long-lasting and corrosion-resistant finish was required to ensure it remained protected against the elements for many years to come. Hot dip galvanizing served as the ideal solution, thanks to the extended lifespan it provides for steel. Galvanizing also helps to keep steel looking like new – ideal for preserving the beauty of this symbolic sculpture.
Joseph Ash Medway collected, hot dip galvanized, and returned Prissy back to Jake so that the National Trust could install the sculpture as part of their project.
The outcome
Prissy now resides in the South Downs, serving as a long-lasting reminder of the rich cultural heritage of the communities who help shape these landscapes.
When asked why he chose to galvanize the horse with Joseph Ash Galvanizing, Jake commented:
"The sculpture is so intricate only galvanizing would have reached every part that needed preserving.
"I also love the way Joseph Ash treats works of art with the care and attention to detail that a work of art requires."
Prissy is the first public sculpture to be unveiled as part of Project Atchin Tan, a community initiative seeking to include the voices of travelling communities on issues of sustainability and global warming. At least two other horse sculptures are planned, largely made from recycled steel and the skills of the community members.
---
You can learn more about the Changing Chalk partnership on the National Trust website. To discuss the project with the fabricator, contact Jake Bowers at Thirsty Bear Forge.
If you have a galvanizing requirement, get a quote or book a collection with one of our nine UK sites today.
Next page
Imagine a museum where creativity knows no bounds, where children, young people, and families can unleash their imaginations and be inspired. Young V&A, the brand-new Victoria and Albert children's museum, offers just that.
Seeking a fabricator that could make the museum's exterior stand out, they contacted Factory Settings Ltd to fabricate giant letters to sit on top of the building. Factory Settings, in turn, needed a reliable hot dip galvanizing company that offered a quick turnaround time to increase the steel's durability and give the museum exterior an eye-catching finish.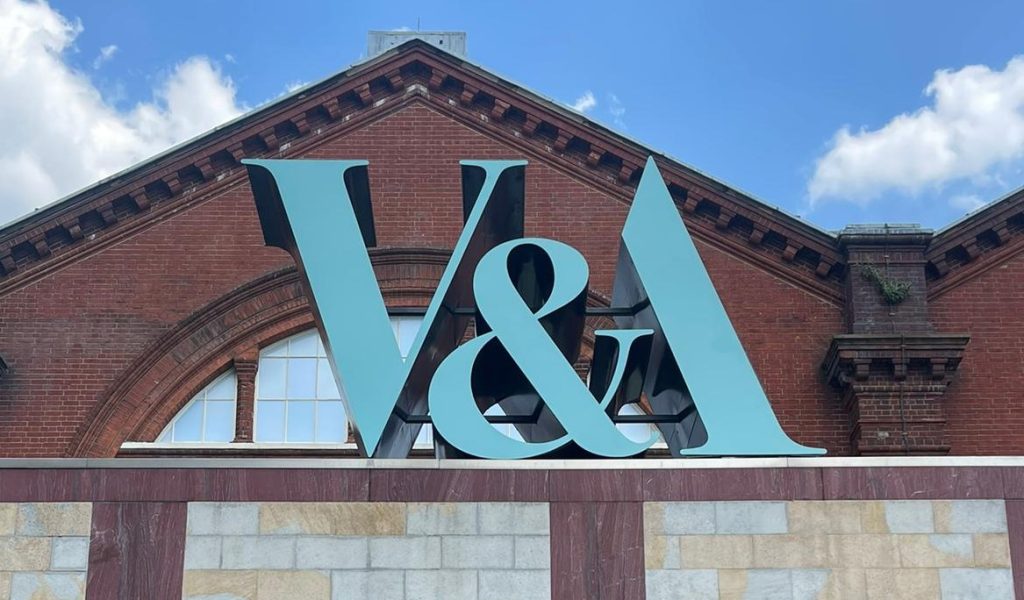 Hot dip galvanized by: Joseph Ash Medway
Fabricated by: Factory Settings Ltd
End client: Young V&A
Steel finishing service: Hot dip galvanizing
Young V&A's requirements
Young V&A is a brand-new children's museum in London where children, young people and families can imagine, play, and be inspired. The London-based museum wanted to enhance their exterior prior to their opening day on 1st July 2023, and turned to Factory Settings Ltd for help. Factory Settings, also based in London, agreed to fabricate a huge sculpture of V&A's logo to be displayed on top of the museum – increasing brand visibility and modernising the museum's exterior.
The museum's grand opening day was fast approaching, and there was a lot to be done. Factory Settings needed a reliable galvanizing company that offered a fast turnaround time from start to finish. Located in Sittingbourne, Kent, Joseph Ash Medway was the perfect choice for the fabricating company.
The letter's frames needed to be galvanized to increase the steel's durability and give it a shiny, clean finish. Galvanizing also makes the steel corrosion-resistant, so the sign stays in excellent condition even in bad weather.
Speedy turnaround times save the day
Sudden delays on steel items and a last-minute change in design meant the deadline was fast approaching without much progress. Factory Settings were reliant on the team at Joseph Ash Medway to adapt to the changing timeframes to ensure the museum's sculpture was ready for the opening day.
Keen to deliver an exceptional service, the Medway team were swift to adapt to the last-minute collection dates. Joseph Ash Medway's flexibility to the situation and their quick turnaround times meant that the work was returned to Factory Settings in time for them to finish cladding before the big day.
Young V&A's grand opening
Young V&A had a successful opening weekend on 1st July 2023.
Factory Setting's Senior Project Manager was keen to thank the Joseph Ash Medway team:
"Thanks so much for all your help getting the frames back to us quickly so we can hit our install deadline – that made a real difference for us. Can't wait to see this signage up in the air!"
Well done to Factory Settings Ltd and everyone else involved!
If you're in London, why not visit Young V&A for a fun and educational day out? Alternatively, if you're in need of steel fabrication, contact Factory Settings Ltd.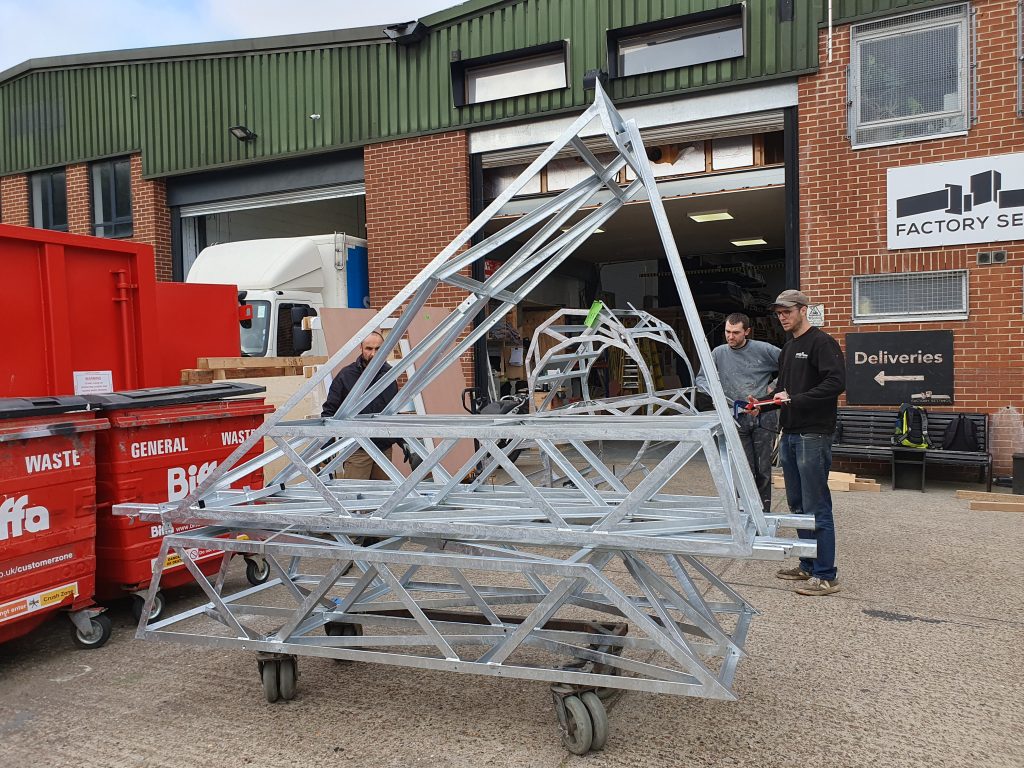 Pictures courtesy of Factory Settings Ltd
---
Joseph Ash Medway delivers a one-stop-shop service of shot blasting, hot dip galvanizing, powder coating and duplex coatings all from under one roof. Contact the Medway team today to discuss steel treatment projects in London and beyond.
Next page
Evenley Wood Garden (EWG) – located in Northamptonshire – is a beautiful 60-acre woodland garden open to visitors. As well as being able to see plants, unusual trees and shrubs, visitors can also take part in wine-tasting events, plant fairs, craft days, and a host of other fun activities. It's a lovely day out!
To greet visitors to the park, the team at Evenley had a great idea: placing three giant steel letters – EWG – at the entrance that people would see and engage with as they approach.
Alison O'Hare, Marketing & Events Co-ordinator at Evenley, contacted a local blacksmith company, Baillie & Co, for help.
Adam Baillie from Baillie & Co is a self-employed blacksmith, fabricator, welder, and metalworker. As his studio is just down the road from Evenley Wood Garden, and he often takes part in events there, he relished the opportunity to produce the letter installation.
Adam designed and fabricated each letter to not only be freestanding letters but also planters that can be decorated with stunning floral displays by the gardeners at Evenley.
The letters are solid steel (apart from the hollow base). They are 1.5m high – perfect for visitors to the park to interact with and have their photos taken beside.
Because the letters are steel, they need galvanizing for protection against rust and corrosion.
Adam booked the galvanizing service with Joseph Ash Walsall, where he received excellent service.
Adam was concerned about the letters during the galvanizing process and the potential damage caused by how the letters would have to hang over the zinc bath. However, his concerns disappeared after speaking to Paul Hudson at Joseph Ash Walsall.
Paul happily took the time to explain the importance of vent holes and describe the hanging process.
During these calls, Paul also arranged the collection and delivery of the letters to save Adam from having to manage these logistics separately.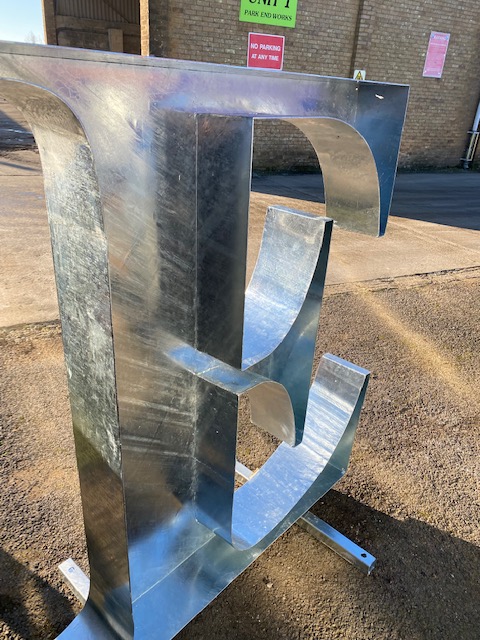 Adam was very pleased with the galvanized finish for the letters. Before delivering them to Evenley Wood Garden, he also applied a final light wash to create a burnished effect.
Adam chose a wash instead of paint to make the letters more environmentally friendly.
The letters are now at Evenley Wood Garden, looking amazing. Adam is looking forward to seeing how the Garden's visitors react to them. So are we!
_____________________________________________________________________________
About Adam Baillie and Baillie & Co
Adam is a highly experienced metalworker and award-winning blacksmith, with a passion for contemporary design. He thrives in commercial workshops producing superior standards of creative craftsmanship, whilst offering the best in customer and client satisfaction. He provides the following services: bespoke design, conservation and restoration, and general metalworking.
Contact Adam at contact@baillieandco.co.uk for any metalwork needs.
_____________________
Venting hints and tips
For hints and tips on the best way to prepare steel for fabrication, download our free Safe Design for Hot Dip Galvanizing poster.
Next page
Galvanized lift innovation enables safe hoof care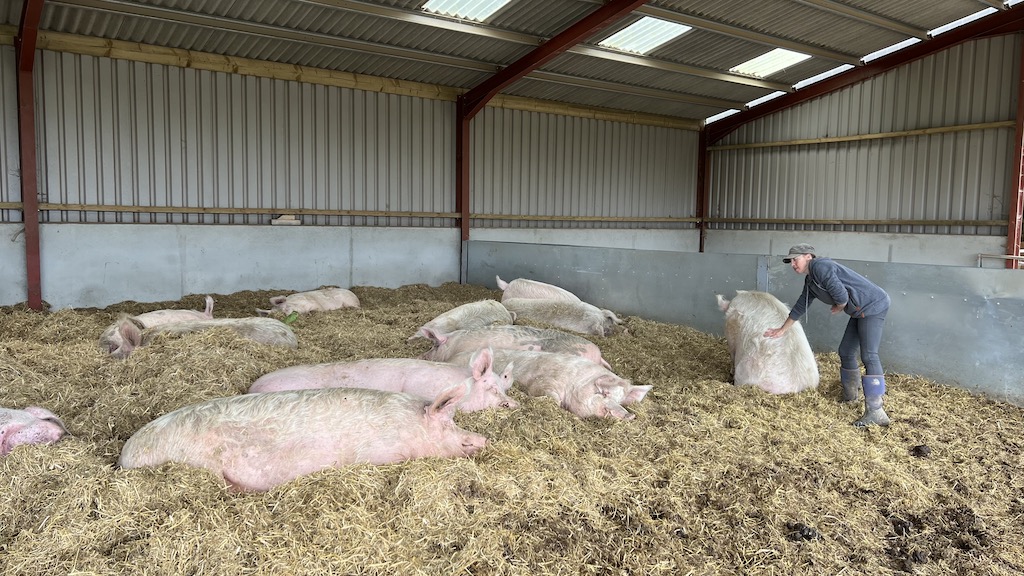 Nestled amongst the rolling hills between Tregaron and Lampeter in Wales is an animal sanctuary called Beneath the Wood. Set up by Sasha Bennett in 2009, it provides a permanent home for dogs, sheep, cats, horses and – as of 2019 – a sounder of pigs.
The pigs (and their subsequent offspring) found safety at Beneath the Wood after they were rescued from an illegal and horrific slaughterhouse in Pembrokeshire. The 53 pigs were living in appalling conditions amongst carcasses and surviving on the entrails of the other slaughtered animals. Some were so desperate they began cannibalising. Some ate car parts, batteries, car doors… anything to avoid starvation.
After being rescued by authorities, the pigs became the subject of a court destruction order as they were not fit for consumption. There was a public outcry, so Beneath the Wood decided to fight for them. After a nine-month legal battle, the pigs (numbering 91 because the males were kept in a DEFRA isolation unit with the females!) were allowed to move to their forever home at the animal sanctuary.
Victory for Beneath the Wood and the pigs! But not without its problems.
Because the pigs had been kept in dreadful conditions at the slaughterhouse, their hooves had grown and, in some cases, become curved and uneven, making it difficult for them to stand and walk. As a result, the pigs needed a much-needed pedicure. But foot care on such heavy and strong animals is challenging. Especially when the biggest pig – Gandalf – is 7ft in length and weighs over half a tonne!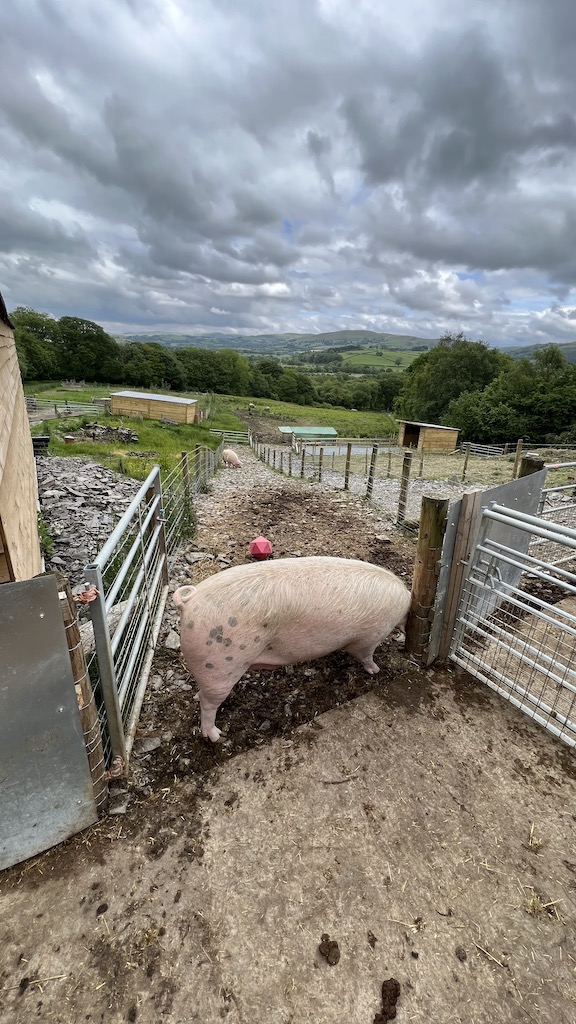 Beneath the Wood turned to Designeering in Leicestershire for help.
Designeering is a design and engineering company which helps people/companies to develop product ideas and bring them to life. The team at Beneath the Wood explained their problem. They told Designeering about animal lifting equipment such as cow hoists. A good idea, but unfortunately not suitable for the pigs. They needed lifting equipment that was strong and modular enough to accommodate different size pigs.
Designeering rose to the challenge and designed, engineered, and manufactured an innovative Pig Lift that can lift the pigs in the air with their feet dangling so they can be treated and trimmed.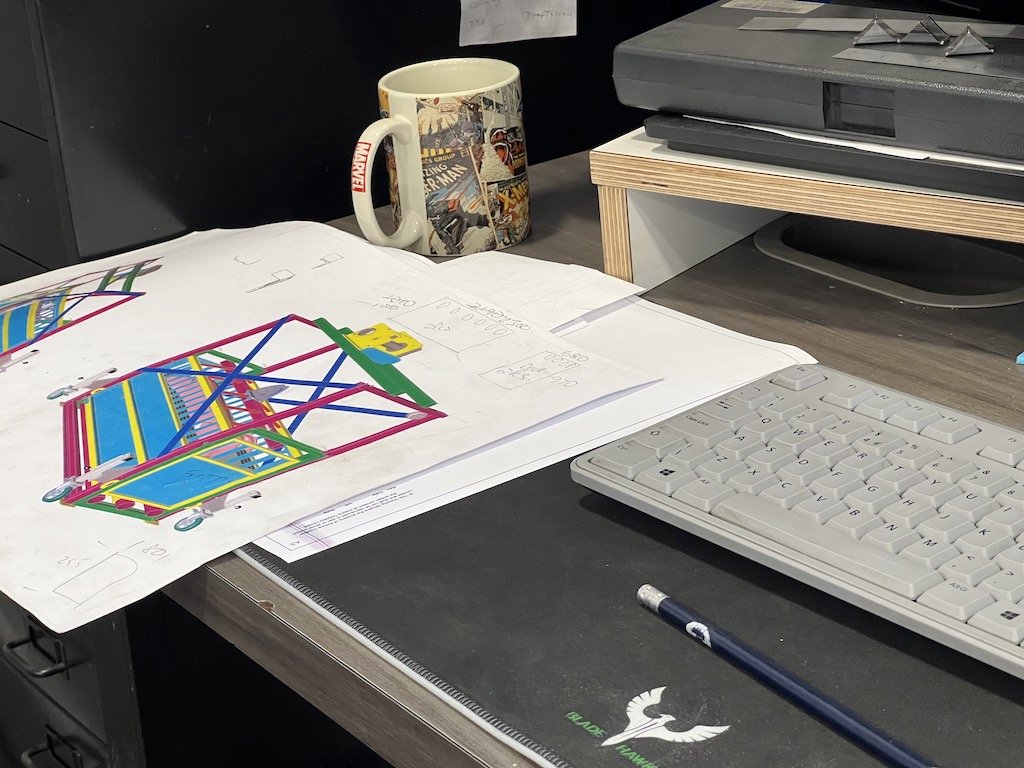 They opted for a modular design that can accommodate animals ranging from 150 kg to over 600 kg. The unit is also mobile, electrically operated, and safe for the operator and animal.
As the Pig Lift consists of steel sections, tubes, and laser-cut sheet metal fabrication welded together to form a heavy-duty structure, it needed to be galvanized.
Hot dip galvanizing is imperative because it provides a long-life, low-maintenance corrosion protection, which safeguards the steel from atmospheric attack, which causes rust and weakens steel.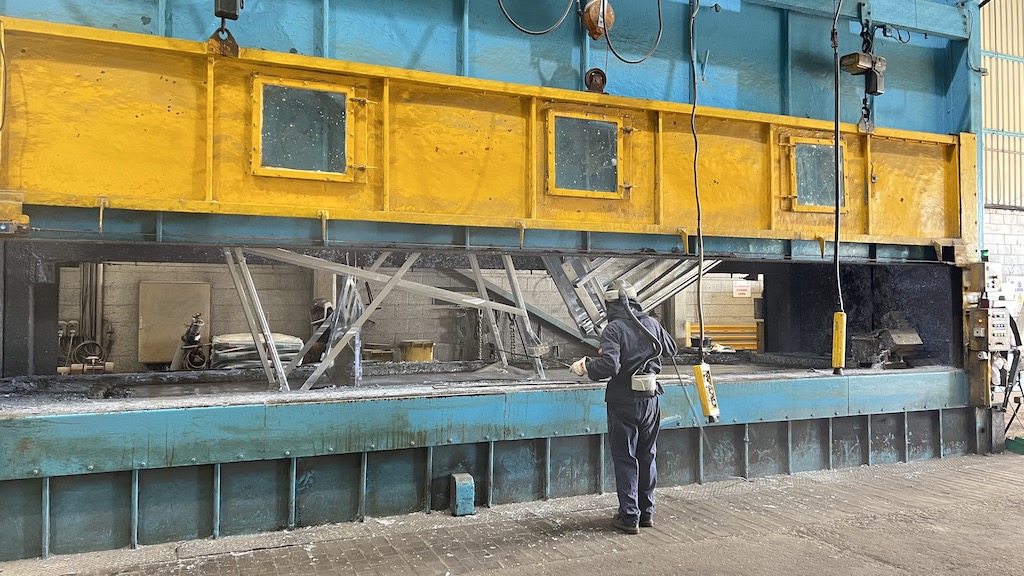 Designeering sent the Pig Lift to Joseph Ash Walsall to be treated with a galvanized coating to prolong the life of the equipment. The team at Joseph Ash were delighted to help such a good cause and donated their time and service free of charge, including collection and delivery.
The Pig Lift was delivered to the animal sanctuary just before Christmas: designed, manufactured, protected from corrosion with a galvanized finish, and ready to enable hoof trimming. The giant boars need hoof trimming first, so they're being treated, and it's onto the other pigs.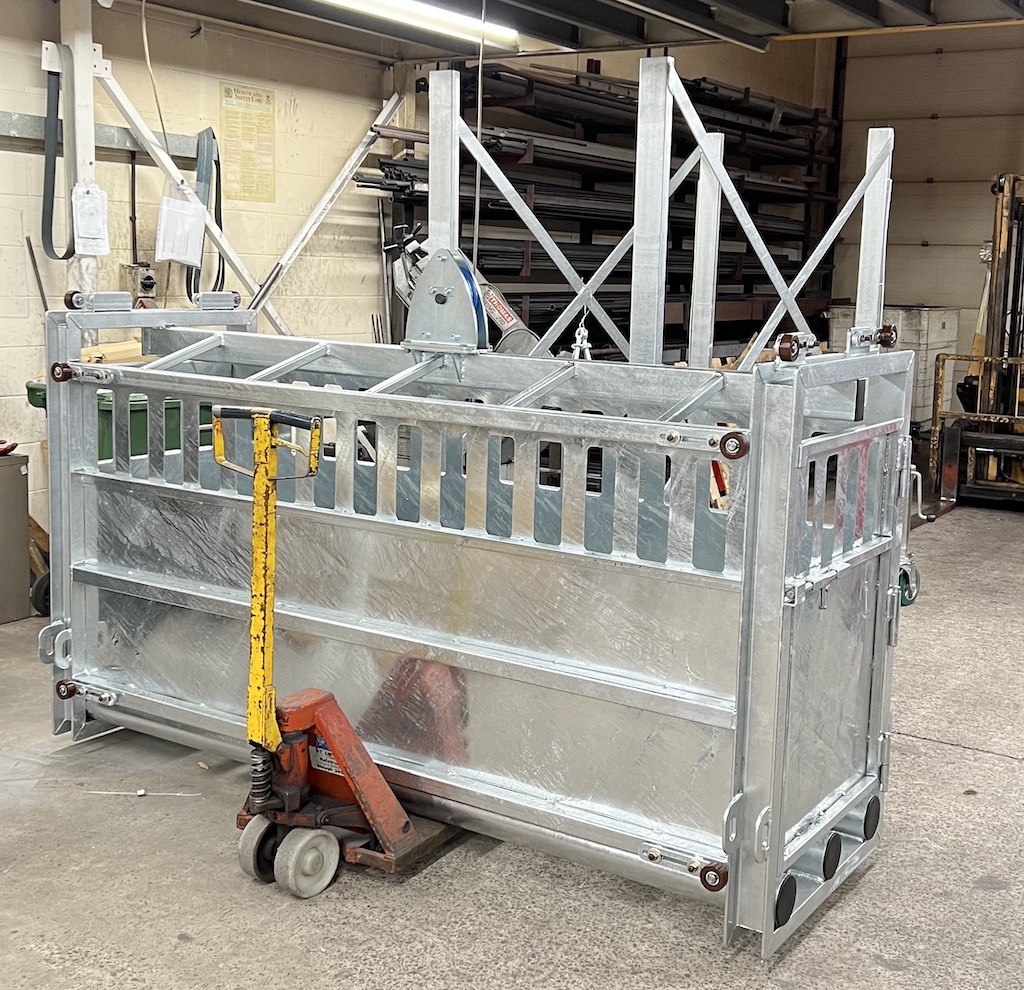 Sébastien de La Hamayde, Creative Director at Designeering said "We've loved working on this project! Sasha Bennett and her team at Beneath the Woods do a fantastic job providing a safe home for all the animals they look after. As for the pigs, despite experiencing trauma at the illegal slaughterhouse where they were found, they are now well looked after and comfortable in their new surroundings. We are proud to have designed equipment to help the Sanctuary continue looking after them."
Paul Hudson, Sales and Technical Manager at Joseph Ash Walsall, said "Wow! What an amazing project to be involved in. Thanks to Designeering for contacting us and sending the steel to our plant. We were happy to donate our services for such a worthwhile cause. We hope the pigs thrive in their new home and the new lifting equipment gives them some much-needed care."
______________________________________________________________________________
Beneath the Wood Sanctuary is a not-for-profit organisation. They run solely on public donations, mainly through their Twitter, Facebook, and Instagram social media accounts. They have around 140 animals in their care, ranging from dogs, cats, pigs, horses, and sheep, all rescued from difficult circumstances. They are a small team of dedicated volunteers, just five people keeping the animals fed and cared for, along with occasional volunteer days for extra help on larger projects.
To support the Beneath the Wood team, contact Sasha Bennett via email.
Next page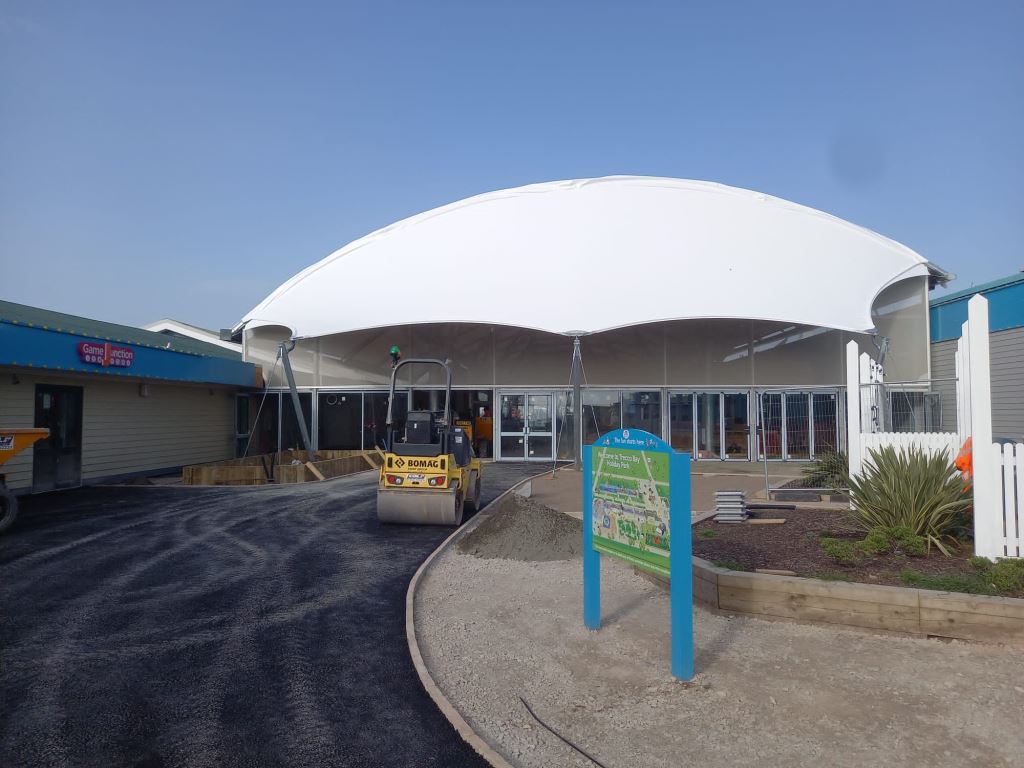 Throughout July and August, families flocked to resorts in the UK for much-needed rest and relaxation. A popular holiday park in Wales is Trecco Bay. Before the Summer began,  Metafab Solutions and Joseph Ash Walsall visited the resort to create a new and exciting space for the holidaymakers.
Trecco Bay in Porthcawl is run by Park Dean Resorts – the UK's largest holiday park operator – which owns and operates 66 holiday parks. Over the last few years, they have been reinvesting heavily into their parks to improve facilities and accommodation.
The Trecco Bay resort has been the biggest beneficiary of the reinvestment programme – £3.6m – as Park Dean seeks to make it one of their 'Parks of the future'.
As part of the makeover, Park Dean engaged NBDA Architects – based in Bollington, Cheshire – to design a new, unique space to protect holidaymakers from the weather whilst enjoying the resort's entertainment and eating areas.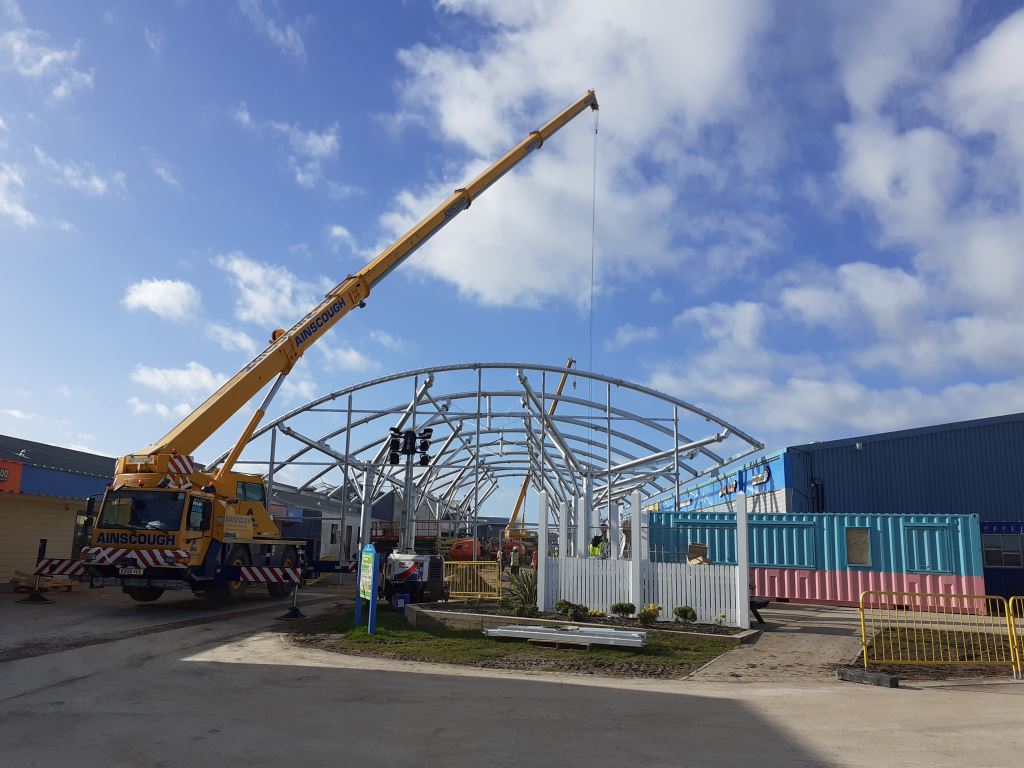 The space is a covered canopy supported by steel struts, including amusements, a bar, giant TV screens, seating areas and coffee shops.
MetaFab Solutions, based in Cinderford, Gloucestershire, is a steel fabricator and welder specialising in the fabrication of bespoke steelwork. They fabricated the steel frame for NBDA Architects and Park Dean.
Fabric Architecture, who specialise in tensile fabric structures, worked with NBDA to design the structure and supply and fit the tensile fabric canopy.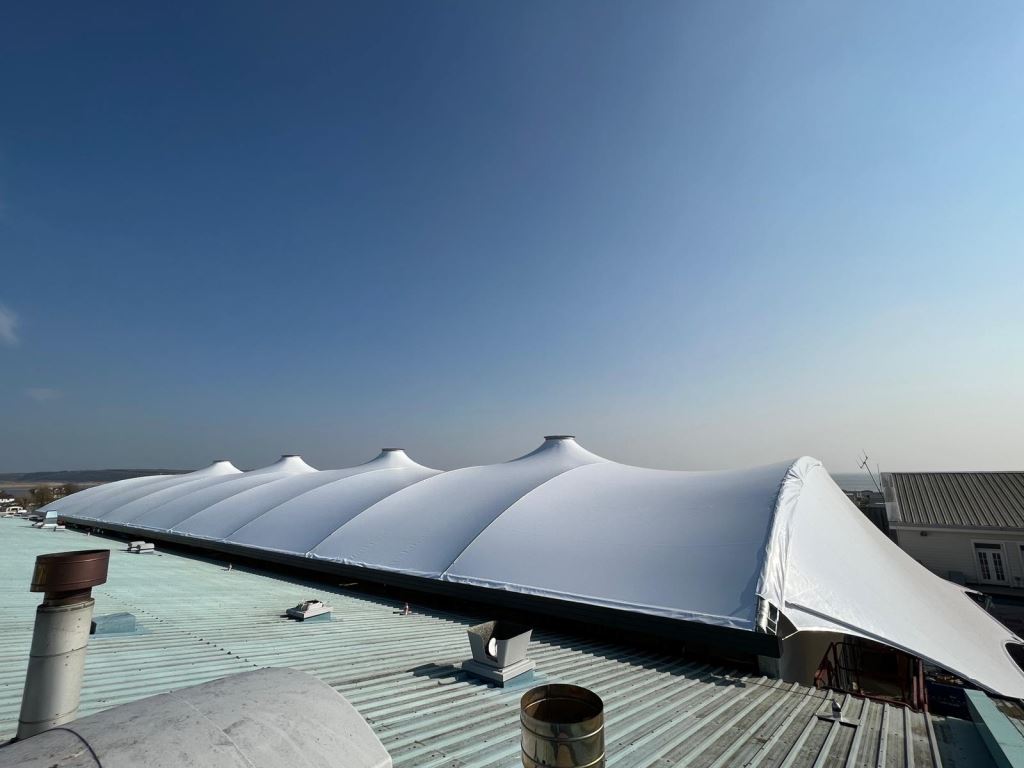 Michael Chung – Projects Director at Metafab Solutions – said, "It was a huge project requiring 60 tonnes of steel for the 64m long, 106m high and 24.6m wide new structure."
Just as MetaFab Solutions has protected the holidaymakers from inclement weather, Joseph Ash Walsall has also safeguarded the steel.
MetaFab Solutions chose Joseph Ash Walsall to hot dip galvanize the steel, providing a long-life, low-maintenance, corrosion protection to safeguard it from rust.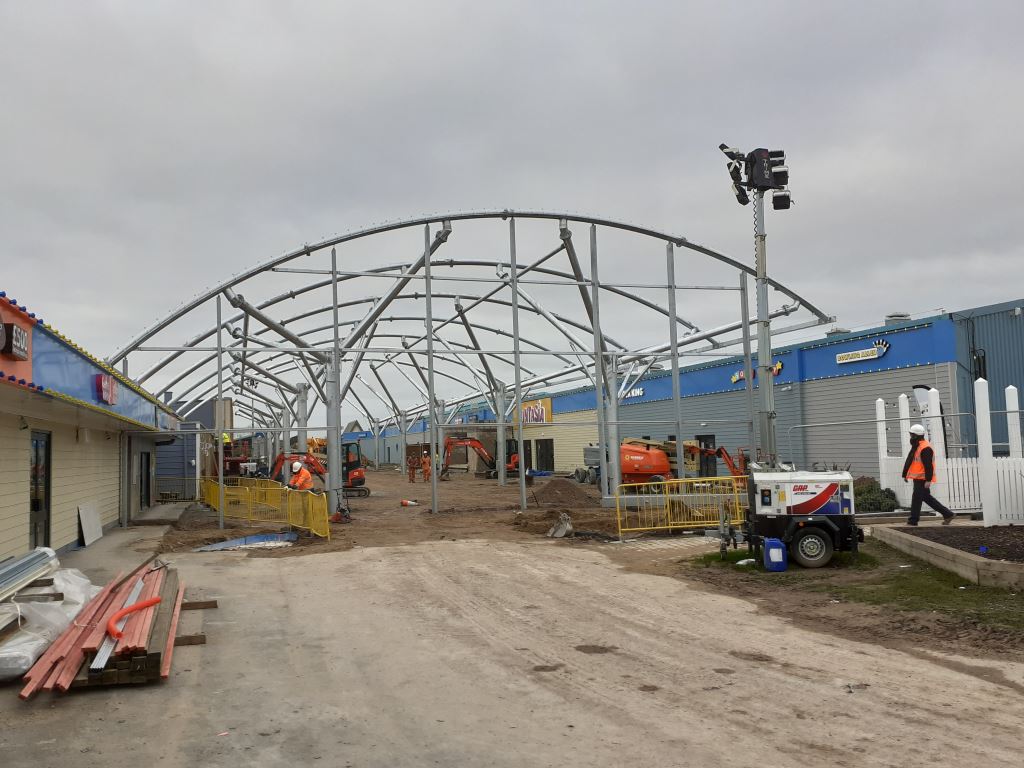 MetaFab Solutions also chose Joseph Ash Walsall because we provide a hassle-free collection and delivery service for steel.
Paul Hudson – at Joseph Ash Walsall – said, "The new space at Trecco Bay was a great project to work on, especially as we know lots of holidaymakers will enjoy it for years to come."
Next page
Sokari Douglas Camp applauds the Carnival spirit with hot dip galvanized steel sculptures
With London's most famous carnival taking over Notting Hill next month, we're showcasing a new art installation by acclaimed artist Sokari Douglas Camp, CBE.
Born in Nigeria and based in London, Sokari has exhibitions worldwide, including at the Smithsonian and the British Museum. One of her most recent was part of Kensington and Chelsea Art Week.
The artwork is a hot dip galvanized steel sculpture of two vibrantly dressed, life-size characters with ornate headgear.
The characters represent key themes:
Kalabari masquerades from the Nigerian coastal region where Sokari was born.
The vitality and spirit of the Notting Hill Carnival bouncing back after COVID.
Jonkonnu revellers in Jamaica in the late 1830s.
Sokari was inspired to create the two characters after researching the origins of the Notting Hill Carnival during lockdown and seeing some Jonkonnu lithographs by Isaac Mendes Belisario.
Jonkonnu was a festival practised during slavery in the Caribbean when plantation workers were allowed a few days off. They celebrated with "exuberant musical masquerades that recalled their African heritage". (Source)
Sokari saw positivity in the Jonkonnu festivals because even in times of adversity, the revellers danced, sang, showed resilience, and celebrated their heritage.
Likening this to the return of the Notting Hill Carnival after it disappeared during COVID, Sokari had faith that the carnival spirit lives on.
The costumes may have changed since the 1830s – fewer sailors and petticoats, more tiny outfits, lycra and birds of paradise feathered headgear – but celebrating heritage using dance, music, and costumes remains.
Finding 'good' in the 'bad'
Another theme that Sokari explored when creating these sculptures is the notion of 'finding good in the bad'. When you look at the photos, you'll see ornate headgear on the two characters featuring tea and sugar cane. With these references, Sokari wants to remind us that Caribbean and African slaves had harsh lives on tea and sugar cane plantations. And yet there's a dichotomy to this, as tea is often soothing, and sugar is sweet. We should never forget there are many layers of heritage.
_________________________
The making of the sculptures
Sokari made the Jonkonnu sculptures in her Elephant & Castle, London studio by welding, cutting, and bending steel. Joseph Ash Medway – a supplier to Sokari for 15 years – hot dip galvanized the steel to give it a protective coating.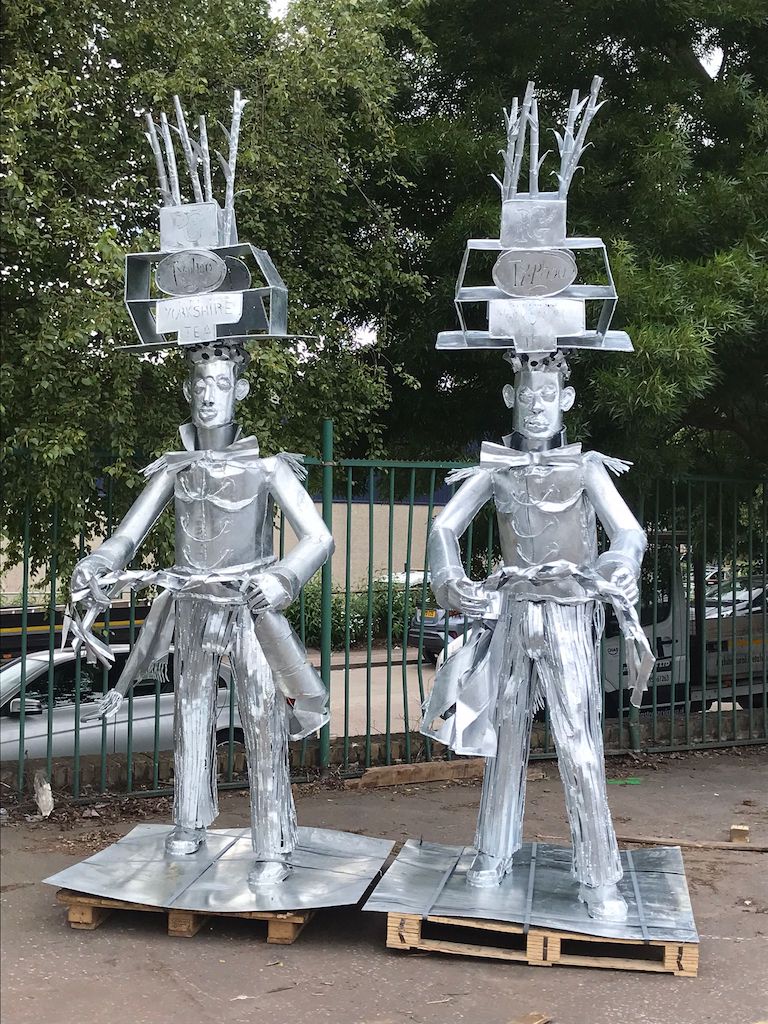 Sokari then covered the sculptures with vibrant coloured car spray back in her studio.
She had just one month to pull the whole project together! But she succeeded.
_______________________
If you'd like to see the Jonkonnu sculptures, they will be outside the Design Museum in London until 30 August 2022, and as part of an exhibit at The October Gallery until 23 July 2022. Sokari is also exhibiting at the V&A until May 2023
To read more about Sokari and her works, visit her website.
To immerse yourself in Carnival heritage, visit Notting Hill from 27-29 August 2022.
Next page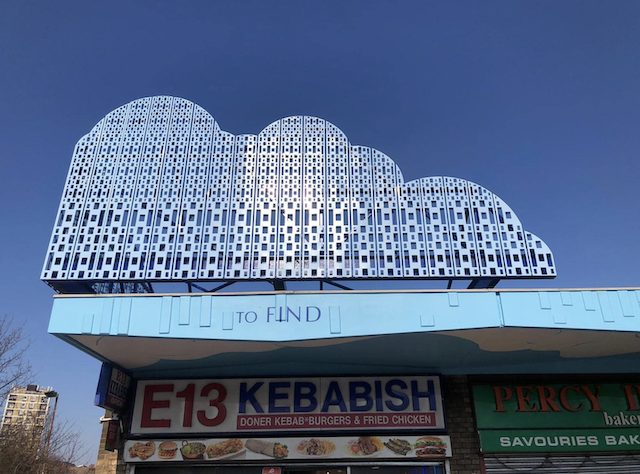 As weather forecasts across the UK look good this week, with plenty of sunshine, we're celebrating 'Mr Blue Sky' in Newham.
'Mr Blue Sky' is a cloud-shaped sculpture which sits atop a row of shops in Plaistow, London. It was commissioned by Shape Newham, who play a key part in a borough-wide investment in public art.
The fabricator was Cake Industries who created the sculpture from folded aluminium panels.
Joseph Ash Galvanizing was proud to hot dip galvanize the steel supporting structure behind the panels.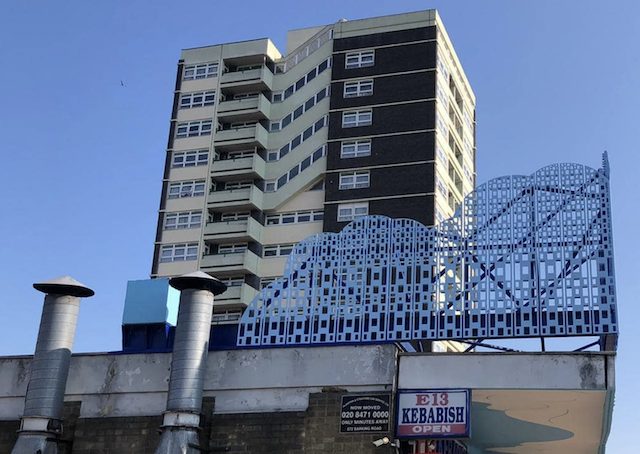 Look out (or look up!) for the sculpture if you're in the East London area this week.
Next page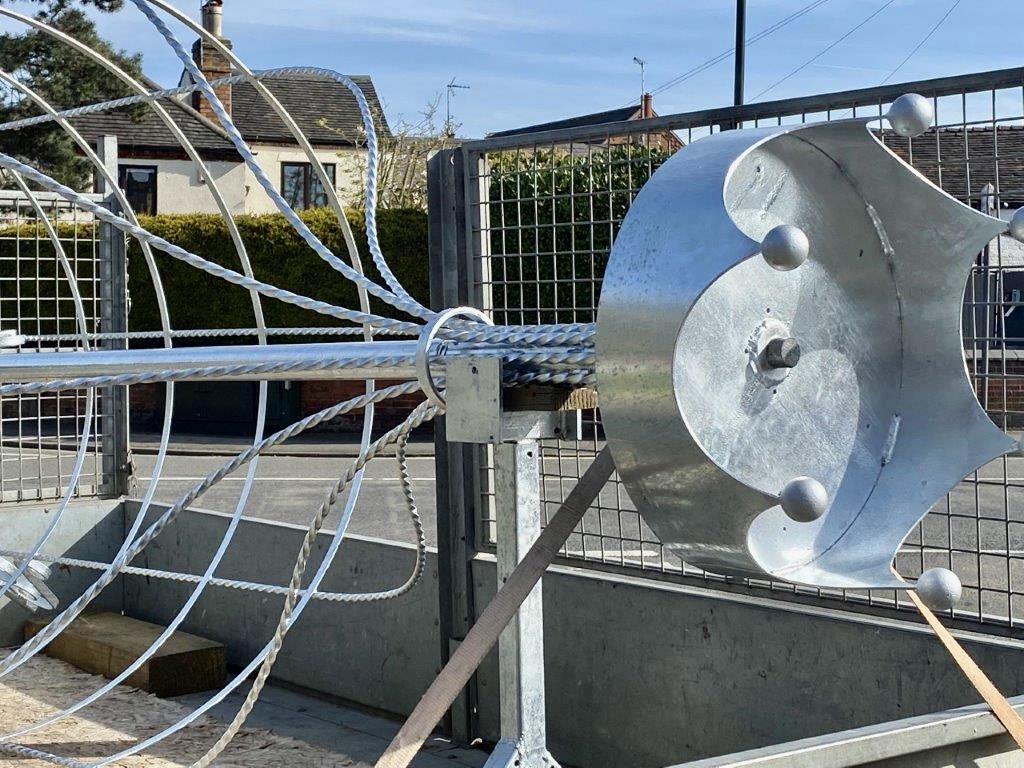 As the country gets ready for the Queen's Platinum Jubilee, there's a sense of excitement in the air. The Post Office has issued commemorative stamps. Big business is talking about Jubilee activities. The BBC is full of royal news, and local communities are getting out the bunting and flags.
The village of Draycott in Derbyshire is no exception.
Every year, the Draycott Village Fund promotes 'Draycott in Bloom', encouraging residents to fill the village with flowers to brighten up the surroundings.
Draycott has been so successful that it has won four RHS Gold Awards for the annual 'Britain in Bloom' competition in 2016, 2017, 2018 and 2019.
In 2022 they are going all-out to win again, and they're using the Platinum Jubilee as the key theme.
Residents will be choosing flowers with colours suitable to commemorate the Jubilee. They've also gone a step further and fabricated a 10ft high by 6ft wide steel structure weighing 200kg for Draycott Square.
The structure is dome-shaped and topped with a crown, and it was commissioned by two Draycott retirees who like to do good projects for the community.
Joseph Ash Chesterfield hot dip galvanized it.
Hot dip galvanizing provides long-life, low-maintenance corrosion protection, which safeguards the steel from atmospheric attack, which causes rust. It also gives steelwork and shiny silver colour.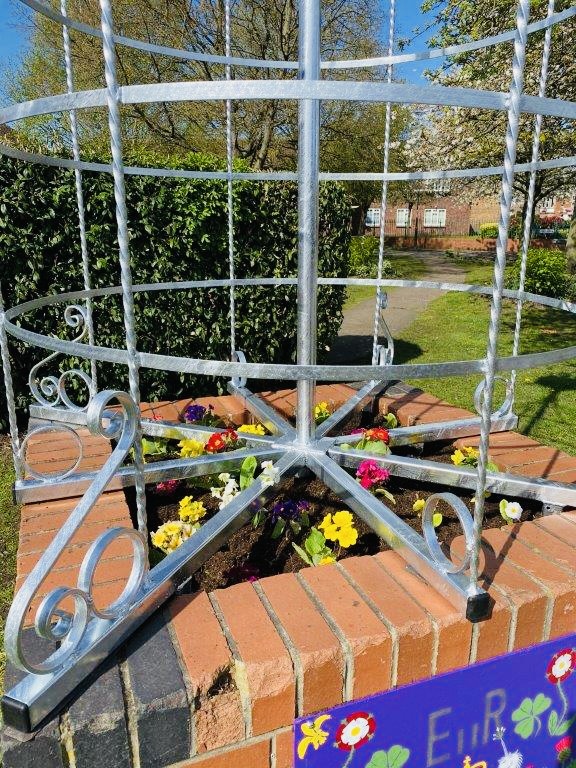 It was a pleasure to be involved in this community project. It's probably one of many that will come through our plants supporting the Jubilee.
Enjoy all your celebrations, Draycott! We hope you win the 2022 RHS Award as well.
Right, time to go and find our own bunting and flags!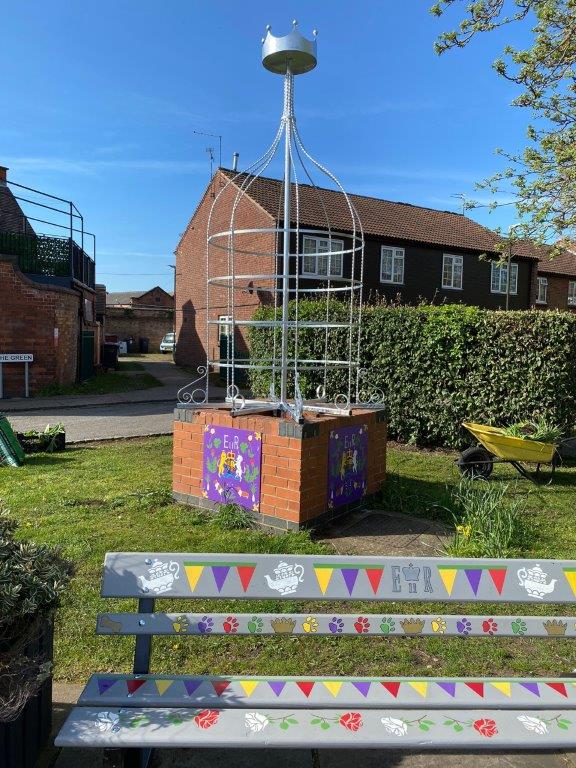 Next page
The importance of trust when choosing a galvanizer.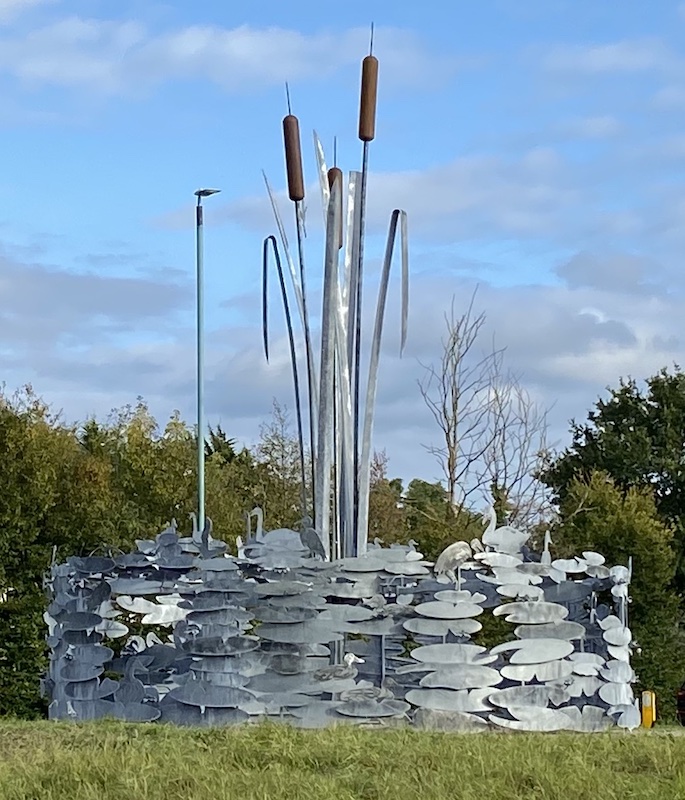 When the Wildfowl and Wetlands Trust wanted to commemorate the Slimbridge 75 Project, they turned to Ian Gill – award-winning contemporary metal artist, and blacksmith – to create a sculpture. 'Nest' was built and installed on the A38 Slimbridge roundabout in October 2021. Because it was a long project due to planning and the pandemic, Ian needed to ensure the final stage – hot dip galvanizing – was in safe hands. He chose Premier Galvanizing – part of the Joseph Ash Group.
The Wildfowl and Wetland's Trust (WWT) was created by Sir Peter Scott in 1946, as a place of conservation, and science. The Slimbridge Wetland Centre in Gloucestershire was the first of nine sites for the WWT, and 75 years on, the attraction receives over 250,000 visitors a year and helps protect birds, and their wetland habitats.
To commemorate the 75th birthday of the first site, the WWT wanted a sculpture on the A38 Slimbridge roundabout, that people would see as they enter the wetlands.
With funding from Moto in the Community and the National Lottery Heritage Fund, the WWT set a competition for school pupils from Slimbridge Primary School to design a sculpture that symbolised what the Wetlands Centre meant to them. The winning design, submitted by an 11-year old pupil, incorporated a blend of natural wetland habitats, insects and bird species spotted at Slimbridge.
Award-winning sculptor, Ian Gill, was tasked with bringing the sculpture to life in his studio in Lincolnshire.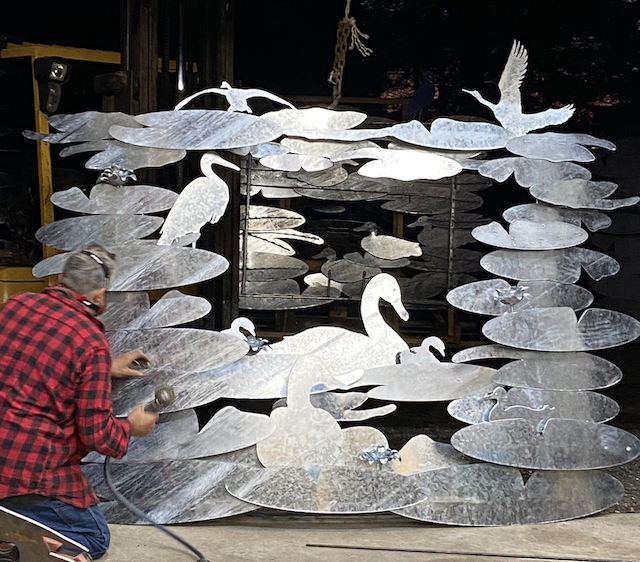 With its intricate design of reeds, wildlife and Lilly pads, plus over 3500kg of steel, it took Ian 14 months to forge the steel.
It's not just wildlife protection
When steel is used in outdoor art or construction, it needs to be protected from the environment, to ensure longevity. A hot dip galvanized coating is the perfect finish, as it provides a beautiful silver shine and protects the steel from rust.
When working on 'Nest', Ian had only just moved from Essex to Lincolnshire and even though he had been pleased with his previous galvanizer, he wanted a company closer to his new location. So he met with Premier Galvanizing in early 2020 and learnt about our expertise in galvanizing steel for intricate works of art.
Entrusting work to a new galvanizer can be a daunting prospect. Especially when galvanization is the final stage of a project that has taken over a year to fabricate. In the hands of the wrong galvanizer, a project can be ruined in minutes. But Premier Galvanizing allayed Ian's concerns. We invited him to watch how the steel was carefully loaded onto the trucks at his studio and welcomed him to the plant to see how the steel would be unloaded and dipped into the zinc bath for the galvanizing process.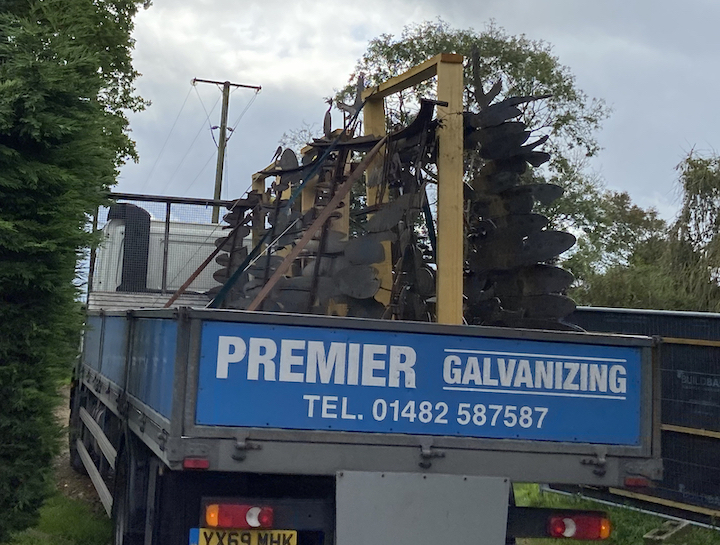 Ian was impressed, stating that "The communication level and quality of work from Premier Galvanizing is second to none."
Ian has since used Premier Galvanizing for several sculptures, including 'The Singing Waterlilly', a signature piece of art for Raymond Blanc's pop-up restaurant in Chelsea in 2021.
Here's to the next 75 years
The WWT grew in strength over the years, and now has nine sites across the UK, welcoming over a million visitors every year.
When 'Nest' was installed, Moto in the Community Chair Louise Hughes said: "We're so excited [about] this beautiful sculpture… Everyone at Moto in the Community is so pleased that WWT will now have this local landmark to signpost Slimbridge as the home of conservation as we know it today.
Alongside the work and projects that Moto in the Community has supported at WWT Slimbridge itself, we're delighted that this sculpture can help showcase WWT's 75th anniversary celebrations to the local community and beyond."
Ian said "With our biodiversity in decline, 'Nest' is a constant reminder that without nurture and change, this is what we could lose.
The sculpture depicts an infinity of lily pads, with a whole range of wildfowl and birds living amongst it, creating its sanctuary. Raising awareness and reminding us how beautiful nature is around us and why we need to protect it."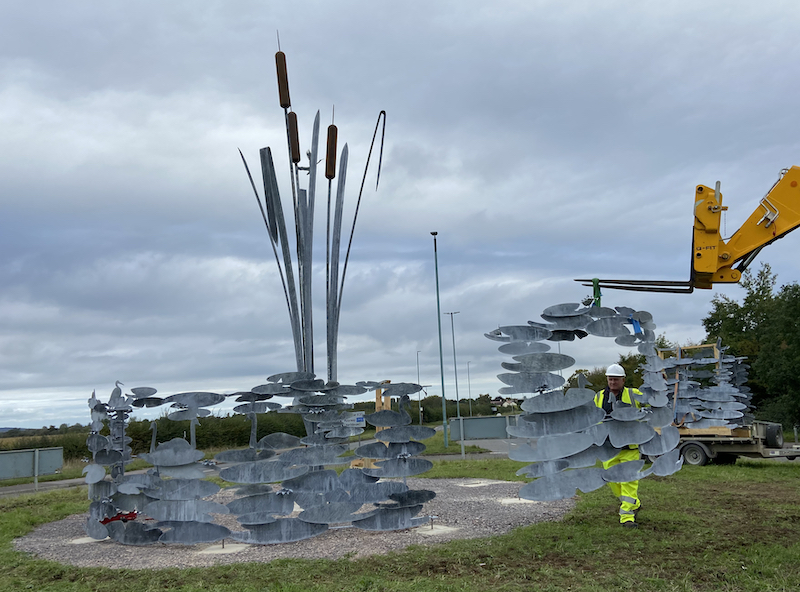 Andrew Tweddle, Premier Galvanizing Hull said: "We've been proud to showcase to Ian the quality of work and customer service we provide when hot dip galvanizing steel and we look forward to working with him on many projects in the future.
It's also been an honour to hot dip galvanize 'Nest' for the WWT and the visitors to Slimbridge. Here's to the next 75 years for the WWT, and we hope the sculpture is enjoyed for many years to come."
__________________
To read more about Ian Gill's work, visit his website at www.iangillsculpture.com, or follow him on Instagram, Facebook, and Twitter. (See links on his site.) You can see Ian's work all over the UK. His work can also be seen in Palm Springs, Mumbai and the Czech Republic. He also exhibits at the Chelsea Flower Show every year.
To read more about the Wildfowl and Wetlands Trust, visit their website at www.wwt.org.uk. You can also read about their founder – Sir Peter Scott, who, interestingly was the son of Antarctic explorer Captain Scott.
Next page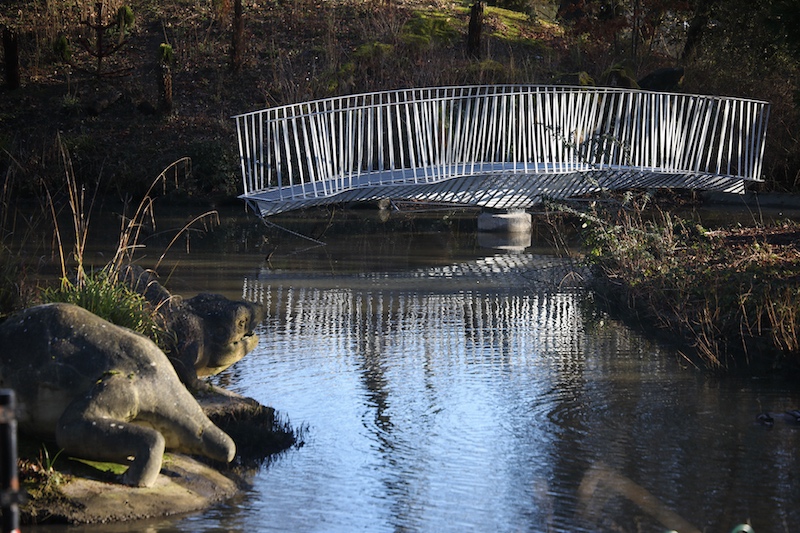 Fabricated by Cake Industries, hot dip galvanized by Joseph Ash Chesterfield
In 1854, a 'Dinosaur Court' opened on an island at Crystal Palace Park. The attraction consisted of 30 plus life-size dinosaurs, sculpted by acclaimed sculptor and natural history artist Benjamin Waterhouse Hawkins. Described as the "birthplace of 'Dinomania'", the 'Dinosaur Court has been "a symbol of British influence" ever since.
The Grade I Historic Site has been available to the public for nearly 170 years, and it needs regular care and attention with conservation monitoring, repair of the sculptures and grounds maintenance. Volunteers help, however access to the dinosaurs became challenging in 2017 when the footbridge leading to the island was removed. Something had to be done! Enter the Friends of Crystal Palace Dinosaurs, who successfully raised money through crowdfunding to reinstate a bridge. Not the same bridge as before. Instead, a new fit-for-purpose pedestrian bridge in a new location.
The structural designer for the bridge was Arup, and the architect was Tonkin Lui. Joseph Ash Chesterfield provided the steel protection. The main contractor, design collaborator and steel fabricator was Cake Industries.
Cake Industries – the bridge fabricators
Cake Industries is a design and fabrication firm that produces beautiful objects, from sculpture and staircases to bridges and small buildings. They take an idea or a set of drawings and turn it into reality, carrying out the full design (including structural engineering) and assembling the elements.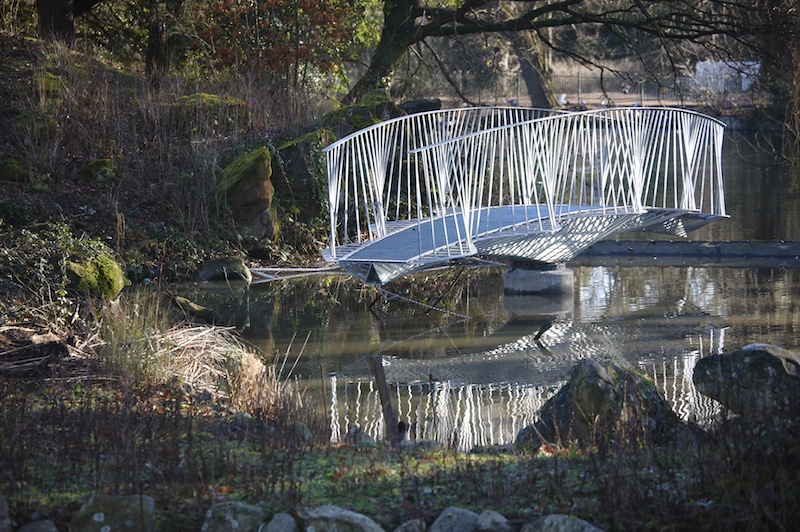 Cake Industries built the bridge in their South London workshop. Starting with precise laser-cut pieces, a female mould was used to assemble the triangular spine beam. Laser-cut combs were heated locally and bent by hand so that the shape of the deck was gradually revealed. The deck pieces were welded to the central beam before a handrail and deck mesh was attached.
The entire structure was then galvanized in one dip at Joseph Ash Chesterfield to provide a protective and decorative coating.
Installation
The new bridge was installed at Crystal Palace Park in January 2021. To protect this batch of dinosaurs from extinction, it was designed on a pivot to open or close to control traffic to the island prevent unauthorised access to the site.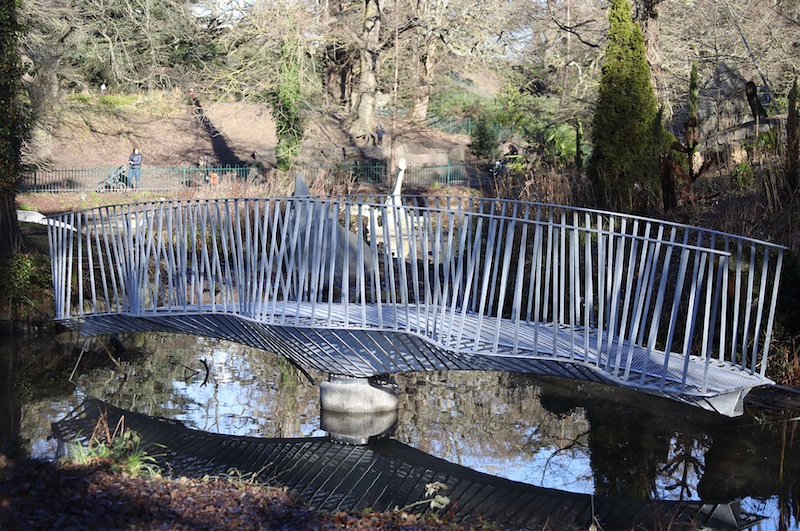 Watch this short film by Cake Industries to see a timelapse of the bridge fabrication, through to hot dip galvanizing and installation. You can also see how it opens and closes.
Known affectionately as the 'Dinosaur Bridge', it has been an acclaimed success due to its functionality and beauty. It has also been shortlisted for the Institute of Structural Engineers 2021 Award for Pedestrian Bridges. (Good luck Cake Industries!)
Long-time partnership
Joseph Ash Galvanizing has worked on several projects for Cake Industries and each one is interesting, challenging, and exciting. (Read about some recent projects: The Living Room and The Hothouse.) A bit like the Crystal Palace dinosaurs, our company also started life in the 1850's, so we were delighted to assist with this project!
_____________________
If you'd like to see the 'Dinosaur Court' and the Dinosaur Bridge, visit the Crystal Palace Dinosaurs website. For more pictures of the bridge visit Cake Industries and The Trianglese blog.
(Photos by James Balston)
Next page