Friday 28 April is World Day for Safety and Health at Work. It was set up by the International Labour Organisation (ILO) in 2003. The national initiative encourages and supports the need for organisations, labour unions, employers, and governments to create safe and healthy work environments. The goal: reduce accidents, illness and death for all visitors and employees to workplaces.
As a Company that prioritises health and safety at work, we proudly promote this day.
At Joseph Ash, our commitment to ensuring our plants are safe places to work and visit is 100%. Health and safety in any workplace are essential, but they're critical in an industrial galvanizing plant.
Galvanizing plants can pose considerable risks to workers if proper safety measures are not in place. This is due to heavy machinery, hazardous materials, chemicals, fumes, and baths of molten zinc at temperatures of 450°C.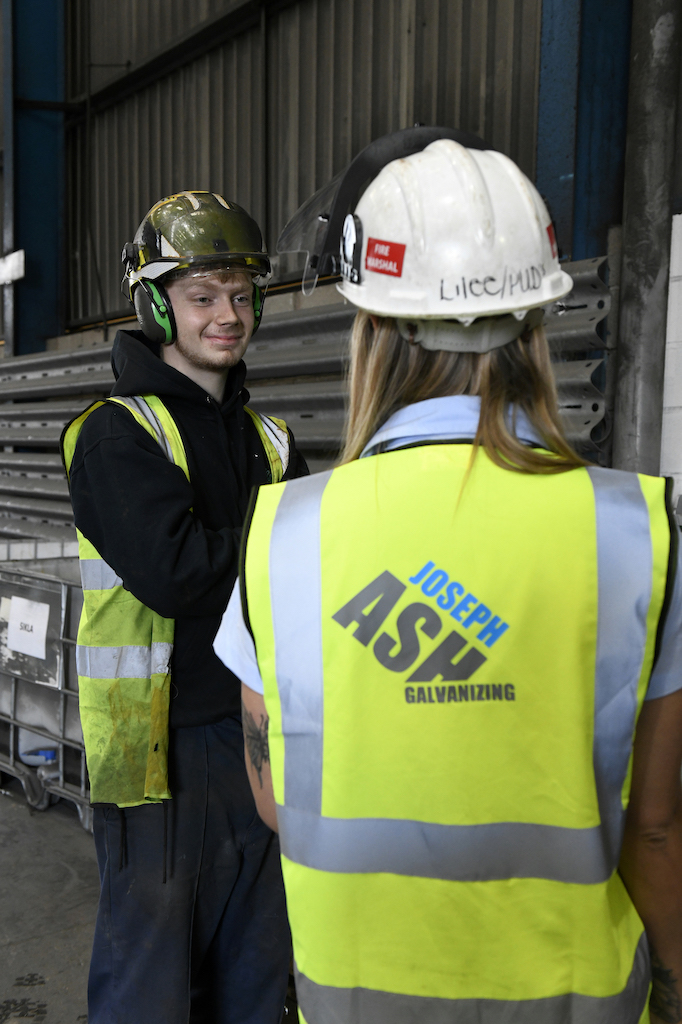 By implementing health and safety policies, procedures, and systems into our culture, ensuring all directors, managers, and supervisors hold formal health and safety qualifications, and introducing an occupational health scheme to protect and maintain a healthy workforce, we have an industry-leading safety record.
We also hold OHSAS certification for exceptional health and safety standards at all plants and head office. And we've been awarded the RoSPA Gold Award for six consecutive years.
Find out more about the World Day for Safety and Health at Work.
See our Health and Safety Statement and our Epidemic Health and Safety Policy.
______________
About the ILO
The ILO is a United Nations agency for the world of work. Since 1919 it has brought together "governments, employers and workers of 187 Member States , to set labour standards, develop policies and devise programmes promoting decent work for all women and men."
Next page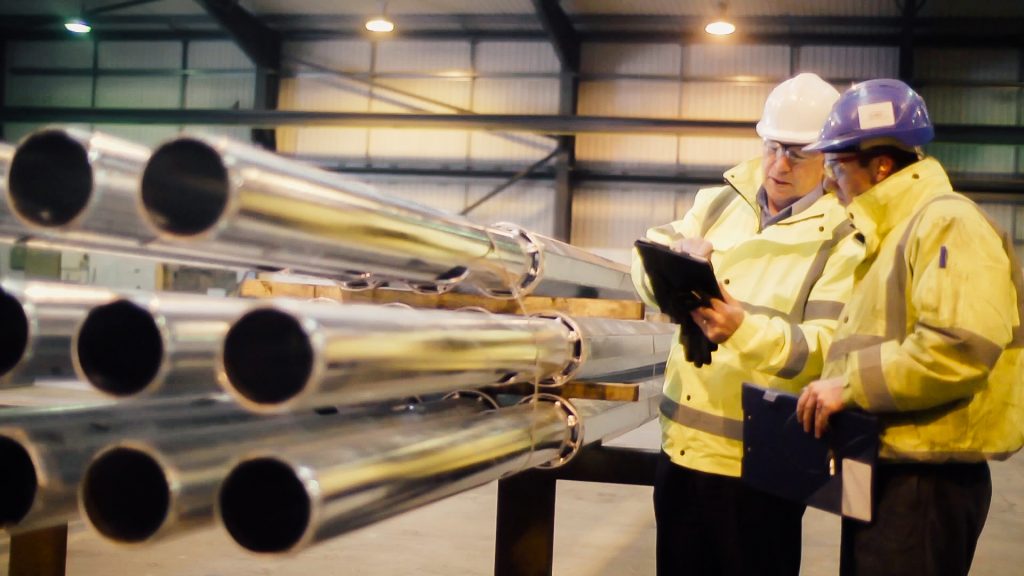 Following World Environment Day at the weekend, the Joseph Ash Group has designated the first week of June to be 'ESG Week'. During this week, we're raising awareness of the environment and social and governance issues affecting our colleagues, clients, and suppliers.
This is the first year for our new annual event, and so far this week, we've delivered presentations on 'What is ESG?'. We've also provided resources (posters and links to activities) to team members to help them understand some of the terminology used (e.g. 'Carbon Neutral', 'Net Zero', 'Carbon Offsetting'). Plus, we've shared advice on being more energy, waste and water conscious both at work and at home.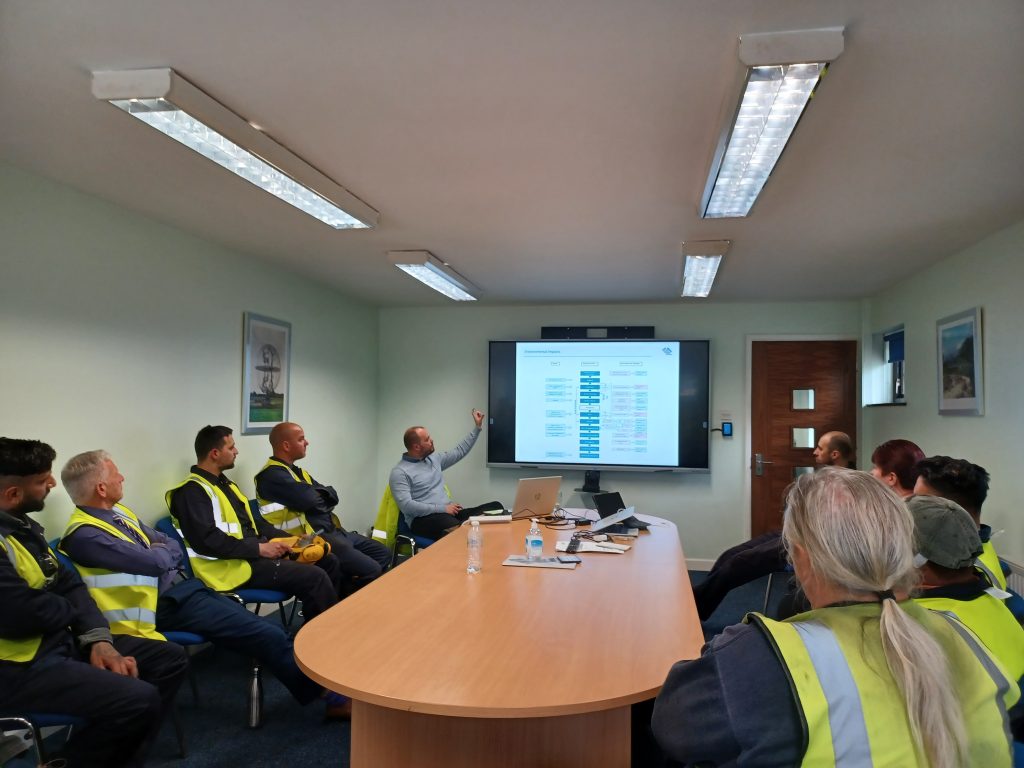 Later this week, we'll be conducting safety tours to reinforce the importance of health and safety in the workplace.
Here are some of the important topics we're covering:
Environment
Compliance with all environmental legislation
Minimise all negative environmental impacts from our operations – emissions to air, water and land
Minimise our resource usage and support a circular economy
Reduce our carbon emissions and work towards achieving Net Zero carbon emissions.
Social
Managing the risks to the health, safety & wellbeing of our colleagues and other stakeholders
Improve the talent and diversity of our colleagues and create a value-based culture within the business
Positively engage with our local community by providing support to local initiatives and charities
Supporting apprenticeships.
Governance
Effectively identifying, mitigating, and controlling business risk
Operating in compliance with all applicable legislation
Ethically conducting business and working with integrity
Using reputable suppliers and working with customers that support our values
Ensuring all decision-making is carried out with our values, strategy and impacts considered.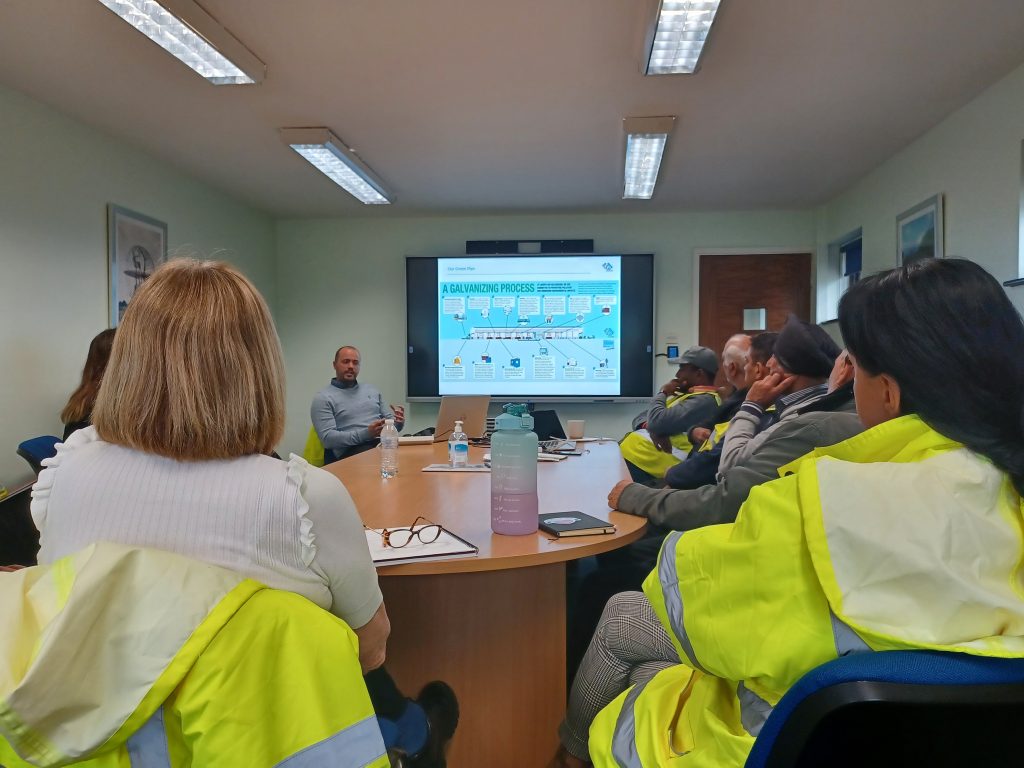 If you want to know more about ESG across the Joseph Ash Group (Joseph Ash Galvanizing and Premier Galvanizing), please get in touch. We'd love to tell you all about it!
Next page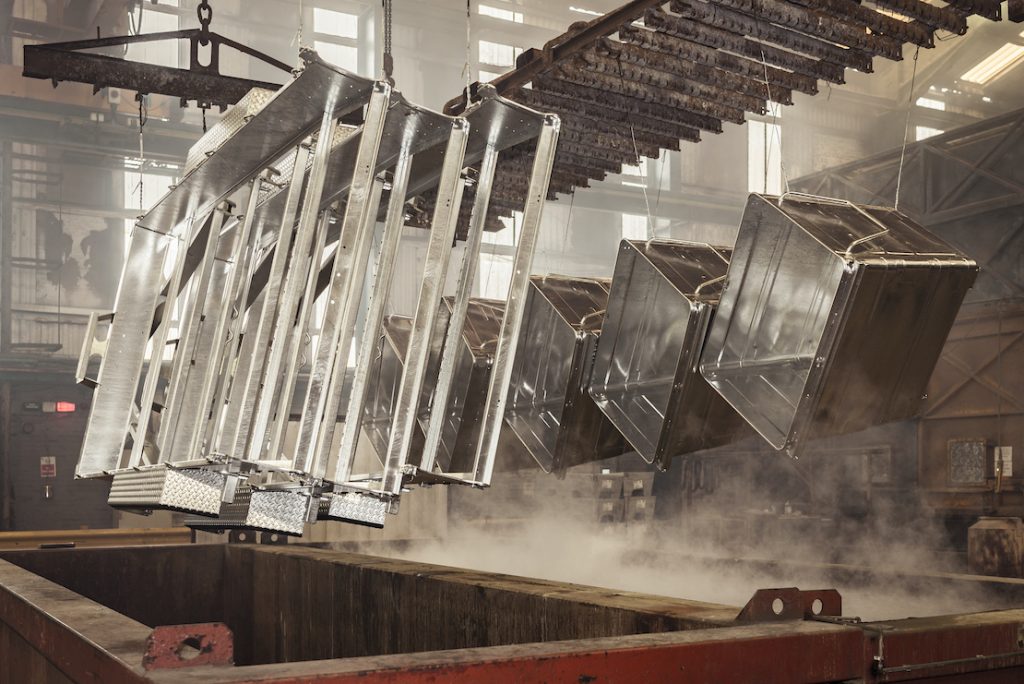 When using steel in construction, hot dip galvanizing is an essential part of the project to protect the longevity of the metal. You carefully design your steel to fit the overall build of the construction project. But sufficient care and attention are also required when you design your steel for galvanization. If you design right for galvanizing you'll prevent any processing problems at the galvanizing plant and will also ensure you get the best steel coating possible.
Here's some key design pointers to enable your steelwork to be processed safely whilst giving you the best quality coating.
When sending steel to a galvanizing plant, you will have several goals in mind:
Fast turnaround
Premium quality coating
Excellent service
Good value for money.
Ensuring steelwork is suitably designed for hot dip galvanizing helps achieve these goals and ensures the steel is safe to be galvanized. Poor design can result in poor coating quality, additional costs, low production rates, and failure to meet delivery dates. Poor design can also pose serious health and safety risks for the people carrying out the galvanizing.
What does good design look like?
The importance of venting and drainage
When steel is immersed in the galvanizing bath, add vent and drain holes to sealed hollow sections or cavities to ensure superheated air can escape all internal spaces and the molten zinc can flow freely over all surfaces, external and internal. Failure to adequately vent would result in trapped air causing an explosion and endangering galvanizing workers. It would also cause zinc build-up where the excess zinc cannot drain properly.
The sizing and location of vent holes are just as important as the provision of these holes. As a guide, make the venting holes as large as the steelwork can manage (but talk to your galvanizer for the best advice for your fabrications). The hole locations will be determined by how the steelwork is hung on the jigs at the galvanizing plant.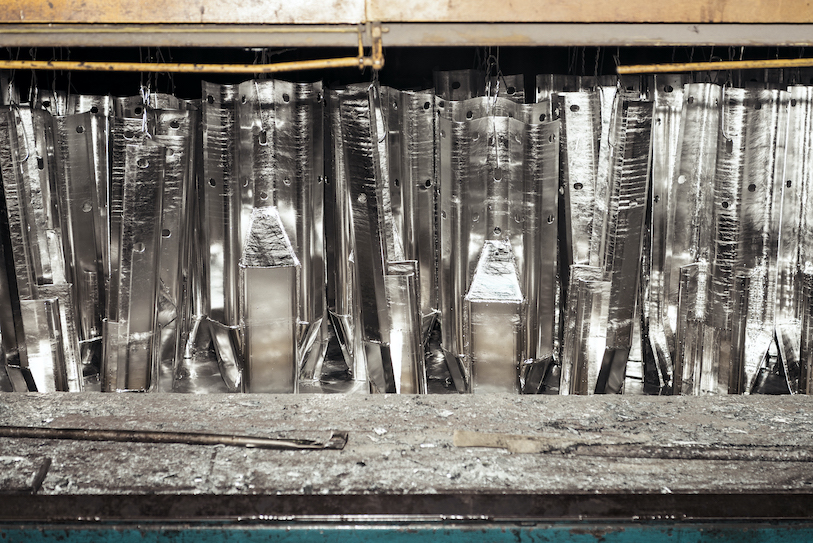 When adequately sized and correctly located, vent and drainage holes will:
Significantly reduce the risk of injury to galvanizers.
Allow faster immersion and withdrawal speeds which will help to minimise excessive coating build-up and reduce the risk of distortion by minimising temperature differentials.
Virtually eliminate the risk of damage to product, plant and equipment caused by the explosive vaporisation of entrapped moisture or air.
Improve the characteristics of the galvanized coating by restricting the effects of zinc solidification during drainage and reducing the mass of zinc required to achieve a good finish.
Size, weight, and shape matter
To ensure a good hot dip galvanizing finish, size, weight, and shape really do matter. A fabrication design should ideally incorporate easily handled components or fabrications which can be single dipped or subsequently assembled by bolting with galvanized fastenings. Double dipping is a possible alternative. Seek advice from your galvanizer before proceeding.
Suspension holes or lifting lugs may be needed if there are no suitable points for locating hooks or wires. Once again, lifting points should be positioned to maximise venting and drainage.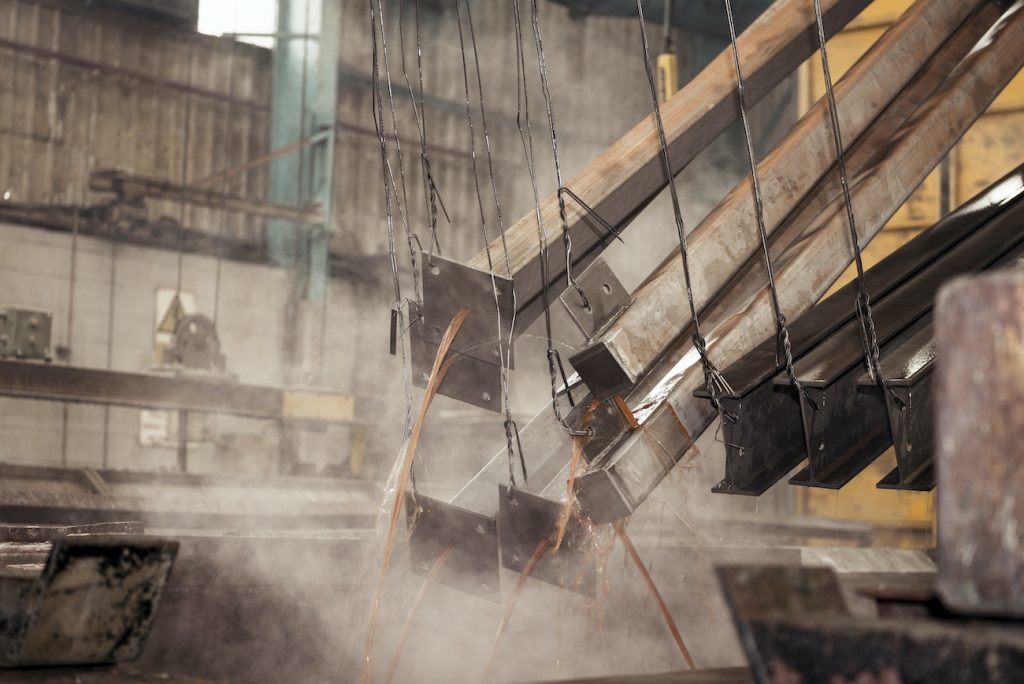 Minimising distortion
You will not want your steelwork to become distorted during the galvanizing process. To minimise distortion, fabrications should ideally be symmetrical, suitable for single dipping, and incorporate sections of as near equal thickness as possible at the joints. Components should also fit perfectly to avoid force or restraint during joining. Use continuously welded joints with balanced welding techniques to reduce uneven thermal stresses and the largest possible radii on all curved members.
Design is just part of the story. It's also essential to choose your galvanizer wisely
As well as following the rules of good design for pre-galvanized steel, take care when choosing your galvanizer.
Health and safety standards
Look for a plant with exemplary health and safety standards. One where the plant managers work hard to keep all colleagues and visitors safe with up-to-date equipment, sufficient PPE, good air quality, and clear-to-follow rigorous shop floor processes. And one where team members work safely on every job by thoroughly inspecting steel from the point it is delivered and at key intervals of the galvanizing process to ensure projects will not pose health and safety risks.
Training
Look for a galvanizer that not only trains team members on all aspects of safety in galvanizing, but also teaches clients and the wider industry. At Joseph Ash Galvanizing for example, we issue 'Safe Design for Hot Dip Galvanizing' posters to our clients as reference guides for steel preparation. We've also published a 'Design for Galvanizing' video (available on our website and YouTube), and we run 'Design for Galvanizing' seminars onsite for client teams.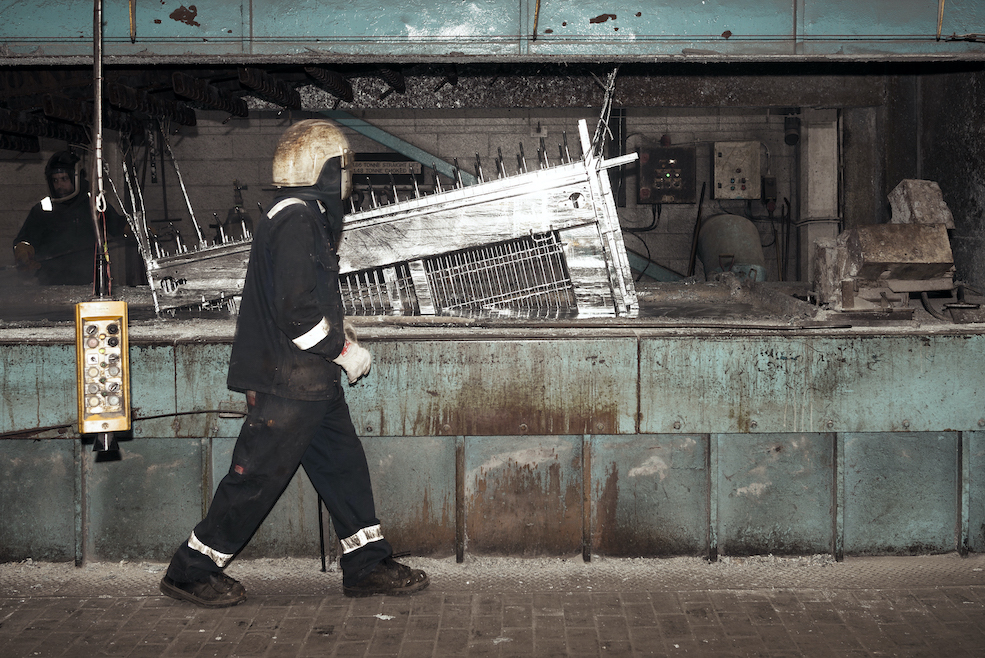 Technical help
A final piece of advice is to always look for a galvanizing company happy to be on hand to provide technical advice on all aspects of pre-galvanized steel preparation.
Joseph Ash Galvanizing has a Technical Support Team who will answer any steel fabrication questions from clients. The team members are also happy to visit fabrication shops and advise on venting requirements to ensure fabrication issues can be resolved before the steel reaches the galvanizing plant.
We hope you've found these pointers helpful. For more information, please get in touch with a member of our team. There is also lots of helpful information freely provided by the Galvanizers Association.
Next page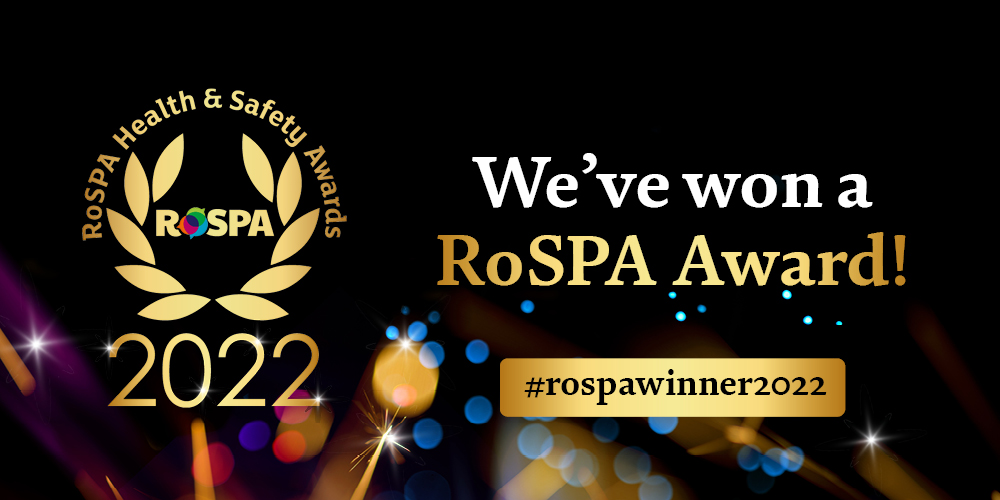 We're celebrating across the Joseph Ash Group, after landing another RoSPA Gold Award – the internationally-recognised award for demonstrating high health and safety standards.
We have received the RoSPA Gold Health and Safety Award for working hard to ensure our team members, customers, clients, and contractors get home safely to their families at the end of every working day.
Organisations receiving a RoSPA Award are recognised as being world-leaders in health and safety practice. Every year, nearly 2,000 entrants vie to achieve the highest possible accolade in what is the UK's longest-running H&S industry awards.
The RoSPA Awards scheme is the longest-running of its kind in the UK, and receives entries from organisations across the globe.
Julia Small, RoSPA's Achievements Director, said: "This is a fantastic and well-deserved accomplishment. All our award entrants demonstrate their unwavering commitment and passion for keeping people safe at work. By receiving this recognition Joseph Ash Galvanizing joins like-minded businesses and organisations worldwide, who represent the very best in their approach to Health and Safety. I would like to add my personal thanks for all the work that it has taken to secure this well-deserved award – congratulations to all those involved, who champion and drive up Health and Safety standards every day. You are a fantastic example to others in your sector."
For more information about the RoSPA Awards visit www.rospa.com/awards
Next page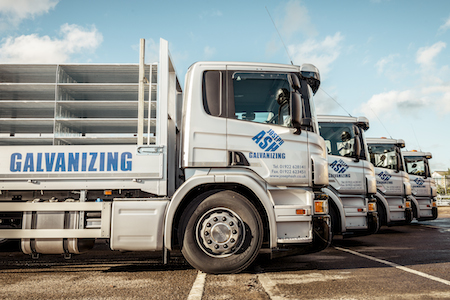 Joseph Ash becomes an approved Driver CPC centre
At Joseph Ash Galvanizing, we strive to ensure our employees drive safely and efficiently when collecting and delivering projects to our customers. As part of this process, we provide a fleet of modern and reliable trucks and regular driver training.
Our training efforts have recently received a boost at Joseph Ash because Simon Keane – Group H&S Transport Manager – has successfully gained DCPC training centre approval from JAUPT, this allows him to train other drivers and write approved driver safety course materials. In addition, classes will be delivered to other colleagues across our plants, helping them increase their driver safety and vocational training.
Simon's first course is titled 'Load Build and Load Restraint Principles'. He also plans to write more classes based around:
Driver safety
Customer service
Health and wellbeing
Company policies and practices
As Simon has become an approved trainer, it means the following Joseph Ash sites are now classed as Driver CPC Training Centres:
Bilston
Telford
Medway
Walsall
Chesterfield
Hull
Simon aims to deliver training at all sites and invite Joseph Ash/Premier Galvanizing drivers from other sites.
Congratulations to Simon for achieving the approved status for himself and the Joseph Ash Group. This is an excellent job well done and proof that Joseph Ash continually looks after its employees and invests in its people.
Next page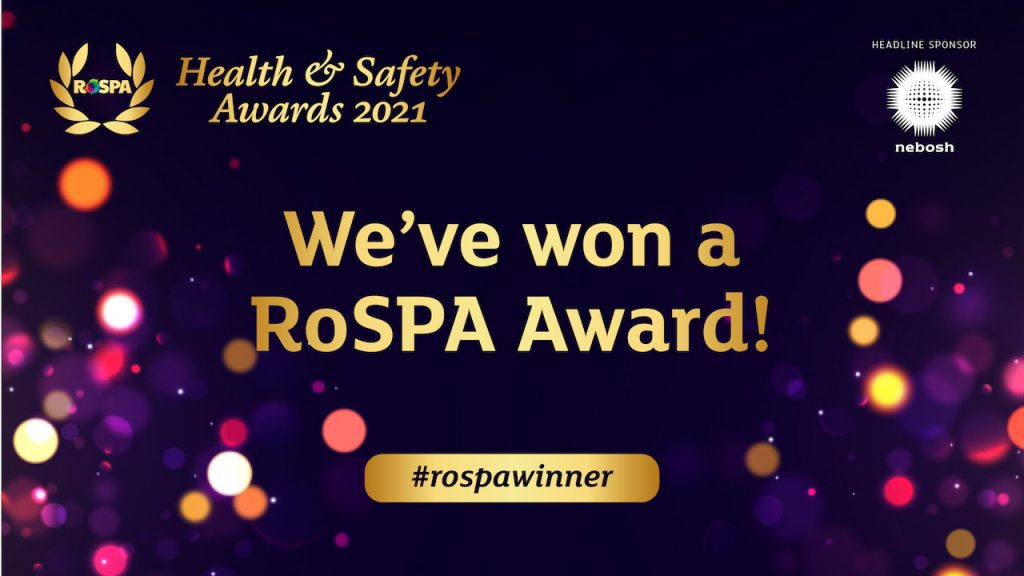 We're celebrating after landing the internationally-recognised RoSPA Award for the eighth year in a row!
Joseph Ash Galvanizing has received a RoSPA Gold Health and Safety Award for working hard to ensure our staff, customers, clients, and contractors get home safely to their families at the end of every working day.
Organisations receiving a RoSPA Award are recognised as being world-leaders in health and safety practice. Every year, nearly 2,000 entrants vie to achieve the highest possible accolade in what is the UK's longest-running H&S industry awards.
Mick Jackson from Joseph Ash Galvanizing said: "It's great that we have won the RoSPA Gold Award. This is the eighth consecutive year we have been recognised for our excellent health and safety standards, performance and systems, and it gives us immense pride."
Julia Small, RoSPA's achievements director, said: "The RoSPA Awards scheme is the longest-running of its kind in the UK, but it receives entries from organisations across the globe, making it one of the most sought-after achievement awards for health and safety worldwide.
"RoSPA is very proud of the achievements of its entrants, and with this award we recognise the best of the best, those organisations that have gone the extra mile, raising the bar for the delivery of safety in the workplace. Employees, wherever they may be, should be able to go to work safe in the knowledge that they will return home unharmed and healthy at the end of every day. Our RoSPA Award winners are central to achieving this goal. By entering they are driving up standards and setting new safety benchmarks for organisations across the world. Currently, around 7million people are directly impacted by the RoSPA Awards, but the scheme's global influence is even wider – with nearly 2000 organisations from 46 countries represented this year. I would also particularly want to thank our main sponsor NEBOSH, the National Examination Board in Occupational Safety and Health – for their continued support for the 16th consecutive year."
For more information about the RoSPA Awards visit www.rospa.com/awards
Next page
Galvanized steel is an integral part of everyday life and is all around us. But how does its prevalence today affect the environment of the future? How sustainable is it? What role does it play in the circular economy? And is the galvanizing process itself environmentally friendly?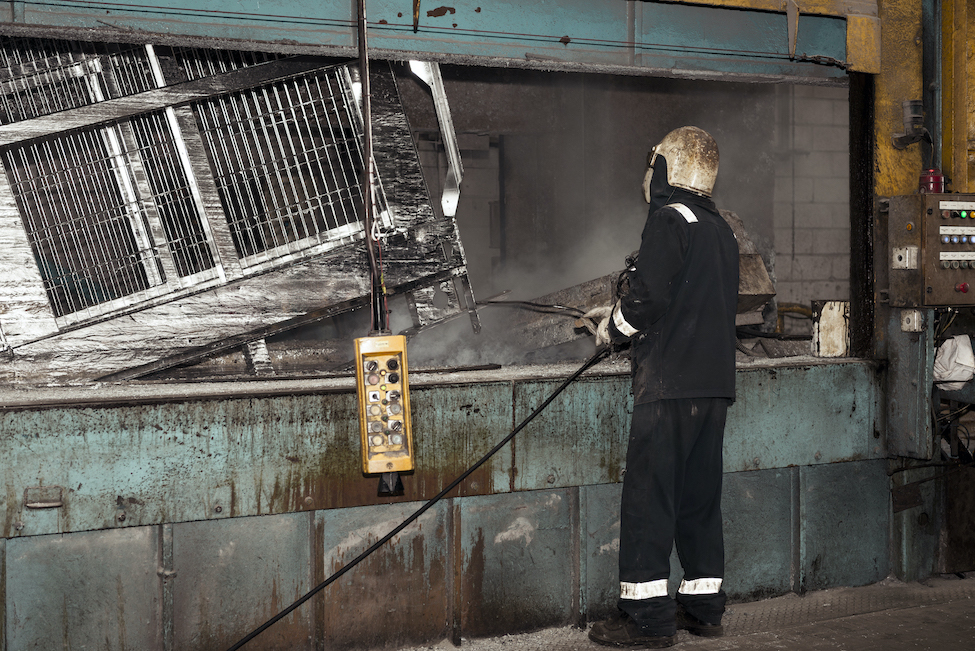 Steel is essential for housing, infrastructure, transport, manufacturing, and agriculture. Used as frames for our buildings, safety on our roads, and support for the bridges we cross, we must never waste the resources used to produce it by throwing it away when the original function is no longer valid. Instead, we must repurpose steel, especially if the world wants to move away from traditional business models of use-throw-away-remake to a more environmentally friendly, sustainable circular economy that aims to eliminate waste and repurpose resources.
What is a circular economy, and how can galvanizing play a part?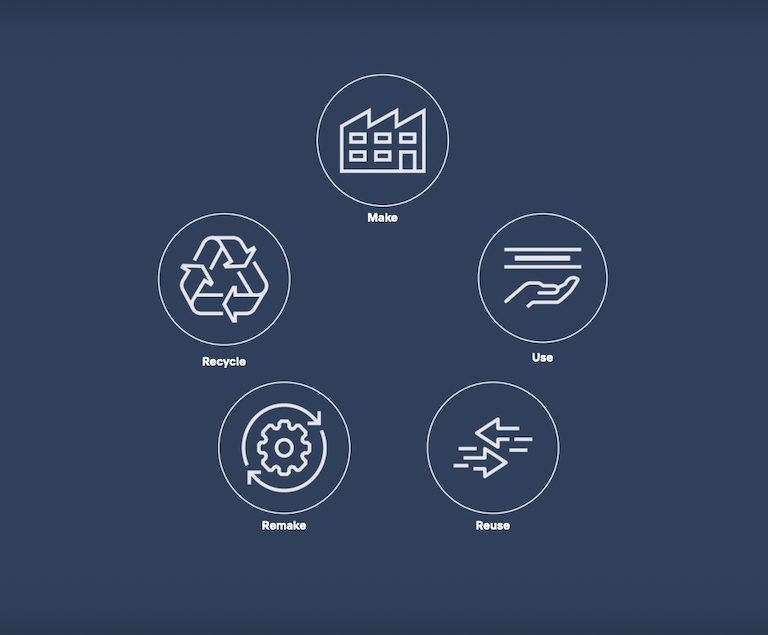 A circular economy encourages materials to be made, used, reused, remade, and recycled.
Hot dip galvanizing fits perfectly into a circular economy because it optimises the durability of steel (enabling it to be used again) and facilitates the ease of reuse. It can be recycled if there's no immediate need to repurpose it. Here's how:

Optimising durability
When steel is galvanized, it is immersed in a bath of molten zinc, where it alloys with the iron in the steel to form zinc/iron alloy layers. These layers form the basis of the coating, which is covered with free zinc as the steel lifts from the galvanizing bath. The result is a robust, durable, corrosion-protective finish that will last many years.
Without a galvanized coating, steel would corrode, and its lifespan would be short. However, with a galvanized coating, steel can last between 34 and 170 years before the base steel is exposed. This means that steel can be used for the original purpose for which it was fabricated, and – once the project is dismantled – the steel is still good enough to be used elsewhere.

Facilitating ease of reuse

Once a structure – such as a house or fencing – reaches its end of life, the steel can easily be repurposed if it has been hot dip galvanized. The galvanized coating protects the steel from impact and abrasion when disassembled and reassembled.

Recycling
Finally, galvanized steel fits nicely into a circular economy because it can be melted and used repeatedly without losing quality if there is no immediate need for repurposing.
The zinc coating can also be reused. Zinc and steel are recycled in well-established steel recycling processes. The zinc particulates are returned, without loss of properties, to zinc production plants, where they are incorporated into zinc ingots and reused in the galvanizing process.
How else does the galvanizing process enhance sustainability?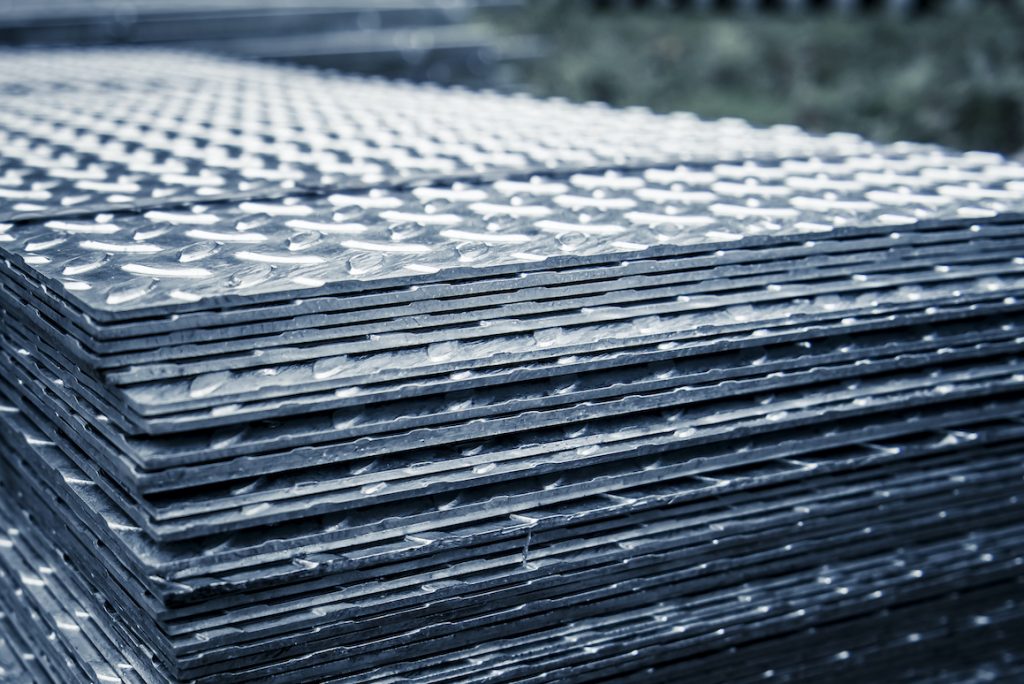 A hot dip galvanized finish gives steel a long life and durability. In addition, it creates a maintenance-free finish, which lessens the carbon emissions usually associated with the upkeep of non-galvanized steel.
Mick Jackson from Joseph Ash Galvanizing says: "Imagine a bridge made from non-galvanized steel. It would need maintenance every year to protect it from rust and corrosion. It would also need repainting at regular intervals. This requires paint, a workforce, transport for the workers and a means to protect the land or water below from paint contamination. This maintenance is not required if the same bridge is made from galvanized steel, therefore carbon emissions are greatly lessened."
Is the galvanizing process environmentally friendly?
Galvanizing plants are self-contained, with steel going in at one end and the final product coming out at the other.
Modern galvanizing plants also use zinc very efficiently throughout the galvanizing process. For example, excess metal from the dipping process deposits back into the galvanizing bath. Zinc that oxidises on the surface is removed as ash and recycled, and dross from the bottom of the bath is routinely removed and has a high recycling value.
Other process consumables, such as hydrochloric acid and flux solutions, have important recycling or regeneration routes. Spent hydrochloric acid solutions are used to produce iron chloride for treating municipal wastewater, for example. Closed-loop flux recycling is also used in many plants, and improved monitoring and maintenance of flux tanks reduce the volume of solids for disposal. Compared to other coating technologies galvanizing uses low volumes of water, with plants rarely discharging wastewater. Any wastewater generated can be treated and reused, with only small volumes of stable solids requiring external disposal.
While not considered a particularly energy-intensive sector, the galvanizing industry also has set targets for energy efficiency and improved energy management. New technology has seen improvements in burner efficiency, bath lid efficiency, and reuse of waste heat to warm pre-treatment tanks. Plant emissions are also carefully controlled to ensure neighbouring communities are not adversely affected.
A strong commitment to the circular economy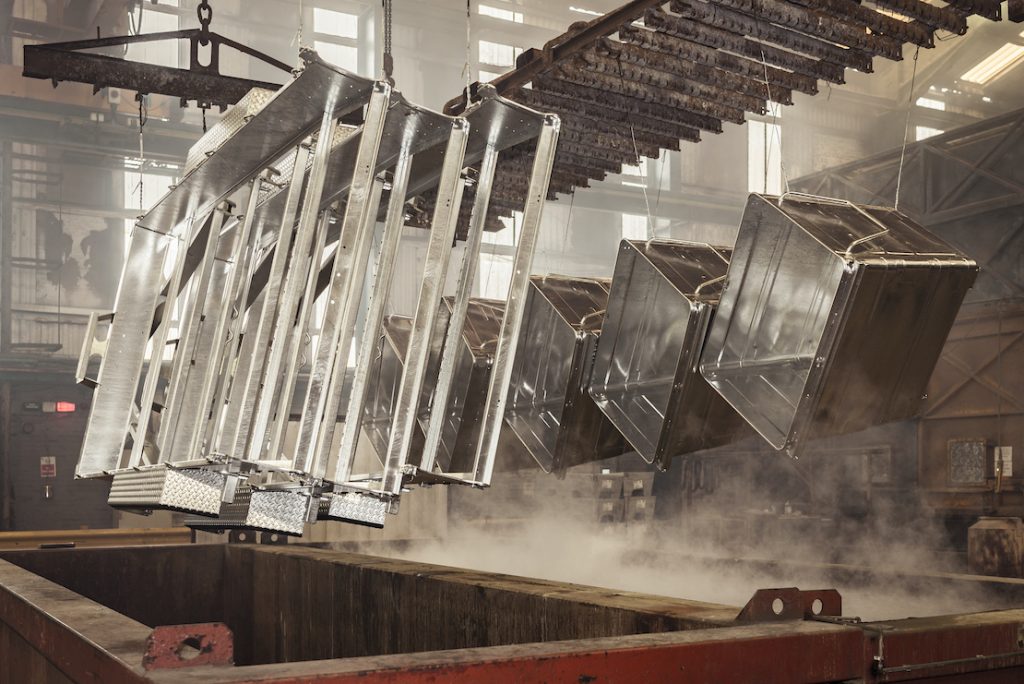 Steven Hopkins, Managing Director at Joseph Ash Galvanizing, said: "We count ourselves fortunate to be involved with such a sustainable product, playing, as it does, a critical role in extending the life of steel structures by decades. In addition, reducing our environmental impact has been close to our hearts for many years, hence our heavy investment in fume capture and recycling by-products."

We firmly believe in a circular economy, where the needs of present-day society are met, without compromising the ability of future generations to meet their needs."
Please get in touch to find out more about galvanized steel or the sustainability processes at Joseph Ash.
You can view the new EGGA guide – 'Galvanized Steel and Sustainable Construction: Solutions for a Circular Economy' here.
Next page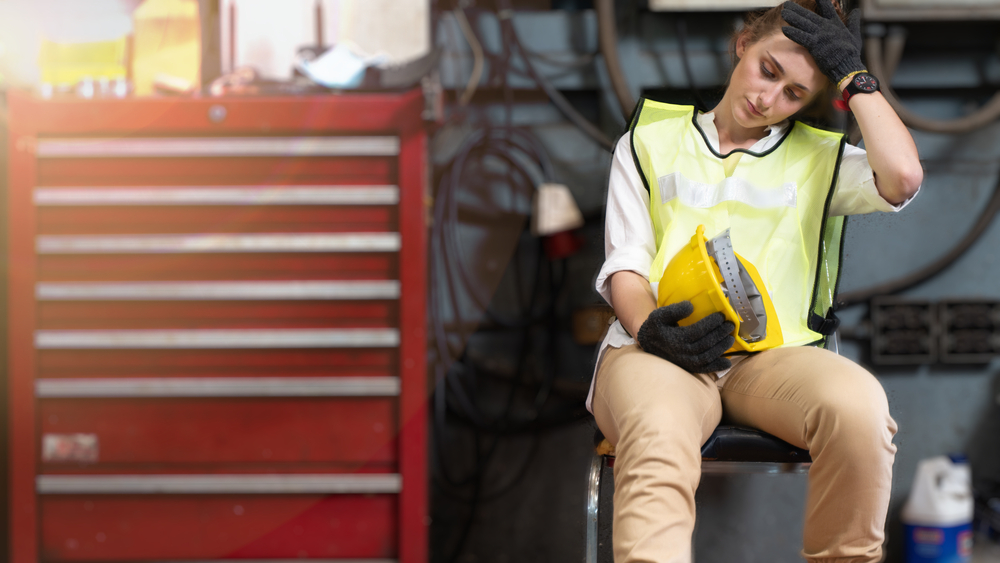 Millions of people every day face the reality of living with a mental health illness – an illness that others may not see, know about or understand. Whether it's anxiety, stress, depression or low moods, to illnesses such as schizophrenia, bipolar or Alzheimer's, these conditions can have a dramatic effect on a person's life.
At Joseph Ash Galvanizing we believe we have a duty of care and a moral obligation to our employees to help them have good mental health, especially as the workplace – regardless of industry or type – can sometimes be a place of additional stress or anxiety.
The Mental Health Foundation says: "We believe in workplaces where everyone can thrive. We also believe in the role of employers, employees and businesses in creating thriving communities."
We believe in this too, and it's why we have recently engaged in B.U.D.I.E.S training for good mental health.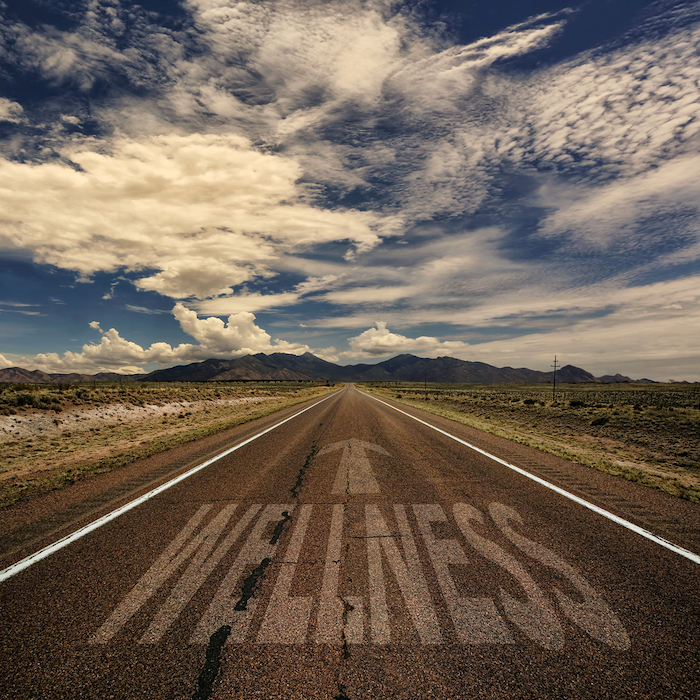 The Mental Wellbeing B.U.D.I.E.S. virtual classroom is a one-hour programme to initiate mental health support in the workplace. The virtual classroom course is helping to give our staff the listening skills and B.U.D.I.E.S. framework to support their colleagues throughout the year.
The B.U.D.I.E.S framework focuses on:

B – Build a helping relationship
U – Understand
D – Determine if your colleague is in crisis
I – Inform about self-help
E – Encourage professional help
S – Safety at all times
The course stresses the importance of listening skills and how to deal with a crisis. It also encourages people to have 'Wellbeing B.U.D.I.E.S.' at work – someone to talk to if you're in need of a friendly ear.
Before COVID, we were due to complete some Mental Health First Aid (MHFA) training courses, but as these were going to be face-to-face, we're pleased to have found an alternative in the B.U.D.I.E.S. virtual classroom.
A number of our team have already taken the B.U.D.I.E.S. training, and we have two more sessions scheduled for this week.
Later this year, we will complete the MHFA training and we'll also provide colleagues with full contact details for support including:
Their local BUDIE (telephone, email, Whatsapp)
Contact details for our Employee Assistance Programme
Local support networks
The Mental Health Foundation says: "Mental health is something we all have. When we enjoy good mental health, we have a sense of purpose and direction, the energy to do the things we want to do, and the ability to deal with the challenges that happen in our lives."
At Joseph Ash Galvanizing we aim to promote good mental health, and foster purpose, direction and the ability to successfully navigate through life.
Next page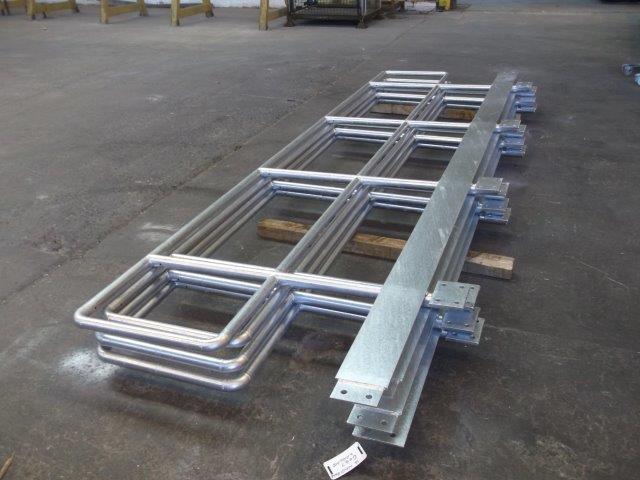 In the run-up to the COVID-19 lockdown, it was a tricky time for all businesses making decisions about whether or not to keep operating and having to drastically change ways of working.
At Joseph Ash we made the decision early to maintain operations at all of our Joseph Ash Galvanizing and Premier Galvanizing plants as we have an important role to play in the supply chain of essential service companies – from infrastructure to food manufacturing, security and healthcare.
Some of the things we have been most proud to galvanize in the last month include steel products for the NHS. We've been galvanizing clinical waste bins and trucks, crash trolleys, steelwork for the temporary Nightingale Hospitals, and sadly a temporary morgue.
The above pictures show some of the steel railings we galvanized for the Dragon Heart's Hospital in Cardiff on behalf of fabricators W Hare Ltd, as well as steel for an emergency extension to an oxygen tank facility at St. Thomas's Hospital in London on behalf of SWF Ltd. (More photos can be seen in our Photo Gallery.)
Whilst the safety of our team members and customers is always our top priority (see our news story), we're glad to be continuing with operations, enabling us to support essential services, and hopefully do our bit to keep the economy going.
Next page
Epidemic health and safety policy provides safety for employees and customers at Joseph Ash Galvanizing.
Since the Coronavirus pandemic began to affect us in the UK, Joseph Ash Galvanizing and Premier Galvanizing plants have remained opened. This is because it's critical to maintain operations for essential service companies who rely on us as part of their supply chain.
As we are open, we have written and implemented a new epidemic health and safety policy with the goal of keeping our employees – and any customers and suppliers who visit our site – safe and well. You can read the new policy here.
Health and safety has always been of paramount importance to Joseph Ash Galvanizing and Premier Galvanizing, and it's something we've been recognised for year-on-year with many RoSPA awards. Therefore the epidemic policy is very important to us. If you are a customer or a supplier who needs to visit one of our plants, or meet with one of our operatives or delivery drivers, we hope you find this new policy useful and comforting as it demonstrates we are doing everything we can to keep our plants safe.
Please get in touch with our Health and Safety Manager – Chris Gibson – should you have any questions or concerns.
Next page