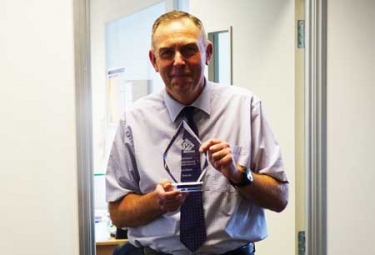 Congratulations to Gerry Green – 35 year's service with Joseph Ash Galvanizing.
It's happened again! Another Joseph Ash Galvanizing team member – Gerry Green – has reached 35 year's service with the company. This is great news!
Gerry started work at Joseph Ash Galvanizing in 1982 on a temporary contract working in our maintenance department at the Birmingham plant. He made such an impression that he was invited to stay on as a permanent employee and was offered a role in the production environment. Within a couple of years Gerry was promoted to Galvanizing Supervisor and after a further period was promoted to Assistant Divisional Manager, taking a major interest in health and safety issues and maintenance once again.
Further career progression saw Gerry installed as Walsall Divisional Manager in 1996 – a role he continued in until 2002 when he returned to the Birmingham division and took up the post as Birmingham General Manager.
In 1996 Gerry was promoted to Operation Directors, an all-encompassing role that covers all galvanizing operations and transport operations for the whole of Joseph Ash Galvanizing.
Gerry said "My time at Joseph Ash Galvanizing has been very enjoyable and challenging. No two days have ever been the same and the variety of roles has helped to keep up my enthusiasm for the job".
It's been a pleasure to have you working with us Gerry. Here's to many more years!
Next page