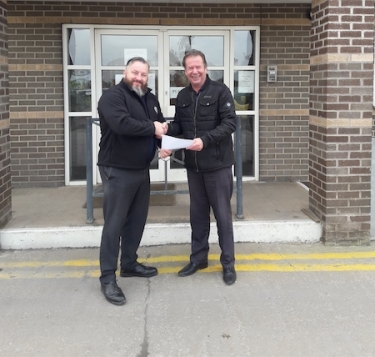 In 1994, Nelson Mandela became South Africa's first black president, The Channel Tunnel opened, Jeff Bezos founded Amazon, and The Daily Telegraph became the first UK newspaper to launch a news website online. It all seems like yesterday.
But what else happened in 1994? Peter Howitt joined Joseph Ash Chesterfield, and here we are celebrating the fact that he has just completed 25 years' service. Well done Pete!
Pete first started working for Joseph Ash on the shop floor. As a conscientious employee, he soon progressed into project planning, and then into a supervisory role. Pete then secured a key position in health and safety, as well as QA control at Chesterfield. Through hard work and dedication Pete became – and is currently seen as – a leading figure within the Joseph Ash Group. He is also a great ambassador for Joseph Ash Chesterfield.
The photo to the right shows Mark Payne (Divisional Manager of Joseph Ash Chesterfield) congratulating Pete on his 25 years' service. Mark said: "It is with great pleasure that I congratulate Pete on this milestone, and I am sure you will join me in wishing him good luck for the next 25 years. Thank you for the continued support Pete – it's much appreciated."
Congratulations Paul from everyone at Joseph Ash Galvanizing. A great achievement!
(Photo left to right: Mark Payne – Divisional Manager of Chesterfield – congratulating Peter Howitt)
Next page