Evenley Wood Garden (EWG) – located in Northamptonshire – is a beautiful 60-acre woodland garden open to visitors. As well as being able to see plants, unusual trees and shrubs, visitors can also take part in wine-tasting events, plant fairs, craft days, and a host of other fun activities. It's a lovely day out!
To greet visitors to the park, the team at Evenley had a great idea: placing three giant steel letters – EWG – at the entrance that people would see and engage with as they approach.
Alison O'Hare, Marketing & Events Co-ordinator at Evenley, contacted a local blacksmith company, Baillie & Co, for help.
Adam Baillie from Baillie & Co is a self-employed blacksmith, fabricator, welder, and metalworker. As his studio is just down the road from Evenley Wood Garden, and he often takes part in events there, he relished the opportunity to produce the letter installation.
Adam designed and fabricated each letter to not only be freestanding letters but also planters that can be decorated with stunning floral displays by the gardeners at Evenley.
The letters are solid steel (apart from the hollow base). They are 1.5m high – perfect for visitors to the park to interact with and have their photos taken beside.
Because the letters are steel, they need galvanizing for protection against rust and corrosion.
Adam booked the galvanizing service with Joseph Ash Walsall, where he received excellent service.
Adam was concerned about the letters during the galvanizing process and the potential damage caused by how the letters would have to hang over the zinc bath. However, his concerns disappeared after speaking to Paul Hudson at Joseph Ash Walsall.
Paul happily took the time to explain the importance of vent holes and describe the hanging process.
During these calls, Paul also arranged the collection and delivery of the letters to save Adam from having to manage these logistics separately.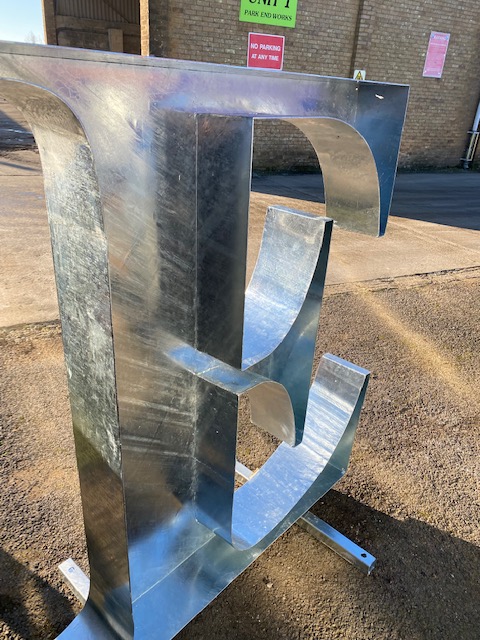 Adam was very pleased with the galvanized finish for the letters. Before delivering them to Evenley Wood Garden, he also applied a final light wash to create a burnished effect.
Adam chose a wash instead of paint to make the letters more environmentally friendly.
The letters are now at Evenley Wood Garden, looking amazing. Adam is looking forward to seeing how the Garden's visitors react to them. So are we!
_____________________________________________________________________________
About Adam Baillie and Baillie & Co
Adam is a highly experienced metalworker and award-winning blacksmith, with a passion for contemporary design. He thrives in commercial workshops producing superior standards of creative craftsmanship, whilst offering the best in customer and client satisfaction. He provides the following services: bespoke design, conservation and restoration, and general metalworking.
Contact Adam at contact@baillieandco.co.uk for any metalwork needs.
_____________________
Venting hints and tips
For hints and tips on the best way to prepare steel for fabrication, download our free Safe Design for Hot Dip Galvanizing poster.
Next page