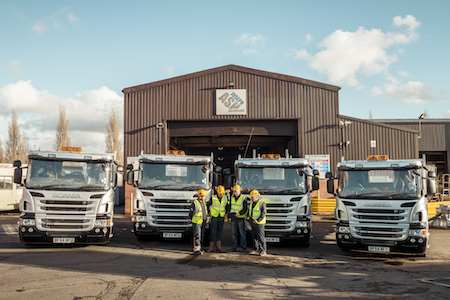 We're pleased to announce that Joseph Ash Walsall has just taken delivery of a new fleet of trucks, which will be used for customer collections, and deliveries. This brings our entire Walsall fleet up to four articulated vehicles and five rigid vehicles, meaning we can manage almost any collection or delivery for customers.
The trucks are Scania 250 rigid vehicles which can carry up to nine tonnes in weight, and they were sourced from Keltruck who provide a first rate service to all Joseph Ash plants in the Midlands.
Improved customer service
The new vehicles will enable Joseph Ash to continually improve our excellent levels of customer care as all vehicles are equipped with Scania fleet management data and live GPS tracking. This means that we can not only obtain data at any given time on the exact location of the trucks making customer deliveries and collections, but we can also obtain weekly and monthly data on the vehicles which include MPG, idling and speed.
Environmentally sound
The new trucks are amongst the most technologically advanced on the market and are equipped with Euro 6 engines, which means they are very environmentally friendly with improved MPG and some of the lowest CO2 emissions available.
At Joseph Ash, we're not only pleased to be able to offer improved customer logistics and service, but we're also proud to be doing our bit for the environment.
Arrange your next collection by contacting Joseph Ash Walsall today!
Next page