Mark Lamb, Internal Recruiter at Joseph Ash Galvanizing, is a keen football fan and a man on a mission to lose weight. He joined a Man v Fat Football group in 2020 – a wellbeing programme aimed at helping men lose weight and have fun playing football. Mark has been part of the programme for two and half years and has lost 11.5 stone since joining.
Although the programme is primarily focused on weight loss and improving physical health, exercise also improves mental health.
Unfortunately, men's mental health is still stigmatised despite increased awareness over recent years. So, joined by their collective goal of weight loss, Mark and the rest of his Man v Fat Football team made it their mission to trek across the Midlands in aid of two amazing causes – Mind mental health charity and Birmingham Children's Hospital.
The team's first cause, Mind, aims to spread awareness of mental health and help those in crisis. The team's second cause, Birmingham Children's Hospital, was selected as many of the team have needed their services, having children treated for various illnesses. Grateful for their help in the past, it felt right to give something back to the hospital.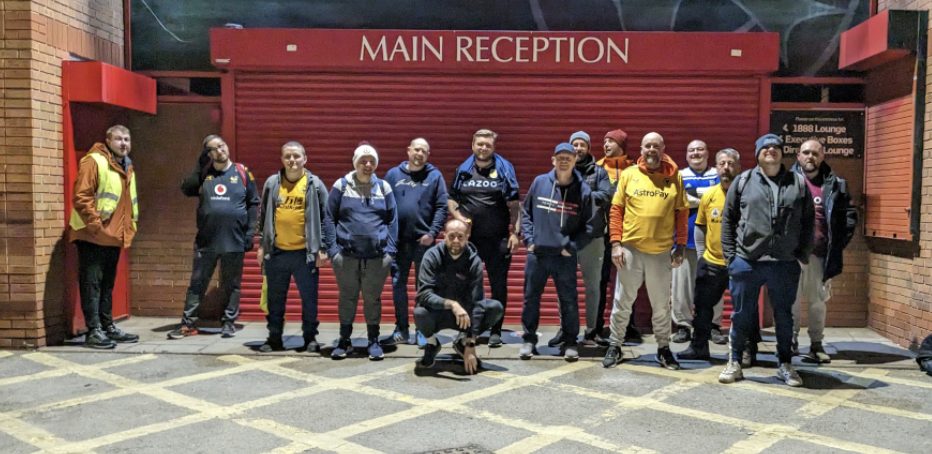 As the group all support different football leagues and given the football focus of their Man v Fat programme, they decided to incorporate their differences into the challenge. It was decided they would walk from Birmingham St Andrew's Stadium all the way to Wolverhampton Molineux Stadium, stopping off at Villa Park, The Hawthorns, and Bescot along the way. In total, this covers just shy of 20 miles – no walk in the park for only one night.
In the twilight hours of Saturday 11 February, the 13 men set off on their journey in the dark and cold. Seven and a half hours later at 5:30am on Sunday 12 February, they arrived at Wolverhampton Molineux Stadium, very tired but incredibly proud of what they had achieved.
Mark Lamb commented on the experience:
"We wanted to showcase that men from various leagues in the Midlands can come together to do something good. It was a long challenge that affected us all both physically and mentally but managing to get through as a group and finishing it together was a great moment for us all."
At the time of publication, they have raised nearly £3,000 – almost triple what the group had set as their goal. Hill & Smith Plc, Joseph Ash Galvanizing's parent company, donated £500 as part of their Charity Match Scheme.
Congratulations, Mark and the team!
---
There's still time to donate and make a difference. Visit Mark's Just Giving page and help the lives and wellbeing of many.
Alternatively, visit Birmingham Children's Hospital and Mind's websites to find out more about them.
Next page