A stunning force of nature.
US award winning writer, Alice Walker, once said: "Horses make a landscape look beautiful." At Joseph Ash Galvanizing we couldn't agree more, especially when we were asked to hot dip galvanize these amazing steel horses by artist Andy Scott.
Andy Scott is a Scottish sculptor who graduated from the Glasgow School of Art in the mid eighties. Andy hand-crafts figurative steel fabrications ranging from 2.5 to 30 metres in height, in order to create stunning works of art that can be seen across the UK and internationally. (You can see many of Andy's works on his website: www.scottsculptures.co.uk)
To protect the steel from rusting, as well as to give the fabrications a beautiful shine, Andy requires his artworks to be galvanized before public placement, and he has often used Joseph Ash Galvanizing for the large-scale works.
These stunning equine sculptures, which are made up of five horses in total – a standing stallion and four galloping horses – were galvanized at Joseph Ash's Telford plant in the Autumn of 2014.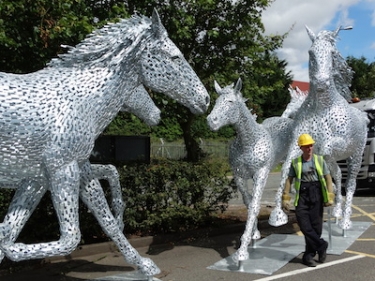 The horses varied in size from 2.5 to 3.5 metres tall, and due to their complex shapes and intricate forms, they had to be handled extremely carefully.
The Joseph Ash Telford plant has a large galvanizing bath, which meant that the horses could be dipped in their entirety to ensure an even galvanized coating.
Andy said:
"Joseph Ash's large capacity tanks allow me to create works which have dimensions over the restrictions of most normal tanks.
"My sculptures always require special handling and the team at Telford always deliver an excellent job, ensuring a great finish to the works I've often taken many months to create.
"It can be nerve-wracking entrusting my creative works to others to finish, but I have always been delighted with the end results, the quick turnaround, and the friendly service offered in handling my unique projects."
The horse sculptures have ended up on a private estate in Long Island, New York. At Joseph Ash, we're pleased that Andy chose us to hot dip galvanize the horses as we enjoyed being a part of this unique project and are proud to have taken part in their journey.
Next page