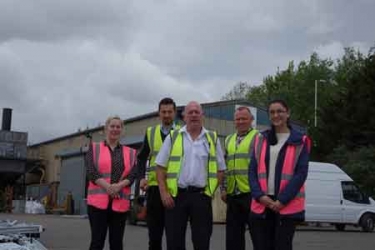 Joseph Ash Bridgend has been going through some changes in recent months with a new Divisional Manager, a happier workforce, and most importantly for our customers, transportation improvements and a new 48 hour project turnaround service.
New Divisional Manager
Terry Rogers joined Joseph Ash Bridgend earlier this year. As well as holding management roles in a number of industries including pre-cast concrete products, domestic radiators, and ground maintenance, he also used to be the Production Manager for a company called Duct & Access, in Wales, who used to send 80-100 tonnes of steel to Joseph Ash Bridgend every week for hot dip galvanizing.
Since joining Joseph Ash Bridgend he has put in place a number of initiatives that are helping the plant to improve every day. Find out more below…
Transportation benefits for customers
With many customers and a large fleet of trucks, the team at Joseph Ash Bridgend wanted to improve the utilisation of transport at the same time as improving the service for customers. In order to do this they now operate a 'Milk Run' to the following areas on the following days:

| | |
| --- | --- |
| Week Days | Areas |
| Mondays and Wednesdays | Monmouthshire and surrounding areas |
| Mondays and Wednesdays | Bristol to Swindon and the M4 corridor |
| Mondays and Wednesdays | Carmarthen |
| Tuesdays and Thursdays | Pembrokeshire |
| Tuesdays and Thursdays | Neath, Port Talbot and Swansea areas |
| Tuesdays and Thursdays | Ceredigion |
| Fridays | Local runs and larger full loads |
 The enhancements to transportation utilisation are great because customers now know where Bridgend's trucks will be on what days, which helps them to plan for deliveries and collections.  
A faster service 
For customers who need steel finishing projects turned around quickly, Joseph Ash Bridgend has also started to offer a 48 hour turnaround service. This began in April and is going well. Contact Joseph Ash Bridgend today if you've got a project that needs completing fast! 
Employees at Joseph Ash Bridgend 
In other news… There has been a change of roles for Graham Bairstow, who was the Production Manager at Joseph Ash Bridgend and is now the Transport/Yard Manager. Kevin Williams also moved from his position as Yard Supervisor to Production Manager. We wish Graham and Kevin well in their new roles. With all the improvements that have been taking place at Joseph Ash Bridgend, and a new management team that cares a great deal about employee welfare, the team at Joseph Ash Bridgend have become – in Terry's words – "a much happier bunch!". They have also become more customer focused and more efficient, and we look forward to this continuing.  If you'd like to talk to the team at Joseph Ash Bridgend, or perhaps you'd like to visit the plant to see how the hot dip galvanizing process works, please contact us.
Next page