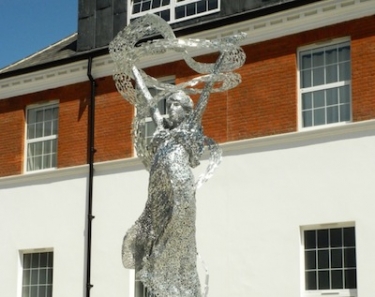 Andy Scott is a renowned artist, known for his distinctive hand-crafted figurative sculptures, which are dramatically displayed as landmarks internationally and across the UK.
Because many of Andy's works of art are huge in size and fabricated from steel, he regularly engages the services of Joseph Ash Galvanizing to galvanize and prolong the life of the sculptures.
Back in January we wrote about some steel horses which Joseph Ash Galvanizing treated for Andy. You can read about these equine beauties here.
More recently however, Joseph Ash Galvanizing also treated a six metres high sculpture which now stands outside the new Crayford Library in Bexley, Kent.
The sculpture is called 'Propella' and features a lady standing on a plinth with her arms outstretched, holding a propeller, wrapped in a spiral of swirls.
The statue commemorates the former Vickers Company factory which once stood at the same location employing 12,000 local men and women between 1914 and 1918, producing armaments for WWI. Interestingly, the famous Vickers Vimy Aircraft was also built there (the first plane to cross the Atlantic), and the plinth that 'Propella' stands upon is based on the shape of the Vickers Vimy engine unit.
The sculpture – which was paid for by the Crayford Town Hall Square developers and Sainsbury's – also has symbols relating to the textile company David Evans which was also a prominent local business.
The sculpture is made from hot dip galvanized, welded mild steel.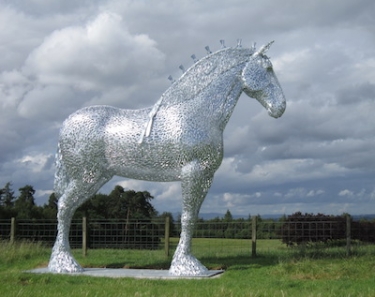 Above, you can also see a photo of another horse statue which we recently galvanized for Andy. This stunning steel horse has now been installed at its permanent home in Scotland.
Andy regularly uses Joseph Ash Galvanizing services as we have one of the largest galvanizing baths in Europe at our Telford plant.
With Andy's permission, we'll continue to publish more steel sculptures as and when Andy asks us for our services. We look forward to seeing his latest works of art!
Next page