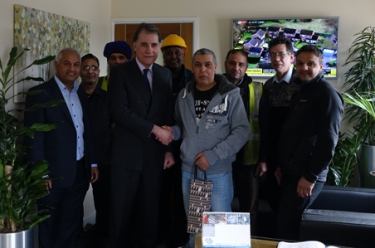 Celebrating 40 and 25 year anniversaries at Joseph Ash Galvanizing for Dalit Singh and John Eyre.
In 1978 the first test tube baby was born; the first mobile phone was introduced in Illinois; and Grease appeared at the cinema. This is the year that Dalit Singh joined Joseph Ash Galvanizing. Fast forward four decades and he is still here! What an achievement.
Dalit first started his job with Walker Brothers Galvanizing, which was taken over by Hill & Smith, Joseph Ash Galvanizing's parent company. His first job was in Jigging Materials, and he then moved to become a Pot Man. For the past 12 years he has been a Shift Supervisor at the Joseph Ash Walsall plant.
The news doesn't stop there though! This month we'd also like to mention John Eyre who has also reached a 25 year milestone at Joseph Ash Chesterfield. John joined our Chesterfield plant in 1993, and can do pretty much every job in the plant (including driving a fork lift truck). Since May 2017 John has been the Shift Foreman at Chesterfield.
Both men have been very loyal workers and key team members in their respective plants. Congratulations to you both!
Next page