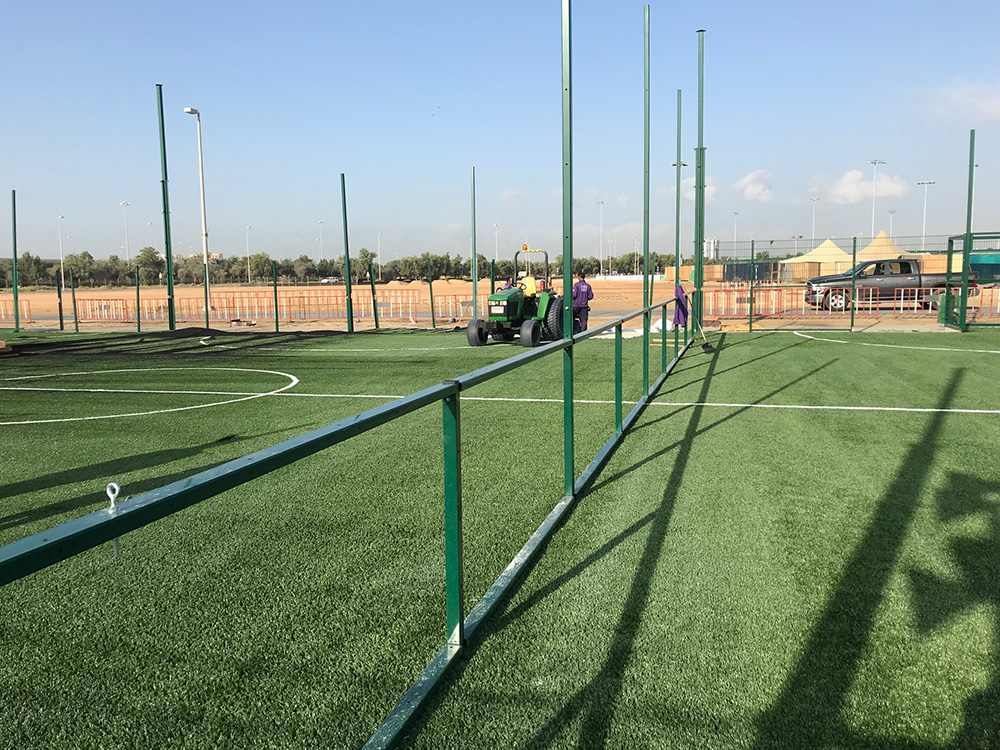 In the burning heat of Abu Dhabi, in the shadows of the Sheikh Zayed Cricket Stadium, sits a new football training ground called 'Soccer City'. It's a facility opened by the Abu Dhabi Sport's Council to provide world class football training for aspiring players.
Proving that distance should never be a problem, one of our UK customers fabricated fences for the facility. Before the steel made its way to the Middle East, the Company asked Joseph Ash Bilston to galvanise it.
CLD Fencing Systems has been in business since 1969 when it was set up by the Wells family. It is now the largest manufacturer and supplier of rigid mesh fencing systems and security gates in the UK. Still owned by the same family it produces fencing from its facility in Sandbach, Cheshire, and also has offices in London, Sydney and Dubai.
In conjunction with Wallbank Fencing who project managed the job on-site in Abu Dhabi, the Company was tasked with manufacturing different types of bespoke fencing for eight five-a-side pitches for the new state-of-the-art football facility. The requirements of the project needed to be:
Adaptable.
Strong and robust.
Have the ability to separate the eight pitches and prevent balls entering play in other pitches.
Integral goal mouths to help reduce space in the complex.
Able to withstand the harsh environment of weather in such a hot location.
As part of the project CLD Fencing Systems manufactured fences ranging from:
Dulok Sports: a double wire fencing system with twin 8mm horizontal wires offering a strong fencing panel to prevent damage from impact.
Ball Stop Netting: which provides a low-cost solution to pitch demarcation that can be used to heights of 8m.
Lockmaster Swing Gates: offering a secure entry and exit system to each pitch.
Protection from the elements
To protect the fences, CLD Fencing Systems asked Joseph Ash Galvanizing to provide them with a galvanised finish. Galvanizing is important because it provides a long-life, low-maintenance corrosion protection which safeguards steel from atmospheric attack, especially in such environmentally harsh locations as the Middle East. Our Bilston plant managed the job and, in total, galvanised about 25 tonnes worth of steel.
Rob Nelson, Divisional Manager at Joseph Ash Bilston said: "As a UK company, we're regularly galvanising steel for motorways, infrastructure, railways, and buildings up and down the country and it's great to see our work as we travel. It's exciting to work on projects that also end up in distant locations too however, so it was great to assist CLD Fencing Systems on this job."
Stewart Plant, Director of Marketing from CLD Fencing said: "As the fences would end up over 5,000 kilometres away, there was no room for manufacturing error. The project had to be perfect first time. We chose Joseph Ash Galvanizing to protect the steel because we knew they would be a reliable partner and deliver a first-class service."
Next page