As 2014 comes to a close we are pleased to announce some substantial new additions to our plant in Chesterfield – exciting improvements which form part of a major investment drive and facilities upgrade.
Over the past few years Joseph Ash Galvanizing has invested heavily in the various plants across the Midlands by increasing bath sizes and procuring new fleets of trucks. It also successfully acquired a new plant in Sittingbourne, to service customers in the South East. As 2014 comes to a close Joseph Ash is still investing, but this time at the Chesterfield plant, where major developments are already underway.
If you've been following our social media posts on Facebook and Linkedin, you will have seen our photos about land being cleared and flattened. Despite the teasing nature of these photos, we can now reveal that we are adding another huge hardstanding bay to the Chesterfield plant – an area that can house up to 100 trailers.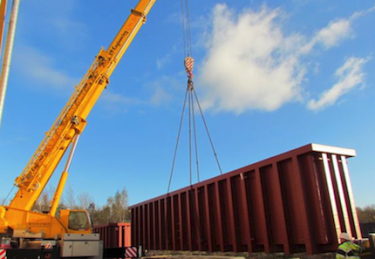 The developed land will also include an area where customers can trial erect their fabrications before taking them off-site and delivering them to the end user. We hope that the ability to test the assembly of steel fabrications will save our customers much time and money on large projects.
We will also be improving our ability to handle customers' work with the addition of an extra crane gantry area, providing us with the ability to load several customers' vehicles or containers at a time. Customers preferring to load their own containers or carry out pre-site assembly or other processes will also be able to use this facility.
Other developments at the Chesterfield plant will include:
Additional concrete storage space
Extension of the fork-lift fleet
Container loading facilities including ramps and bays
Extra racking
Local overnight facilities and changing facilities for truck drivers
Offices and telecoms for customer use
MPI crack detection
Factory space (up to 2000m2 currently available) suitable for fabrication or assembly.
Hereford
With regret, we are proposing to close our Hereford operation in the spring of 2015. There has been a mounting requirement for significant investment in the Hereford factory over recent years which likely future returns do not justify, and capital will be better invested in our other plants.
Existing Hereford customers will be serviced from the company's six other plants. Three of these plants include the widest galvanizing bath in the country at Telford, the deepest galvanizing bath at Bilston, near Wolverhampton, and the second longest bath in the UK at Chesterfield.
The year ahead in 2015
The New Year will see Joseph Ash Galvanizing continuing to go from strength to strength. As the work at the Chesterfield plant becomes complete we will share the results with you. We also plan to share other developments that benefit our customers in the years to come.
If you have any questions or queries about the plans at Chesterfield, please contact David Carling – Chesterfield Divisional Manager on 01246 854650.
Next page