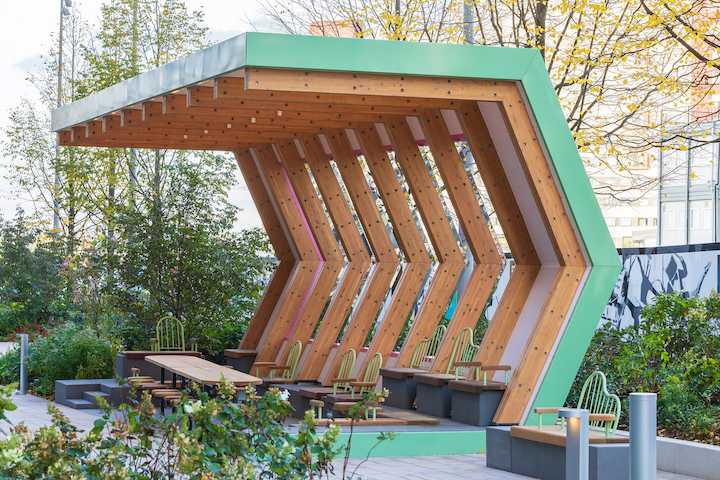 In 2020 a new structure was erected at the busy new commercial office district of Stratford's International Quarter London. The design – known as The Living Room – was commissioned by Lendlease to create a multi-use, free co-working space for the workers and broader communities of Stratford. It was fabricated by one of our valued clients – Cake Industries – and hot dip galvanized by Joseph Ash Galvanizing.
The ethos behind the new International Quarter at Stratford, is encouraging people to work where they feel most inspired, and The Living Room certainly lives up to this goal. Designed by YOU&ME Architects with Cooke Fawcett Architects, it allows nearby office workers and the public to comfortably work outside, for fresh air and a change of scenery. Equipped with power sockets, lighting and WiFi, it can be used by up to 30 people.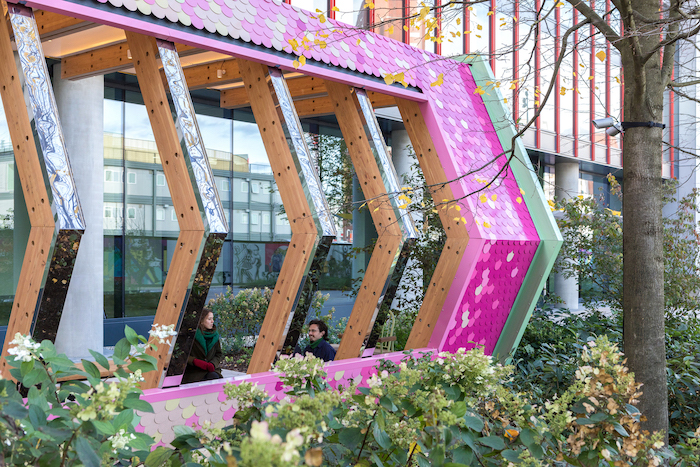 The structure looks like a house on its side, forming a sheltered pitched canopy – should the weather prove inclement – with tiered seating.
It is made from hot dip galvanized steel and clad in glue-laminated larch timber.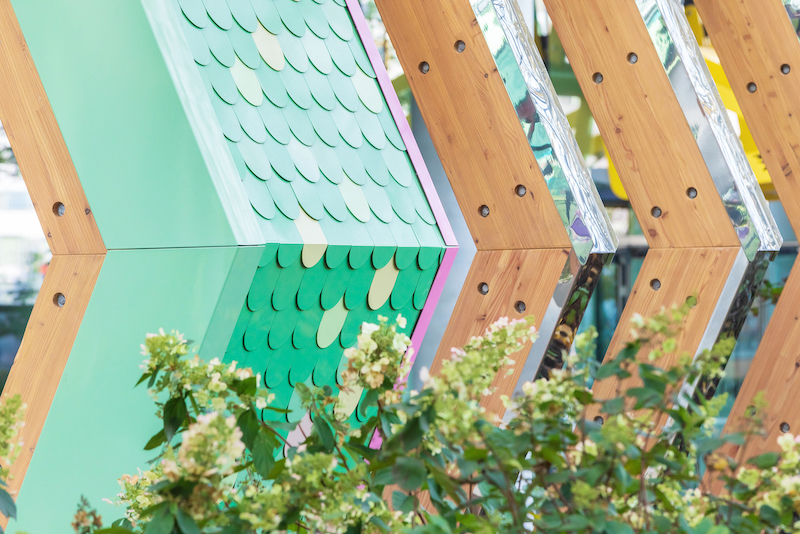 Powder-coated aluminium shingles cover the exterior in a bright and colourful pattern of pinks and greens, which creates a sculptural shelter from every viewpoint. The fixed furniture made from bespoke, hot dip galvanized and powder-coated steel continues this vibrant theme. There's also a 7m long communal table and durable hardwood seating.
A project to be proud of
Cake Industries were chosen as the fabricators of this project because they have a reputation for bringing concepts to life, working with the finest materials, and taking a design-focused approach to all projects, from sculptures to staircases, cabinetry to pavilions.
As a long-standing supplier to Cake Industries, Joseph Ash Galvanizing was chosen to manage the hot dip galvanizing process, and the vibrant powder coating.
Hot dip galvanizing is imperative for a project such as The Living Room because it provides a long-life, low-maintenance corrosion protection which safeguards the steel from atmospheric attack, which causes rust. Powder coating also provides a robust, colourful layer to architectural steel.
_______________________
To book The Living Room, visit IQL.
Photos by Peter Landers.
Next page