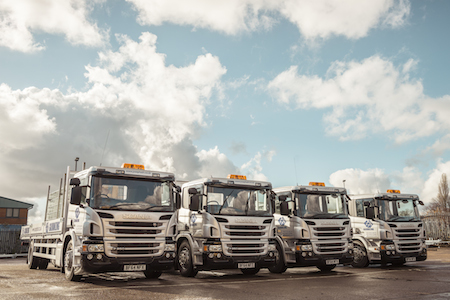 Last year 16 LGV drivers at Joseph Ash Galvanizing undertook a seven-hour SAFED course as part of their continuous Driver Certificate of Professional Competence (DCPC) training*.
SAFED – otherwise known as 'Safe and Fuel Efficient Driving' – is a driver development course (held in cab and in the classroom) with the aim of improving the safe and fuel efficient driving skills of LGV drivers.
Training can include the better use of gears to avoid over-revving and the unnecessary use of gear changes, as well as an overall awareness of fuel economy, and the minimisation of hard-breaking.
It is an important course which results in less accidents on the road (to people and vehicles), lower fuel costs, and less downtime for vehicles that would otherwise need to be repaired more frequently.
SAFED is also an important course for the environment, as it results in reduced emissions. In fact, since the 16 Joseph Ash LGV drivers completed their course, we are pleased to report that CO2 emissions from the Joseph Ash fleet of 21 trucks, was reduced at year end by 66.8 tonnes.
This is great news.
Joseph Ash Galvanizing has SAFED drivers, DCPC drivers, and now greener drivers.
*DCPC is also known as CPC or Driver CPC and stands for Driver Certificate of Professional Competence. Legislation was introduced into the UK in September 2009 and all professional LGV drivers must hold their DCPC in addition to their vocational driving licence. All LGV drivers who undertake DCPC will hold a Driver Qualification Card (DQC) which is very similar to the Driving Licence card and proves the driver has completed his/her training. All drivers must complete at least 35 hours of DCPC every five years on a continuous basis – this is typically split into five courses that run for seven hours at a time, so on average drivers receive training once a year. The SAFED course counts as part of continuous DCPC training.
Next page