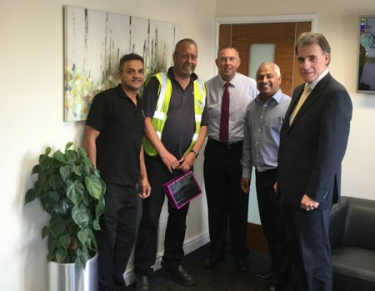 40 years service for John Thrupp, as well as long-time service achievements for many other members of staff.
In 1977 when Indira Gandhi resigned from office, Concord took its first flight to New York from London, and the Queen celebrated 25 years of reign at her Jubilee Celebrations, John Thrupp joined Joseph Ash Galvanizing. 40 years have passed and we're pleased to say that John is still with us and probably deserves his own Jubilee type celebration! What an achievement John!
John initially started work at our Birmingham plant as a works office clerk, he then moved into a role as Works Progress Clerk, before being promoted to Shift Supervisor. He then became Materials Controller and when the Birmingham plant closed he transferred to Joseph Ash Walsall to carry out the same role.
Steven Hopkins, Managing Director, and other members of Joseph Ash recently celebrated with John, and said thank you for being a great member of the team.
John is not the only team member from Joseph Ash Galvanizing to have reached a significant milestones at the Company though. In recent months we have also celebrated with:
Phil Filkins, Joseph Ash Medway, who reached 20 year's service at the plant in June
Dean Winfield, Joseph Ash Chesterfield, who reached 30 year's service in June
Neil Horton, Joseph Ash Walsall, who reached 25 year's service in June
Kevin Hilden, Joseph Ash Medway, who reached 20 year's service in July
Sidney Holland, from Joseph Ash Telford who will reach 30 year's service in August.
Congratulations everyone!
Next page