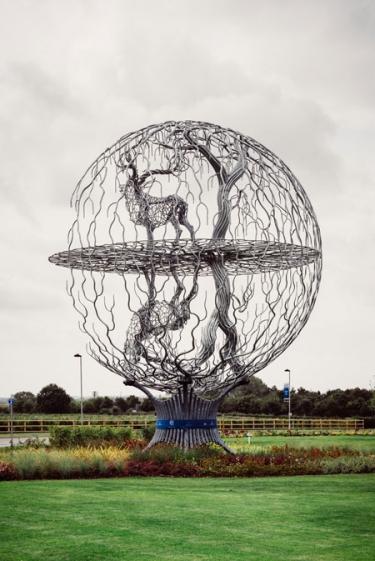 Majestic steel sculpture unveiled in Essex: New artwork by Matthew Lane Sanderson, hot dip galvanized by Joseph Ash Telford.
A stunning new piece of artwork has recently been unveiled in Chelmsford, Essex. Matthew Lane Sanderson is the artist, and he invited Joseph Ash Galvanizing along to the launch party.
A new housing development has been built in Essex, in an area just north of Chelmsford. The development is called 'Beaulieu' and it will eventually include over 3600 new homes, playgrounds, a railway station, commercial areas, and parkland.
The development has been built by Countryside and L&Q, who also wanted to include sculptural and functional works of art in the landscape to tell the story of the land's previous Tudor owner, King Henry VIII, who had a palace and a deer park there.
The development partners chose a series of talented artists, and Matthew Lane Sanderson – a 'Big-Art' sculptor from Herefordshire – was commissioned to create one of the pieces of art.
The launch party for the sculpture – called 'The Crowned Stag' – took place on Thursday 7 September 2017.

Sanderson's sculpture at Beaulieu
For the commission at Beaulieu, Sanderson created a spherical sculpture, with an intricate design, that depicts a regal reflection of a stag under a tree, set on a reflected crown base. The statue is made from six tonnes of steel and zinc and is ten metres high. The artist has also inscribed a poem into the base which reads as follows:
"All things held in one small globe,
Spinning eternal in endless strobe.
Plants, water, animals, light.
Future, past, day, night.
All is balanced on everyone's crown,
In every country, in every town."
The sculpture has a special place in the Beaulieu development as it stands proud at the entrance to the new housing estate/town.
Sanderson said of the sculpture: "This work of art shall forever mark the status of this place both past, present and future. It is a symbol that not only conveys the beauty of natural form, but the hope we all share for balance in all things."

Joseph Ash Galvanizing and Matthew Lane Sanderson
Sanderson is well-known to Joseph Ash Galvanizing, as he works in steel and regularly asks us to protect the finished sculptures with a galvanized finish.
A galvanized coating on steel protects the metal from rust and enables it to be protected from the elements for many years to come.
Sanderson has previously asked Joseph Ash Galvanizing to hot dip galvanize works of art including 'Conduct' at Solihull School.
He has been pleased with the professional service and level of quality that Joseph Ash provides, and therefore asked one of our plants to galvanize the sculpture for Beaulieu.
As galvanizers for the project, Mick Jackson and Ewelina Bharj from Joseph Ash Galvanizing were invited to the launch party in Chelmsford.
Mick Jackson said: "It is always an honour for Joseph Ash Galvanizing to be asked to treat huge works of steel art, by amazing artists such as Matthew Lane Sanderson. Hours and hours of work go into the design and creation of these sculptures and it is imperative that our galvanizing plants do justice for the artists, by providing the best quality galvanized finish that we can."
Ewelina Bharj said: "The launch party for Matthew's new sculpture was amazing and awe-inspiring. After seeing the sculpture being galvanized at our Telford plant, it was great to see the finished project standing tall and proud in its final location in Chelmsford. It is a beautiful piece of art, and Matthew looked just as proud as the statue at the party. I hope the residents of Beaulieu will love the sculpture over the coming years as much as I do."
You can read more about Matthew Lane Sanderson here.
You can read more about Beaulieu here.
See more photos of 'The Crowned Stag' sculpture here.
Next page