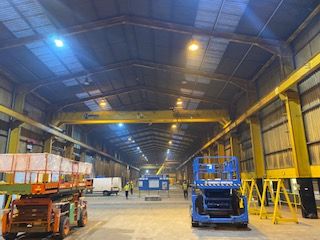 In December 2020 (including throughout the Christmas period), the Joseph Ash Chesterfield plant underwent a series of major improvements that has helped the plant to get off to a flying start in 2021. The following works took place which will provide huge improvements to Joseph Ash employees and customers alike:
The 40 year old concrete in the road at the main gate was replaced, making the surface smoother for visitors
A new entrance and exit gate was installed to improve traffic flow around the site
We also installed two new overhead cranes
We carried out a series of total preventative maintenance projects to keep the site running smoothly and efficiently
Finally, the whole of the inside of the plant was repainted, making it clean and fresh for the New Year!
If you're a regular customer of our Chesterfield plant, we hope you find these improvements beneficial to the services we provide to you. Do let us know if you have any feedback, or you think there are any other improvements we could make that could make your lives easier when you visit the plant.
Next page