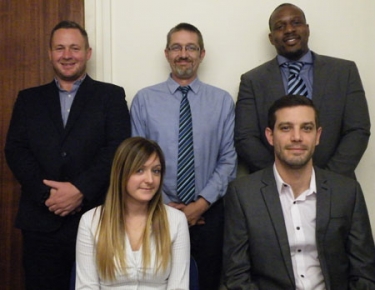 It's always good to put a face to a name… With this in mind we thought we'd introduce the Sales Team at our Joseph Ash Medway plant.
First up is April Challis, our Sales Administrator, and Gavin Van De Peer, our Sales Executive. April and Gavin are both office based, so if you have any questions at all with regards to booking-in galvanizing, shot blasting or powder coating jobs in the South East, you can reach them on 01795 419813.
Next up is Alan Mitchell and Troy Clark, two of our Medway Sales Executives. Both Alan and Troy are on the road Mondays-Thursdays visiting customers (and office based on Fridays). You can reach Alan on 0772 1219703, and Troy on 0773 4230286 if you'd like to meet with them, or ask any questions about the shot blasting, hot dip galvanizing and powder coating services.
Finally we have Matthew Hodges – the Sales Team Manager. In his 20 years at Joseph Ash Medway, Matthew has held various positions including Galvanizing Manager and Powder Coating Manager, so you can be sure that everything there is to know about steel finishing services, he will know it. Matthew can be reached on 0782 550 6976.
Alan covers areas south of the Thames, and Troy covers areas north of the Thames, apart from Kent and East Sussex which is managed by Matt.
Get in touch with Medway today to discuss any jobs you'd like to book in the Kent/South East region.
Next page