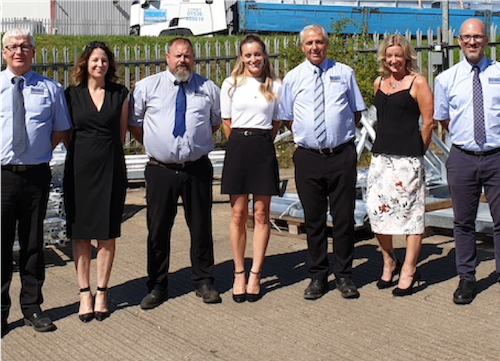 We're pleased to introduce some team members at our Corby (Premier Galvanizing*) plant. From left to right we have David Prattis, Lisa Sutton, Daren Stevens, Anna Stocks, Bob Preston, Heather Elmore and John Frankland.
Find out more about the team below:
David Prattis joined Premier Galvanizing Corby as General Manager in September 2019. He has over 30 years' experience in Steel and Aluminium Coil Coating, supplying product into the Construction and Leisure Industries. Before joining Premier Galvanizing, he spent 10 years as Plant Manager for an International Coil Coating Company based in the UK and The Netherlands.
Lisa Sutton is the Corby Office Manager. She is a long-standing member of the team, having worked for the company for 14 years, ensuring the smooth operation of all business administration.
Daren Stevens has been with Premier Galvanizing since it originally opened in September 2002 as an experienced Operative. He previously worked with Bob Preston (below) at Clark Steel. Working his way up from Shift Supervisor, he became Works Supervisor, then Galvanizing Manager. He was promoted to Operations Manager last year. Having worked at the plant for many years, Daren has expert knowledge in running a busy galvanizing plant.
Our Corby plant operates eight dedicated lorries to service customers' needs giving a fast turnaround of typically 2-3 days. As Operations Manager, Daren also ensures these collections and deliveries run smoothly.
Anna Stocks is the Financial Controller for Premier Galvanizing and operates across two plants (Corby and Hull). She is a valuable member of the team and has worked for the company since 2016.
Bob Preston has a wealth of experience in galvanizing, having worked in the industry since 1972. Throughout his career, Bob has progressed through the galvanizing business from Shift Operative, to Works Manager, to Production Manager and onto his current position as Production Director. In this role Bob supports all other members of the customer focused team in delivering an exceptional all-round service.
Heather Elmore is experienced in administration, bookkeeping and credit control. She has worked with the Corby team for over three years providing much needed assistance in the office.
John Frankland joined Premier Galvanizing in September last year as Sales Manager. John is new to the galvanizing industry and has a background in Capital Equipment Sales to the manufacturing and metal fabrication sectors. John works at our Corby plant providing hot dip galvanizing services from Mansfield and Nottingham in the north, following the A1, M1 and M11 routes down through the country and covering the north half of London from Essex in the East through to Berkshire in the West.
The entire Corby team take pride in delivering an unbeatable service in terms of quality, turnaround and doing exactly what they promise. If you have any questions or queries, or if you'd like to place an order, please get in touch with the Corby team.
*Premier Galvanizing is part of the Joseph Ash Group.
Next page