This month's Meet the Team feature is an exciting one, as we had the chance to interview Neil Kanagaratnam, Operations Director. Neil has been responsible for implementing some exciting new innovations for our sites. We managed to get some early information on some of these innovations – keep an eye out over the next few months for videos and more information!
Meet Neil Kanagaratnam:
Role: Group Operations Director
Branch: Head Office
Started: July 2022
Favourites:
Food: Chinese
Pastime: Developing new galvanizing technologies!
Can you give a brief overview of your role?
I am the Operations Director for the Joseph Ash Group. My job is to manage all our sites' operation performance through improving operational efficiency, reducing business cost, reducing lead time, increase sales, and drive process efficiency. I work with a lot of other departments to make these happen and make Joseph Ash a world-class galvanizing company.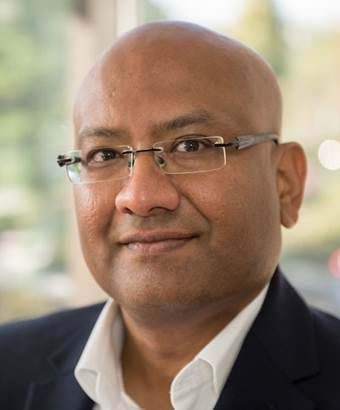 I also develop the company's Policy Deployment Plan (PDP). Policy deployment is a strategic planning process that aims to set the corporate objectives, management plans, and daily operations in sync with each other. This process drives a high-performance culture with clear visibility of company goals and objectives.
What did you do before joining the company?
I worked as Manufacturing Director in the aerospace and defence industry. Following this I became a fellow in materials technology, as well as a welding and joining society where I developed advanced manufacturing in aerospace industries. I drove manufacturing efficiency through design for manufacturing and assembly with the use of robotics and automation, and I worked on advanced materials technology for the defence industry. In this role I managed multiple sites to grow NPI programs and developed top talent.
Can you talk about some of the innovations you've worked on recently?
Digital twin
My favourite ongoing innovation is our Digital Twin technology. This technology allows us to monitor the plants and check performance through data analysis and corrective measures. A digital twin is a digital replica of an object in the physical world. In our case, we apply a digital twin on our process controls and we simulate our robotics before we integrate them into our sites. It's been useful in developing our initiatives as it mitigates any risks and reduces our automation lead times.
Welding automation
We've used digital twin technology to bring in automation for a lot of our services. Firstly, our welding process is being automated. We've created a robotic welding system that automatically cleans the weld torch, cuts wire to length, and positions it into the right place. It is capable of adjusting weld torch movement and tracking seam gaps. With external exes we can move parts 360 degrees.
Most of our customers' welding is very manual, so this machinery will help to automate the process. Automation will also help to reduce costs, produce larger batch sizes, reduce scrap waste, and overall modernise our operations. This additional welding service will give the customer additional capacity and higher quality products.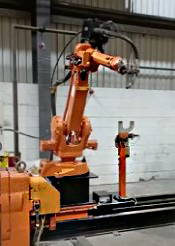 Spin galvanizing automation
We've also started automating the spin galvanizing process at our Telford site. This is currently still under construction but this will be finished by August 2023. It's a very manual process without automation, but we're bringing in a robotic arm that can do this for us. We used digital twin technology, mentioned before, for risk assessment and simulation.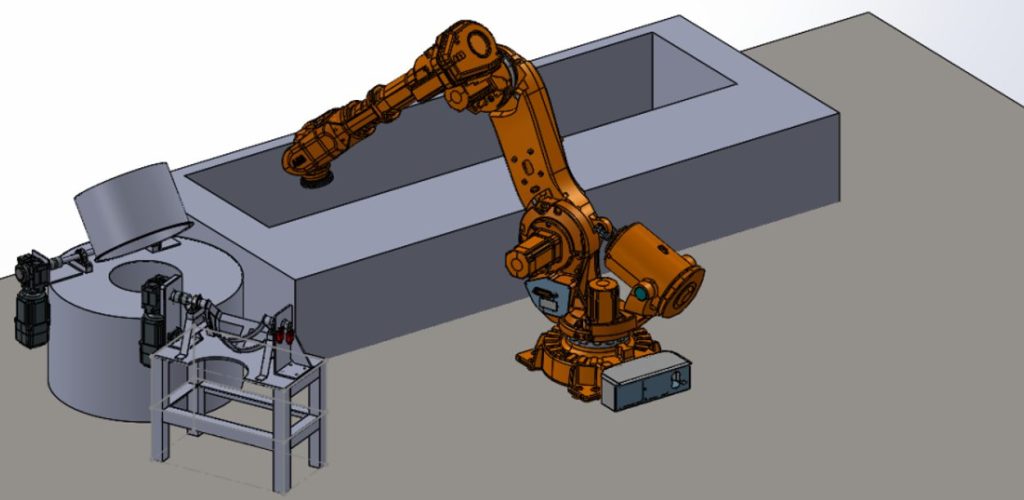 Hook manufacturing automation
Hook manufacturing is also being automated, at our Bilston site. We use hooks before galvanization to hang up steel. Before, we used wire which would get thrown away after one use. This was wasteful and bad for the environment. Now, these hooks can be reused many times, and reduce steel wire consumption and material wastage.
Powder coating automation
Finally, powder coating at our Medway site is being reworked with surface blending automation technology. There is a lot of automation being implemented at the moment!
I'm proud of implementing all of these in my first 7 months, and developing and refining them more now that I'm 10 months into my role.
What benefits do these innovations bring?
These innovations help to reduce our business cost, meaning we are more efficient with our budgets. They also help to improve the safety of working at our sites, reducing the risk of accident. Robots also improve the quality and consistency of our metal finishings. Human error means that it's possible to get inconsistent results, whereas automation can bring more consistent results that are harder to achieve with people.
New technologies also help to make Joseph Ash more appealing to the younger generation, as the world is becoming more technology-driven. We are better able to attract new talent to join our company as we become a more interesting and safer company to work for. We need to stay up-to-date with the current world so that we are ahead of our competitors.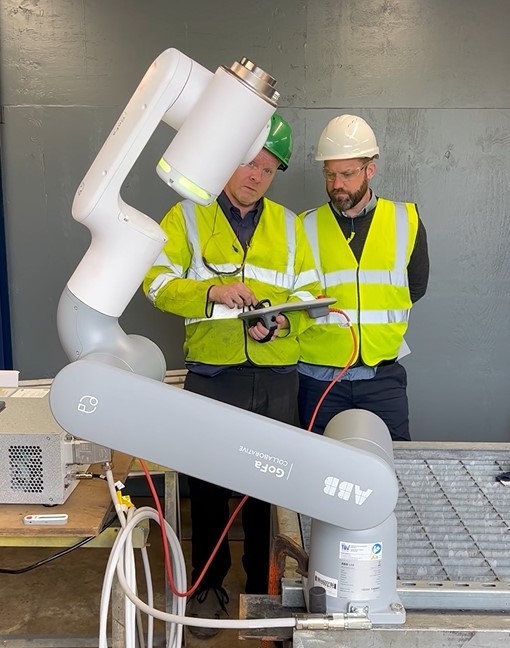 Are there plans to implement any more innovations over the next few years? What are the timeframes for these?
The digital twin will be fully complete over the next 18 months. It is a gradual implementation, and will help us advance the company even further in the future. Our current automation technologies will be scaled up over the next few years, and brought out to multiple sites. It's an exciting time to work for and be a customer of Joseph Ash Galvanizing!
Is there anything you'd like to tell us, that we haven't asked you?
We're always looking to be more engaging with our people. When designing innovations, we always involve our people and look for opportunities to continually improve. We're proud to be a diverse and inclusive company that cares about its people.
Tell us an interesting fact about yourself.
I used to develop synthetic diamonds many years ago. People used to call me Neil Diamond!
---
Keep an eye on our YouTube, TikTok and Instagram accounts over the coming weeks for videos of these innovations in action!
Next page