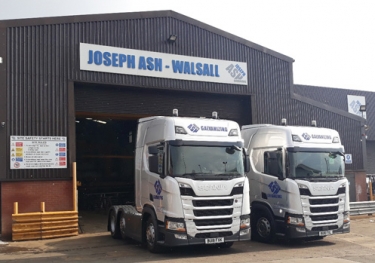 New tractor units at Chesterfield and Walsall drive environmental initiatives for Joseph Ash Galvanizing.
We're pleased to report that our Walsall and Chesterfield plants have recently taken delivery of new Scania and DAF tractor units to upgrade our collection and delivery fleet.
The two new units at Joseph Ash Walsall are Scania Next Generation R Highline models, with 13 litre 450 horsepower engines and autoboxes. They have been equipped with all the latest technology, such as advanced breaking capabilities and lane departure warnings, which helps them to be more environmentally friendly.
The new tractor unit at Chesterfield is a DAF, a truck manufacturer which is setting new standards in transport efficiency (including a lower weight for increased payloads), and driver comfort.
Do you need us to collect or deliver your steel?
At Joseph Ash, we're not only pleased to be able to offer improved customer logistics and service, but we're also proud to have trucks that are better for the environment. Wherever you are, or wherever your steel fabrications need to be, we can collect and deliver it for you using our vast fleet of specially equipped lorries. Contact us today for more information!
Next page