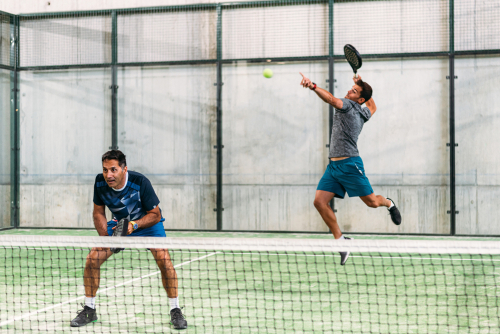 We're pleased to announce that our client – J.B. Corrie – has successfully trademarked the name 'Corrie Padel'. This is excellent news for them as they have been a UK pioneer in developing padel tennis courts for the UK market since 2019. We're also excited because we're looking forward to galvanizing the steel for the Corrie Padel (TM) system going forwards.
What is padel tennis?
Padel tennis is typically played in doubles on an enclosed court, with a playing area roughly a third of the size of a tennis court. The sport shares and combines many characteristics with tennis and other racquet sports. For example, the ball used in padel is very similar to that in tennis – but the court's walls can be played off in a similar way to squash.
What is the Corrie Padel?
As padel is mainly played outdoors, the UK climate – with its regular high winds and driving rain – posed a number of challenges for padel court design. However, as fencing specialists, J.B. Corrie came up with a new product for the UK market to counter the challenges. For example, to ensure longevity and to weather-proof the courts, all materials used are hot dip galvanized to BSEN ISO 1461:2009 standards. They are also powder coated to BSEN 13438, in order to offer customers a choice of colours.
Other elements of the unique design include the use of 12 mm toughened (BSEN 12150-1) and heat soaked (BSEN 14719-1) glass, complete with polished edges and countersunk fixings.
LED lighting can be added to allow year-round use, with static integrated posts and also automated retractable lighting.
The courts can also be personalised – for example by having club logos or designs printed onto the glass. This offers a more robust option to the conventional vinyl stickers, which have a habit of wearing over time.
Growing in popularity
At present, there are only 74 padel courts in Britain, but the LTA is on a mission to help this number grow – particularly as it's a great game for families and tennis newbies. The LTA is fuelling growth by providing sports club with £250,000 grants to build new padel courts, which is payable interest free over a 10-year term.
One such club to take up the offer is Chichester Racquets and Fitness Club, and J.B. Corrie is currently supplying the Corrie Padel (TM) court for installation on their grounds. The steel was recently hot dip galvanised and powder coated at Joseph Ash Medway.
Watch this space
The padel courts are scheduled to be finished at Chichester Racquets and Fitness Club by mid-September, and now that gyms have reopened, it will be great to see the courts in use. It will also be a great way for people to get engaged in sports again and become active after months of lockdown.
Install your own courts
If you're interested in installing padel courts at your sports facility, please get in touch with J.B. Corrie. The Corrie Padel (TM) will be your perfect solution.
Next page