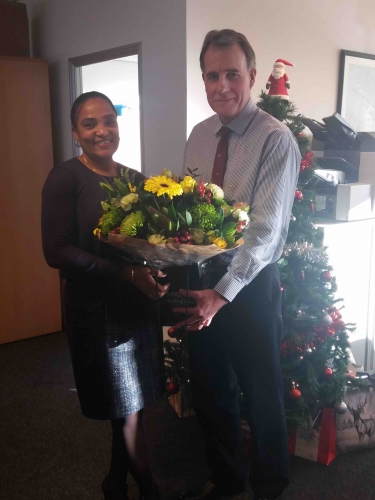 25 years ago, in 1993, 'Jurassic Park' and 'The Firm' showed at the cinema; 'Seinfeld', 'Roseanne' and 'Murder, She Wrote' were amongst the most popular TV shows; Meatloaf spent over a month as UK number one for 'I'd Do Anything for Love'; and Pete Sampras and Steffi Graf won Wimbledon. Also, in this year – in Joseph Ash Galvanizing related history – Pauline Alcide joined our team!
Pauline started her career at Joseph Ash in the Head Office as a Payroll Clerk. Fast forward seven years to 2000, and she was promoted to Assistant to the Accountant. In 2003 she also took on the extra responsibility of managing the payroll for the company.
Pauline reports to Richard Hall, the Finance Director for the Joseph Ash Group, and can be seen in the photo being presented with some flowers from Steven Hopkins, Managing Director.
'Loyal', 'honest', 'funny' and 'very friendly' are the words that spring to mind when we think about Pauline, so we are lucky to have her working with us.
When Pauline isn't working, she loves to dance, enjoying salsa nights with her husband every week.
Congratulations on reaching your 25-year anniversary Pauline! A great achievement.
Next page