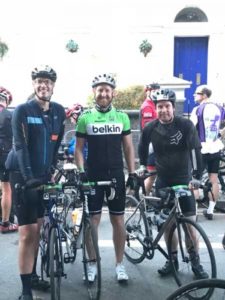 Congratulations to the runners and riders of the Velo Birmingham.
A couple of weekends ago the inaugural Velo Birmingham took place in the Midlands.
The course was 100 miles long and 15,000 cyclists of all abilities took part, criss-crossing through the picturesque Worcestershire and Staffordshire countryside before returning to Birmingham.
The event – which raised funds for various charities – was also created as part of the Birmingham Cycle Revolution, whereby Birmingham City Council are trying to encourage more people to take to the roads on two wheels, rather than four.
As per an earlier story on our website in March, we're proud to say that members of Joseph Ash Galvanizing and Premier Galvanizing took part in the race: Stuart Cobourne, Justin Deegan and Richard Hall. They enjoyed the event and achieved very respectable times between 5.30 and 7.11 hours.
A Premier Galvanizing client, Stephen Harvey, also took part alongside Justin.
It was touch and go whether Justin would be able to do the race after his bike broke just before the start line. But luckily, a company called Cycle Republic – who had a stand at the event – were on hand to lend him another one.
Justin said: "The race itself was brilliant, the route and crowds were exceptional, and if I could choose between Ride London and Ride Birmingham, I would definitely choose Birmingham. A post ride beer and massage was the perfect way to finish a brilliant event. Are we comng back next year? 100%."
Congratulations to the team!
You can see some of the photos of our team members at the event here.
Here's to the Velo Birmingham 2018!
Next page