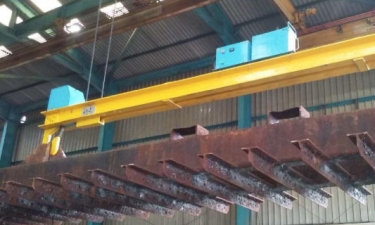 Safety culture at Joseph Ash leads to machinery innovations
As a five-time winner of the RoSPA Gold Award for health and safety in the workplace, Joseph Ash Galvanizing is always looking at ways to protect employees, customers and visitors to our plants. A recent health and safety initiative that we are proud of involves a new crane invention.
Osmond Crosdale is our Maintenance Manager at Joseph Ash Galvanizing, who has been working with the Walsall maintenance team to develop a new motorised crane hook safety catch system, with the aim of preventing accidental hook detachment in slack rope situations.
The team have designed and launched a wireless system which is integrated into an automated process (thus eliminating human elements), which automatically closes prior to the picking up of a load carrier (or jig) and opens only when ready for unhooking in a safe manner as prescribed by the automated sequencing.
A short video of the crane hook safety catch system can be seen on our YouTube channel.
This is a perfect example of a creative solution with safety at its core, and it is a great achievement by Joseph Ash Walsall.
We look forward to carrying this initiative through to our other plants in due course.
Next page