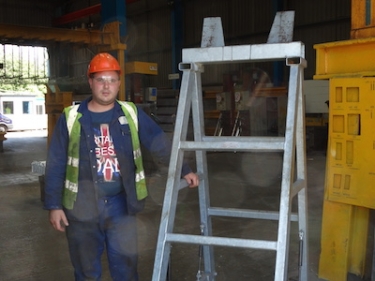 Joseph Ash Galvanizing employees asked to design an innovative safety solution to enhance health and safety at our plants.
The health and safety of employees is of paramount importance to Joseph Ash Galvanizing, and concerns had been growing about the safety of team members in our plants working under large jigs suspended in the air by cranes. As a company we wanted to find a solution which would prevent workers being badly injured should a crane fail.
To this end, Steven Hopkins, the Managing Director at Joseph Ash Galvanizing set all employees a challenge to design a simple, portable safety solution, not involving heavy chunks of fabricated steelwork. To encourage innovative ideas, Steven also provided an incentive whereby the winning designer would be given £500 to donate to a charity of his/her choice.
After a very short time we are pleased to report that Lee Groves, from Joseph Ash Bilston, designed and fabricated some portable supports which will protect the safety of our employees when working under a jig.
The solution was important to Lee and throughout the process he asked for feedback from other colleagues in order to produce a solution that would be adopted in practise.
Lee has chosen SARA – the Severn Area Rescue Association – as the charity to receive £500 and Joseph Ash Galvanizing has donated the money in Lee's name.
Not only has Lee helped to ensure the safety of his colleagues, but his donation is also helping to keep people safe on the rivers and land in the Severn Estuary area.
Well done Lee!
Next page