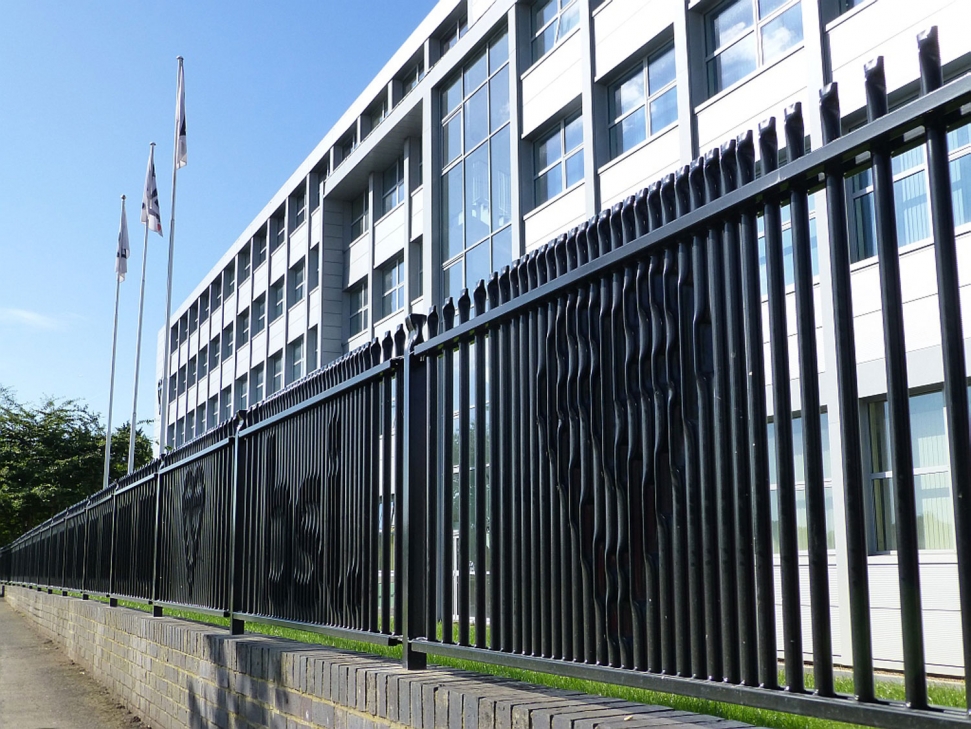 Joseph Ash Galvanizing hot dip galvanizes and powder coats steel railings for Claydon Architectural Metalwork and the BSI.
Producing any of kind of project for the British Standards Institute could be a daunting task, because of the very nature of their work. As one of the world's largest independent certification bodies for management systems, with over 120,000 registered sites across the globe, the BSI has very high standards to meet! Despite this, Claydon Architectural Metalwork (CAM) was asked to create and install new railings outside the BSI's building in Hemel Hempstead, as part of a larger refurbishment project on the whole building, and Joseph Ash Galvanizing was asked to provide the necessary steel finishing treatments.
CAM was approached by Kirsop, the project surveyors, to design the new front elevation railings for the BSI building. CAM was happy to take on the project and they chose Joseph Ash Galvanizing to provide the finishing treatments – a choice they have been making for the last 20 years, knowing the very high standards of quality and customer care that Joseph Ash Galvanizing provides.
The railings are made from steel and measure 82 linear metres in length and stand approximately 900mm high on top of the existing wall at the front entrance to the building. The total weight of the steel used was just under two tonnes.
As part of the design, CAM managed to incorporate the well known Kitemark and BSI logos into the railing panels with great effect.
Kirsop asked CAM to design and build the new railings in early 2014. By June the railings were fabricated, at which point they were collected by trucks from Joseph Ash Medway (Joseph Ash Galvanizing's Kent-based plant), driven to Sittingbourne (where the plant is based) and prepared for treatment.
The railings have to last a long time. They need to remain looking good and be protected from corrosion from the elements. With this in mind Joseph Ash Medway treated the steel with a duplex coating of a hot dip galvanized substrate, as well as a powder coated finish.
---
Duplex Coating = Galvanizing + Powder Coating
Galvanizing: Hot dip galvanizing has been used worldwide for well over a century because it provides a long-life, low-maintenance corrosion protection, which safeguards steel from atmospheric attack.
Powder Coating: This can be combined with a powder coated finish which provides a low maintenance, long lasting, colourful covering for architectural metalwork, fencing, gates and any other steel fabrication. It is a covering which can be offered in a wide variety of durable, colourful, metallic and textured powder coating finishes that are both attractive and guaranteed for up to 25 years.
Once the steel had been treated, Joseph Ash Medway delivered it back to Claydon's site in Suffolk.
Both CAM and Joseph Ash Galvanizing are very pleased with the railings for the BSI, and work well together as a team.
Claire Rycraft, from CAM said: "As a company it is important for us to adhere to all the required BSI standards when completing work for customers – not just the British Standards Institute! Because of this, we choose suppliers to help us complete projects that also adhere to important standards. Joseph Ash Galvanizing is one such company and we have a great deal of confidence in their work."
Matthew Hodges at Joseph Ash Medway said: "Aside from the aesthetic appeal of powder coated surfaces, there's no point investing in a colourful coating unless you know it will last. With Joseph Ash Medway customers can be assured that we are not only approved as paint applicators by AzkoNobel, IGP and Dupont, but we also adhere to the following standards when it comes to galvanizing and powder coating: BS EN ISO 1461 (galvanizing) and BS EN 13438 (powder coating)."
The railings have been standing outside the BSI building for 18 months now and they look great. Because of the high standards of Claydon Architectural Metalwork and Joseph Ash Galvanizing, the gates should be protected and will look attractive to meet the BSI's exacting standards for many years to come.
---
About Claydon Architectural Metalwork
Claydon Architectural Metalwork is a family run business, established 30 years ago. Their award-winning designs visually enhance landscapes and urban environments.
They work closely with clients to ensure the facilitation of their creative ambitions, by offering a complete design, manufacture and installation service which guarantees the consistency of CAM's work at every stage of a project.
Claydon's passion for design has set them apart for nearly 30 years and has led to an illustrious history featuring work with prominent artists, architects and contractors.
Next page