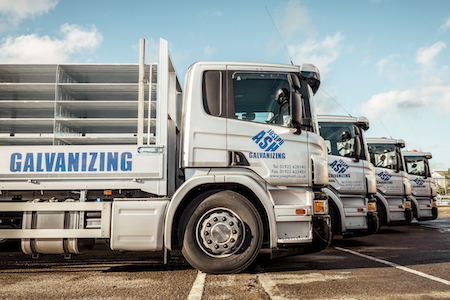 It's not just galvanizing quality that's important to Joseph Ash. It's also how efficiently and safely we manage customer collections and deliveries. Because we're always looking for improvements in this area, we have installed TIP Insight at our Joseph Ash Chesterfield plant.
TIP Insight is a telematics-based digital and connected service which allows us to track the whereabouts of our trailers and report on their health.
Recently, we've fitted the device to 41 transport trailers at Chesterfield.
TIP Insight will allow us to:
Monitor brake performance and tyre pressure. This enables us to comply with the brake monitoring standards set out in the DVSA's Guide to Maintaining Roadworthiness and add an extra level of safety for our drivers.
Track our trailers, giving us a real-time view of where they are, which in turn helps us improve utilization.
Geofence our customer sites, alerting us when a trailer reaches its destination.
Reduce our carbon footprint by utilizing our fleet more efficiently.
We fitted the devices to the trailers in late June, so it's still early days in monitoring effectiveness. We're excited about the data, though, and we look forward to using the information produced.
In our quest to reduce our carbon footprint even more we will be installing the TIP system on our whole group fleet in due course.
Find out more about TIP Insights here.
Next page