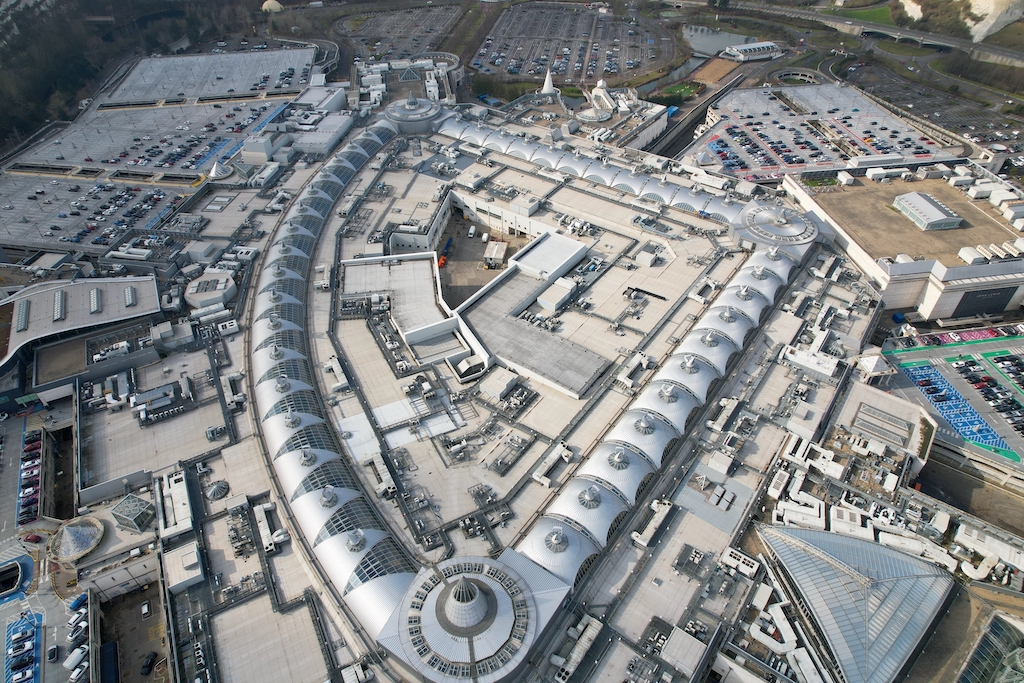 Bluewater in Dartford, North Kent is one of the biggest and most popular shopping centres in all of Europe. When the £400 million centre opened in March 1999, almost 20 years ago, an intrinsic feature of the site was the bespoke metalwork balustrades finished by Kent based steel finishing specialist Joseph Ash Medway. Now, two decades on, the centre still retains its contemporary and unique design, due in large part to the quality and longevity of its finishes.
Set in a reclaimed former quarry and built complete with cinemas, shops and restaurants, the unique architecture of Bluewater sets it apart from other shopping destinations. Bluewater's three malls are styled like canopied streets with ornamental balustrades and handrails on two floors and topped with glass sided domed roofs.
At this high-quality retail development, Joseph Ash Medway worked with architectural metalwork engineer Alan Dawson Associates on a shotblasting and powder coating solution for the balustrades that was not only in keeping with the ornate design but also ensured long term colour retention in the centre.
To provide a vibrant, durable finish, Joseph Ash Medway applied a comprehensive shot blasting and powder coating solution to the black steel. This included a zinc phosphate pre-treatment, and a two-part powder coating system beginning with a tough RAL 9006 matte undercoat and a clear coated powder lacquer to ensure the glossy appearance would not fade over time.
"Joseph Ash Medway has carried out extensive coatings packages for us over the years. Because they provide an unrivalled quality of work, and a totally reliable and 'one stop shop' service, we have avoided the sort of surface finishing problems we so often experienced when using a separate hot dip galvanizer and a separate polyester powder coater" said Alan Dawson of Alan Dawson Associates.
Operating to stringent quality control processes and fully accredited to all the latest BS and ISO standards, Joseph Ash Medway ensured all works were completed to the highest quality possible to provide a low maintenance finish and long-lasting performance.
With a reputation built on excellence, Joseph Ash Medway specialises in providing the complete galvanizing and steel finishing service to a broad customer base across the South East. With 24-hour operation, an expert logistics department and a modern HGV fleet, they can provide a rapid and responsive service to customers on any project, of any size.
Next page