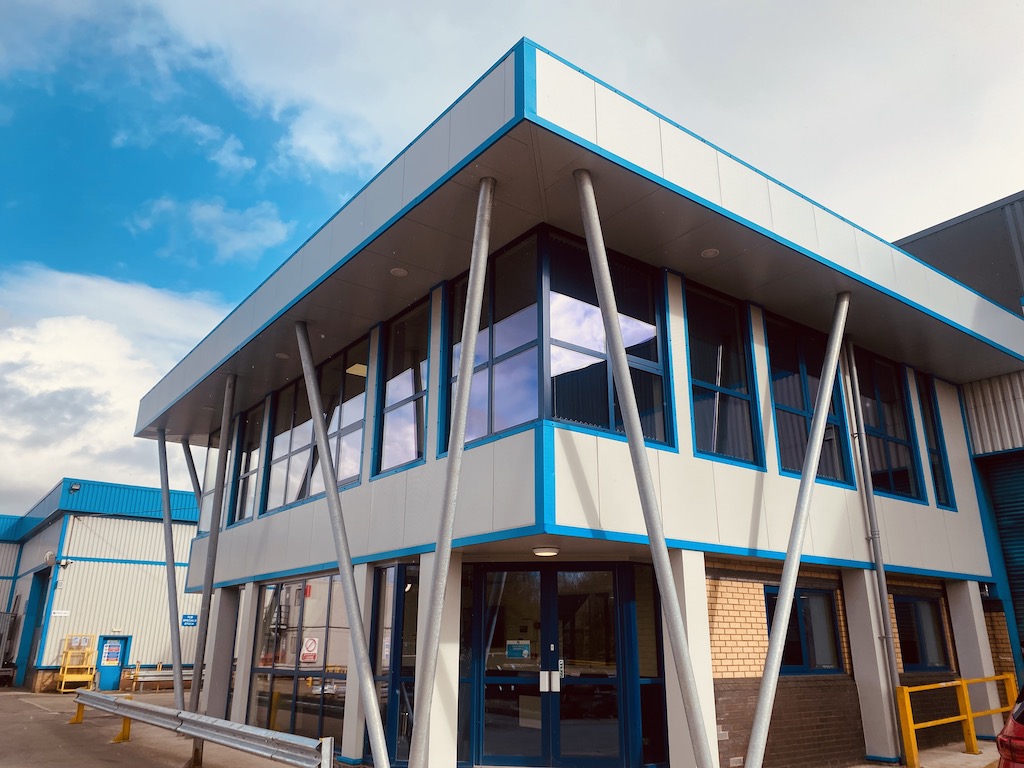 2022 marks the dawn of a good year for Joseph Ash Bilston. Not only have they opened a new office building at the plant, but they've also become ISO 14001 certified. Find out more!
New office building
Joseph Ash Bilston has been going from strength to strength over the last few years, and growth meant the need for a new office building.
The office building houses our team members who look after sales, the management of the plant, and accounts. But unfortunately, they had outgrown the space, and the facilities were dated.
When the plant drew up plans for a new office, it was also an excellent opportunity to ensure a new build would be as green as possible. As a result, a state-of-the-art environmentally friendly building was designed. The building work took place in the second half of 2021, finishing just before Christmas.
Joseph Ash team members moved in at the beginning of January and are pleased with the new facilities. Not only do they have more space, but there are also some environmental features to be proud of:
Solar PV array with an output of 29087kWh
The building now has fantastic solar panels that will harness greener energy. PV means photovoltaic – a way to convert sunlight into electricity.
1 phase 10kW battery storage from the solar PV array
Solar panels are great, but it's not always sunny in Bilston! Not a problem, though, as there are solar storage systems in place to provide energy on even the greyest days. Not only a green initiative but also cost-saving for heating costs.
Heating/cooling with air source heat pump and radiant ceiling grid panels
Traditional radiators may soon be a thing of the past, as they primarily heat the air in a space. Instead, Bilston's new radiant heating panels radiate, heating the solid objects in areas such as people and furniture. In addition, zero gas is required to heat the building, and there's a supplementary electric boiler supplied from solar power when needed.
SunGuard eXtraSelective – SNX 60 double glazed window glass
Bilston's new windows further reduce energy costs by delivering thermal insulation and lowering the demand for artificial lighting, air conditioning and heating.
The environmental initiatives have ensured the new office building is carbon neutral, helping Bilston maintain its status as the greenest Galvanizer in the UK.
Our environmental initiatives continue with ISO 14001 certification
We're pleased to announce that Joseph Ash Bilston has recently become ISO 14001 Environmental Management certified. ISO 14001 certifies that Bilston has:
Minimised how processes etc., negatively affect the environment.
Complies with environmental laws and regulations.
Continually improves in all these areas.
Joseph Ash Bilston and the entire Joseph Ash Group is delighted with the certification as part of our sustainability mission. Bilston is also proud to claim that they are now the greenest galvanizer in the UK.
Next page