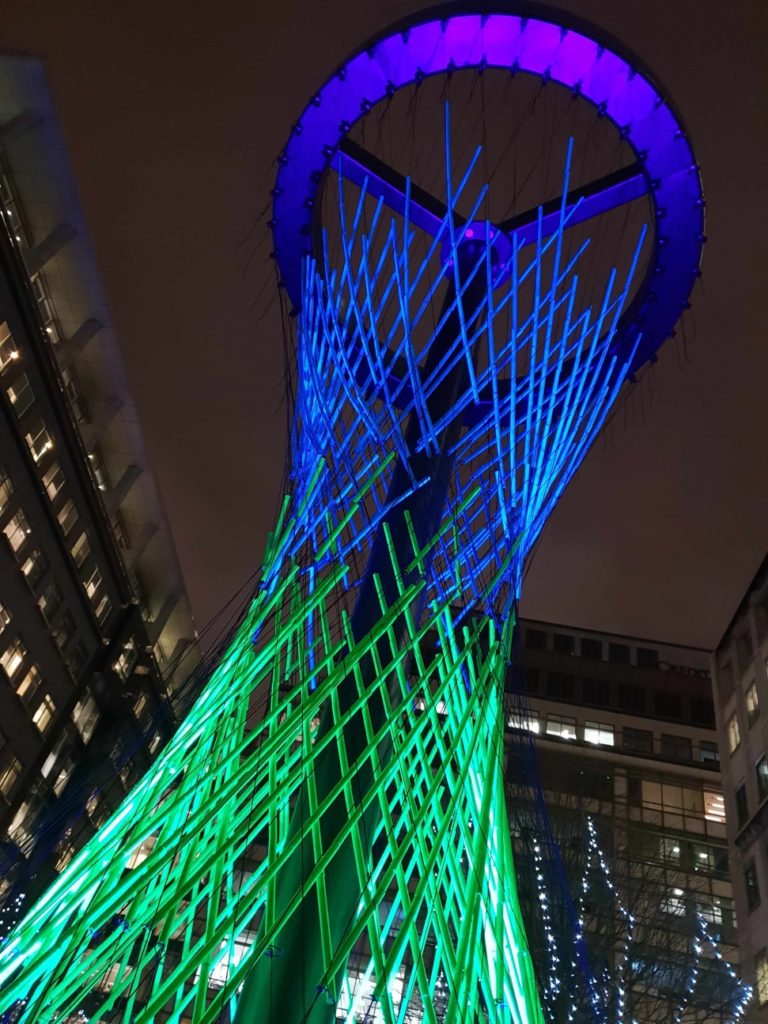 Time and Tide for Winter Lights, by Paul & Pute
Canary Wharf in London has been hosting a Winter Lights Festival for the public every January for the last five years. It is a magical event featuring beautiful light installations, which "draw upon state-of-the-art light technology to deliver spectacular artworks, installations and experiences – many of them interactive or responsive"[1]. This year's event was special to the Joseph Ash Group, as it featured an installation hot dip galvanized by our Premier Galvanizing Corby team.
The installation – called 'Time and Tide' – was designed by artists Paul & Pute. Paul (from Manchester) and Pute (from Bangkok) met whilst studying for their Masters in Sweden at a Technology College.
'Time and Tide' is a mixture of architectural and lighting skills, built using steel bases and a central pillar, plus paper drinking straws and UV light from three Chauvet Professional Colordash PAR H12IP wash fixtures.
Because the Winter Lights 2019 theme centred around sustainability and environmental issues, Paul & Pute wanted to design an installation which "celebrated the elegance of technology, [but] also served as a cautionary sign, reminding people to guard against its excesses. With an alluring shape evocative of an hour glass, the structure symbolised that the ecological timeclock is running out… [However] it also offered hope along with its solemn warning. The geometric web of strings that made up the structure's surface was adorned with patterns created with paper drinking straws to remind people that there is an earth-friendly alternative to plastic models." [1]
"The paper straws were also illuminated with UV light, giving them a vibrant glow, to symbolise how our planet can become more vital and alive when ecological balance is restored."[2]
A13 Steel Ltd and Premier Galvanizing
'Time and Tide's' steel bases and pillar were fabricated by A13 Steel Ltd, using designs supplied by Paul & Pute. Each base was about 2-2.5m in diameter and the central pillar was about 4m high.
To protect the steel bases A13 Steel Ltd asked Premier Galvanizing Corby to galvanize the steel. Galvanizing is important for steel because it provides a long-life, low-maintenance corrosion protection which safeguards steel from atmospheric attack.
A13 Steel Ltd have been a good customer of Premier Galvanizing Corby for a number of years, and regularly ask the team members there to treat their steel.
Premier Galvanizing Corby also managed the collection and delivery of the steel on behalf of A13 Steel Ltd.
Here are some photos of the steel being galvanized at the Premier Galvanizing plant, and at its final destination as part of the complete installation.
John Frankland, Sales Manager at Premier Galvanizing said: "Once the project was complete and the lighting festival was underway, I was lucky to be able to visit London and see the installation amongst all the other stunning works of art scattered throughout Canary Wharf. We're always happy to work on projects for A13 Steel Ltd, and we were particularly thrilled to be a part of this project."
To see more photos of the 'Time and Tide' – whilst being galvanized and at its final destination in Canary Wharf – click here.
---
[1] Winter Lights Festival website: https://canarywharf.com/arts-events/events/winter-lights-2019/?instance_id=
[2] https://www.chauvetprofessional.eu/news/paul-and-pute-convey-message-at-canary-wharf-with-chauvet-professional/
[3] https://www.chauvetprofessional.eu/news/paul-and-pute-convey-message-at-canary-wharf-with-chauvet-professional/)
Next page